Whatever your dream job may be, you can make it happen at Coleg Gwent! 
If you have big plans for the future, college is your launchpad for an exciting career. We know that everyone learns in different ways, and you might be more suited to a hands-on vocational course rather than an academic A Level programme. That's why hundreds of students just like you join us each year to make it onto their dream career path through a range of full time, part time and higher education courses and apprenticeships. So, why not make Coleg Gwent the route to your final destination too!
Perhaps you aspire to become a vet… Usk Campus has the course for you!
If you dream of being a top fashion designer… get stuck into one of our creative courses!
Or if you'd love to be a Michelin star chef… you'll find the recipe for success at Coleg Gwent!
With a range of support to help you on your way to success, you'll soon be heading in the direction of your dream career. Our CG Ambitions team are on hand to guide you and help you find work placements and experience during your time at college, and you'll leave with the qualifications, skills and valuable experience that employers are looking for. So, whatever your ambitions might be, make it your way at Coleg Gwent!
Discover our full time courses
Engineering the future
After enjoying engineering classes at school, Charlie chose the hands-on route, studying HNC Level 4 Electrical and Electronic Engineering at Crosskeys Campus, while working at BAE Systems. Find out how Coleg Gwent helped him make it into his ideal career:
"I was very interested in a practical career path. The Electrical Engineering course at Coleg Gwent allowed me to continue with the theory side of my education, but what really drew me in was the practical qualification and the facilities I didn't have access to in school. What pushed me to study at Coleg Gwent rather than going to sixth form or going straight into a job, was how college prepares learners for their specific career paths, such as organising events and placements that helped me get my foot in the engineering world!

My career journey started in my first year in college studying the enhanced engineering course. I believe this gave me the confidence and basic skills to successfully apply for an apprenticeship at BAE systems (a partner of Coleg Gwent), where I work on projects that link with my college work, such as finding work-based case studies.

Every year has offered me new educational opportunities. I thoroughly enjoy my practical sessions building circuits, while having a fun environment to learn the basics of the electrical theory. I've enjoyed electrical principles and electrical machines because of how relevant the lessons are to the electrical equipment and principals I see in work.

My long-term goal is to be a respected and skilled electrician. Coleg Gwent has prepared me and is continuing to prepare me with relevant electrical skills to become a fully qualified electrician and live my dream career. My biggest achievement has been completing my HNC year 1, this being the highest qualification I've completed so far. Thanks to my Coleg Gwent, I've found it easier and easier to progress, often learning principals in college and applying them to my work. This brings me great enjoyment, as well as learning principles and skills in work which transfer to my college work.

Before starting college, I was a very nervous person, often struggling with my confidence and anxiety. However, I've been supported by the college every step of the way. They've helped me enter into my desired industry as smoothly as possible. Organised career trips and placements have helped me gain confidence and employability skills that helped me apply for my apprenticeship."
Follow in Charlie's footsteps and MAKE IT into your dream career with Coleg Gwent!
Join our next open event to explore our courses, meet our tutors, discuss your options, or discover our support services, and apply now!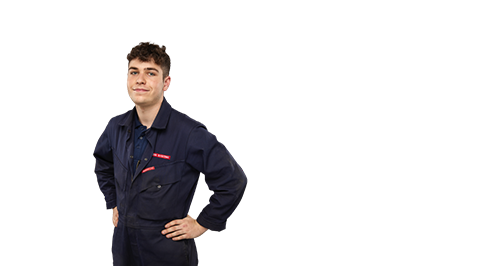 Find the perfect full time course to Make It in your chosen career!