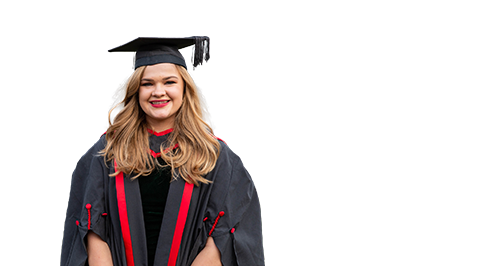 Clearing 2023 is now OPEN!
Whether you're unsure of your grades, exceeded your expectations, or if you've simply changed your mind – we're here to help you.
At Coleg Gwent, we have over 40 university level courses available right here on your doorstep – and it's not too late to apply.
Need a helping hand?
If you've applied for a course through UCAS and are looking to change to a different university, take a look at the UCAS clearing page for more information, or call them on 0371 468 0468
If you're interested in studying a university level qualification at Coleg Gwent and have some questions, you can call us on 01495 333 777
BA (Hons) – Illustration for Industry

Crosskeys Campus
Start date: 18 September 2023
*Enrolment still open

Full Time
View Course

BA Top Up - Photography

Crosskeys Campus
Start date: 20 September 2023
*Enrolment still open

Full Time
View Course

BSc (Hons) Top Up - Equine

Usk Campus
Start date: 13 September 2023
*Enrolment still open

Full Time
View Course

BSc (Hons) Top Up (Animal Health and Welfare)

Usk Campus
Start date: 12 September 2023
*Enrolment still open

Full Time
View Course

BSc (Hons) Top Up (Veterinary Nursing)

Usk Campus
Start date: 13 September 2023
*Enrolment still open

Full Time
View Course

Certificate in Higher Education – Community Health and Wellbeing

Blaenau Gwent Learning Zone
Start date: 19 September 2023
*Enrolment still open

Full Time
View Course

Foundation Degree Animal Health and Welfare

Usk Campus
Start date: 13 September 2023
*Enrolment still open

Full Time
View Course

Foundation Degree Artist Designer Maker

Crosskeys Campus
Start date: 20 September 2023
*Enrolment still open

Full Time
View Course

Foundation Degree Childhood Studies

Blaenau Gwent Learning Zone
Start date: 12 September 2023
*Enrolment still open

Full Time
View Course

Foundation Degree Childhood Studies

Blaenau Gwent Learning Zone
Start date: 12 September 2023
*Enrolment still open

Full Time
View Course

Foundation Degree Childhood Studies

Crosskeys Campus
Start date: 12 September 2023
*Enrolment still open

Full Time
View Course

Foundation Degree Childhood Studies

Crosskeys Campus
Start date: 12 September 2023
*Enrolment still open

Full Time
View Course

Foundation Degree Creative Industries: Popular Music Technology (Music Performance pathway)

Crosskeys Campus
Start date: 18 September 2023
*Enrolment still open

Full Time
View Course

Foundation Degree Creative Industries: Popular Music Technology (Music Performance pathway)

Crosskeys Campus
Start date: 18 September 2023
*Enrolment still open

Full Time
View Course

Foundation Degree Creative Industries: Popular Music Technology (Music Production pathway)

Crosskeys Campus
Start date: 18 September 2023
*Enrolment still open

Full Time
View Course

Foundation Degree Creative Industries: Popular Music Technology (Music Production pathway)

Crosskeys Campus
Start date: 18 September 2023
*Enrolment still open

Full Time
View Course

Foundation Degree Equine Studies

Usk Campus
Start date: 15 September 2023
*Enrolment still open

Full Time
View Course

Foundation Degree Games - Art and Design

Crosskeys Campus
Start date: 18 September 2023
*Enrolment still open

Full Time
View Course

Foundation Degree Illustration

Crosskeys Campus
Start date: 21 September 2023
*Enrolment still open

Full Time
View Course

Foundation Degree Media Production

Crosskeys Campus
Start date: 18 September 2023
*Enrolment still open

Full Time
View Course

Foundation Degree Photography

Crosskeys Campus
Start date: 18 September 2023
*Enrolment still open

Full Time
View Course

Foundation Degree Sports Conditioning, Rehabilitation and Massage (SCRaM)

Crosskeys Campus
Start date: 20 September 2023
*Enrolment still open

Full Time
View Course

Foundation Degree Veterinary Nursing

Usk Campus
Start date: 11 September 2023
*Enrolment still open

Full Time
View Course

Foundation Degree Youth and Social Care

Crosskeys Campus
Start date: 11 September 2023
*Enrolment still open

Full Time
View Course

HNC Civil Engineering

City of Newport Campus
Start date: 26 September 2023
*Enrolment still open

Part Time Day
View Course

HNC Civil Engineering

City of Newport Campus
Start date: 26 September 2023
*Enrolment still open

Full Time
View Course

HNC Construction and the Built Environment

City of Newport Campus
Start date: 19 September 2023
*Enrolment still open

Part Time Day
View Course

HNC Construction and the Built Environment

City of Newport Campus
Start date: 26 September 2023
*Enrolment still open

Full Time
View Course

HNC Digital Technologies

Blaenau Gwent Learning Zone
Start date: 21 September 2023
*Enrolment still open

Part Time Day
View Course

HNC Electrical and Electronic Engineering

Crosskeys Campus
Start date: 05 September 2023
*Enrolment still open

Part Time Day
View Course

HNC Engineering

Blaenau Gwent Learning Zone
Start date: 18 September 2023
*Enrolment still open

Full Time
View Course

HNC Mechanical Engineering

Crosskeys Campus
Start date: 05 September 2023
*Enrolment still open

Part Time Day
View Course

HND Civil Engineering

City of Newport Campus
Start date: 19 September 2023
*Enrolment still open

Part Time Day
View Course

HND Civil Engineering

City of Newport Campus
Start date: 28 September 2023
*Enrolment still open

Full Time
View Course

HND Complementary Healthcare (with Practitioner status)

Crosskeys Campus
Start date: 11 September 2023
*Enrolment still open

Full Time
View Course

HND Computing

City of Newport Campus
Start date: 18 September 2023
*Enrolment still open

Full Time
View Course

HND Construction and the Built Environment

City of Newport Campus
Start date: 19 September 2023
*Enrolment still open

Part Time Day
View Course

HND Construction and the Built Environment

City of Newport Campus
Start date: 28 September 2023
*Enrolment still open

Full Time
View Course

HND Electrical and Electronic Engineering

Crosskeys Campus
Start date: 06 September 2023
*Enrolment still open

Part Time Day
View Course

HND Mechanical Engineering

Crosskeys Campus
Start date: 07 September 2023
*Enrolment still open

Part Time Day
View Course

Professional Certificate in Education (ProfCert) in Post compulsory Education and Training (PcET)

Blaenau Gwent Learning Zone
Start date: 21 September 2023
*Enrolment still open

Part Time Day
View Course

Professional Graduate Certificate in Education (PgCE) in Post compulsory Education and Training (PcET)

Blaenau Gwent Learning Zone
Start date: 21 September 2023
*Enrolment still open

Part Time Day
View Course