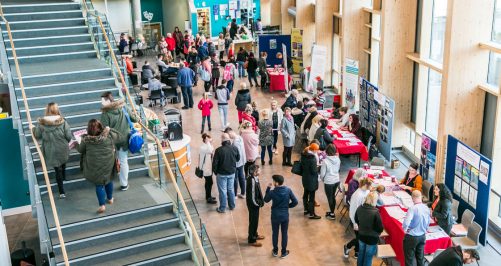 NEXT OPEN EVENT
Wednesday 17 January
Book your slot between 5pm – 7:30pm
All provision, all campuses
Coleg Gwent Open Events
Choosing the right course and career path can be a daunting task. Whether you're looking at A Levels, vocational courses, apprenticeships or higher education courses, Coleg Gwent has something for everyone, and an Open Event is the best way to find out all you need to know and get answers to your burning questions.
Before you visit, there are a few things to consider so please take a look at the information below.
What you need to know
What time do the events take place?
There are five time slots that you can register for between 5pm – 7.30pm. Please be mindful that teaching takes place up until 4.30pm, so you won't be able to arrive any earlier than 5pm.
There are scheduled welcome talks at the start of each time slot to give you information about your visit and an opportunity for you to learn about life at Coleg Gwent.
Registration
Please note,  family and friends visiting with you don't need to register, so only register if you're interested in studying with us. If you forget to register – don't worry, you can still attend and register on the day.
Choosing the right campus
Not all campuses offer the same courses, so to avoid disappointment, check where you can study your chosen course and visit the relevant campus. If you're unsure, you can filter by campus on our course search option on our website.
B
Blaenau Gwent
Learning Zone
| Subject Area | B | C | N | T | U |
| --- | --- | --- | --- | --- | --- |
| A levels | | | | | |
| Accountancy, Business and Law | | | | | |
| Agriculture and Animal Care | | | | | |
| Apprenticeships | | | | | |
| Art, Design, Media and Photography | | | | | |
| Catering and Hospitality | | | | | |
| Computing & Digital Technology | | | | | |
| Construction | | | | | |
| Education | | | | | |
| Engineering and Automotive | | | | | |
| ESOL (English for speakers of other languages) | | | | | |
| Hairdressing and Beauty Therapy | | | | | |
| Health, Care and Early Years | | | | | |
| Independent Living Skills | | | | | |
| Music, Drama and Dance | | | | | |
| Pathway to degree (access to higher education) | | | | | |
| Public Services | | | | | |
| Science | | | | | |
| Sport | | | | | |