Corporation Board
The governing body of Coleg Gwent is known as the Coleg Gwent Further Education Corporation. It is usually just referred to as 'The Board'.
The Board is made up of 22 Governors. These include the Principal/Chief Executive, two members of staff and three students (elected by their peers). All other Governors are volunteers. Governors are recruited on the basis of providing the Board with the broad range of skills and experience needed to oversee the running of the College.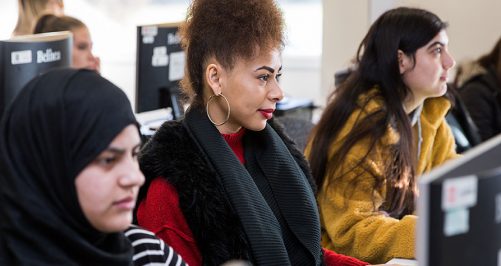 Diversity and Inclusion
At Coleg Gwent, our core values promote respect and acceptance for all. We're determined to do everything we can to make sure our college is a place where everyone, staff or learner, feels safe and respected.
See our board diversity statement.
Interested in being a Governor?
See our Guide to joining us as a Coleg Gwent Governor
Responsibilities of the Board
The Board works closely with the senior management team and acts as a 'critical friend', taking a strategic overview and asking challenging questions. Collectively, Governors are responsible for:
Determining the educational character, vision and mission of Coleg Gwent.
Overseeing the sound management of the College and the quality of the service it provides.
Approving the annual budget and ensuring financial sustainability.
Overseeing the proper use of public funds and the efficient use of resources.
Setting a framework for the pay and conditions of staff.
The recruitment, performance management and dismissal of senior postholders.
Committees
To support its work, the Board operates a number of sub-committees:
Audit Committee is responsible for overseeing the College's risk management and internal control processes and monitoring the work of the audit services.
Curriculum & Quality Committee oversees curriculum development, learner services and support and monitors quality and the self-assessment process.
Finance & Resources Committee oversees College infrastructure including HR, finance, technology and estates planning and monitors progress on major infrastructure projects.
Remuneration Committee meets annually to consider the performance, pay and conditions of the senior postholders (Principal/Chief executive, 2 Vice Principals and the Governance Officer).
Governance & Membership Committee is responsible for overseeing the recruitment of Governors and monitoring the diversity and skills profile of the Board, along with Governor training and development.
Terms of Reference for each of these committees can be found in the Standing Orders.
Useful governance links
Find out more/contact us
For more information on the work of the Board, to request copies of non-confidential papers or to express an interest in becoming a Governor, contact the Governance Officer:
Marie Carter
Coleg Gwent HQ
The Rhadyr
Usk
Monmouthshire
NP15 1XJ
Email:  marie.carter@coleggwent.ac.uk
Tel:      01495 333519
All correspondence for the Chair of Governors should be sent to this address.