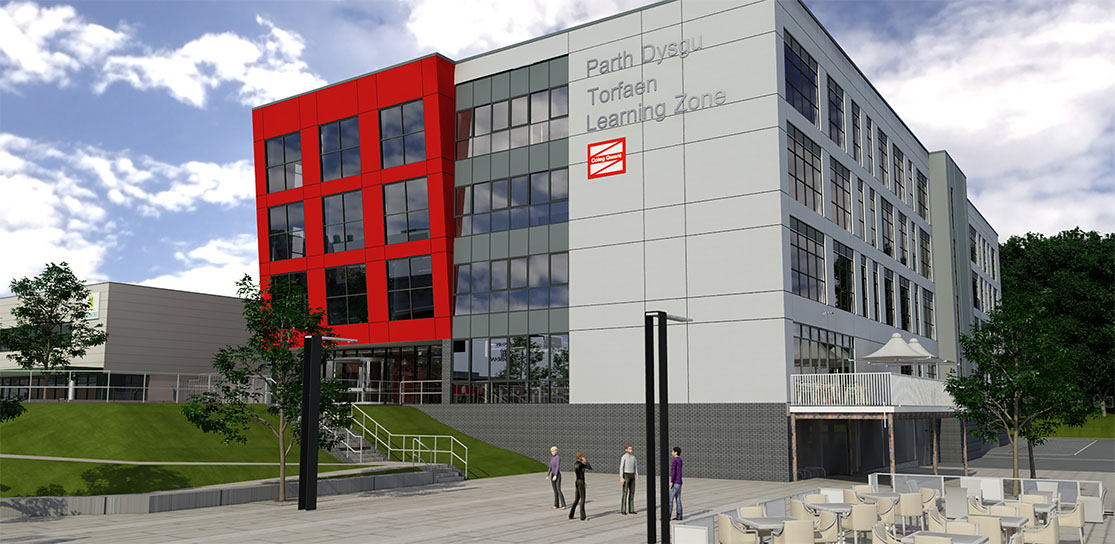 Torfaen Learning Zone
COVID-19 Update
You're probably wondering if TLZ will still be ready to receive learners as planned this September.  Like the rest of the world, COVID-19 is having a significant impact on our daily lives and operations but we're still making good progress.
We're doing everything we can to make sure we're ready to receive you as planned.  However, just in case there is a short delay, we're working on a back up plan to ensure we keep learning going.
We're monitoring the situation closely and will keep you updated. Please check back for updates.
Opening in September 2020, our brand new £24 million purpose built campus situated in the heart of Cwmbran will become the home for all post 16 education in the Torfaen borough.
Our brand new Centre, located next to Morrisons, offers state of the art facilities and is easily accessible by public transport.
What can I study at the new Torfaen Learning Zone?
There's plenty of choice! With A Level subjects including English Literature and Spanish on offer, Welsh Baccalaureate, vocational qualifications and foundation degrees; there's definitely something for everyone.
Take a look at the courses on offer
Support
All our learners have a Personal Tutor with access to a whole range of support services to ensure everyone reaches their full potential.
A Level or Level 3 learners will study the Welsh Baccalaureate and all students will have access to enrichment programmes and work experience opportunities.
Skills support is also available to develop students' higher level literacy, numeracy and digital literacy.
Additional Learning Needs support at Torfaen Learning Zone
Coleg Gwent are experienced in providing support for all, helping every learner to reach their full potential regardless of any additional learning needs.
Frequently Asked Questions (FAQs)
Here's a list of frequently asked questions about the Torfaen Learning Zone.
If you have any questions that are not currently included in the section, please email, and we'll be sure to respond and add them to our list.
How can I find out more?
Register now, and come along to an Open Event at our Pontypool Campus.
In addition to our Open Events, we work closely with Torfaen schools to keep in touch with pupils, parents and staff on transition support.
See our Learner Roadmap with key dates (coming soon).
Applications are now open.  Have you applied yet?
For the latest updates subscribe to our dedicated TLZ newsletter
Follow us on Instagram, Facebook and Twitter for updates.
Search courses
Coleg Gwent
Torfaen Learning Zone
St Davids Road
Cwmbran
Torfaen
NP44 1DF
Torfaen Learning Zone's facilities will include:
I came to college to get the skills needed for the trade; what's best about Coleg Gwent is the level of support you get and how you're treated like an adult…I'm hoping to be employed by a reputable construction company in the future and hopefully own my business.
Llewys Graham
Brickwork Level 2