We're excited to announce that we've signed-up with The Chefs' Forum Academy for another year of fantastic opportunities for our catering and hospitality learners and staff. A career in catering and hospitality is fast-paced, exciting, and ever-changing; so you need the best opportunities to experience the industry when you're training at college.
With a range of catering and hospitality courses at Coleg Gwent, it's great to renew our Chefs' Forum Academy partnership for the third year, and we're looking forward to the opportunities it will bring you. Head of School, Helen Lawless, explained that our learners and staff both look forward to the weekly masterclasses with industry professionals through The Chefs' Forum, and it's helped us forge great employer links. Meanwhile, our teaching staff also benefit from fantastic professional development opportunities such as butchery and patisserie, so they can maintain their skills and keep up-to-date with the latest changes and developments in the sector, sharing their knowledge and experience with you.
The Chefs' Forum Academy provides us with many networking opportunities with other colleges too, including the Student Pastry Chef of the Year competition. One of our learners, Morgan Upcott, made the final last year, and we plan to enter more learners into this year's competition to demonstrate their skills and talents with patisserie.
Another year of opportunities
The Chefs' Forum Academy Founder, Catherine Farinha, is thrilled to be working with us for another year. We've built up a great partnership and there are exciting plans for The Chefs' Forum Academy this year with new initiatives like The Chefs' Knowledge and Student Pastry Chef of the Year, as well as a series of events planned to celebrate their 10th Anniversary.
There's a Sustainability Lunch taking place next month at The Coast Restaurant in Saundersfoot with The Seren Group chefs, and a Welsh Fine Food Cluster showcase at Calcot Hotel and Spa in May. Students from Coleg Gwent will be invited to participate, forging links with top-drawer employers and giving them a great experience while still studying at Coleg Gwent.
We're also looking forward to hosting a Taster Day for local schools next month, helping to get secondary school pupils thinking and talking about food. It will inspire and encourage them to consider studying courses in catering and hospitality when they move on to further education after finishing school.
A visit to Morels Restaurant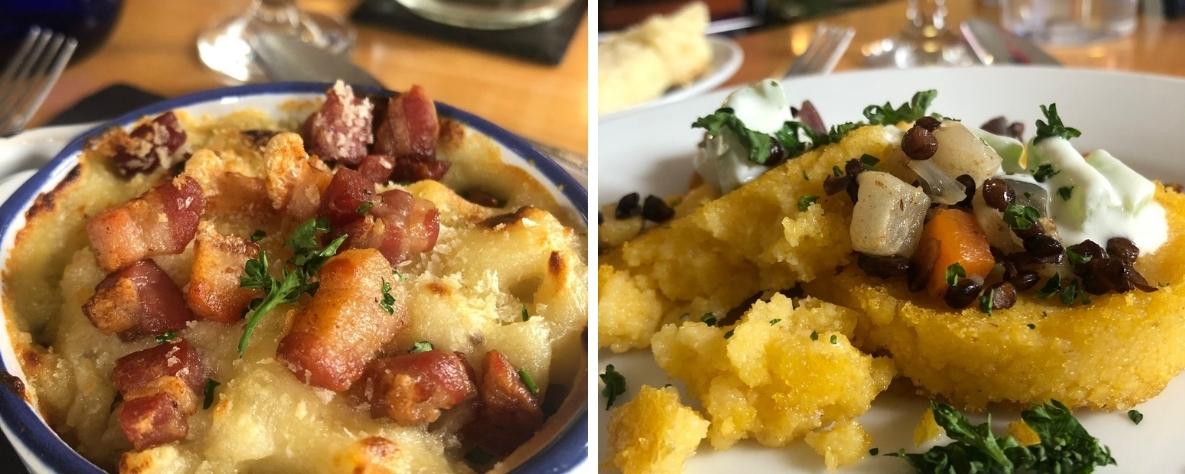 Catherine and The Chefs' Forum National Business Manager, Alexandra Duncan, recently visited Morels Restaurant at Crosskeys Campus, where they were treated to a fantastic valentines-themed, complete with packets of handmade chocolates, all made and served by our students. Catering learners cooked up a storm including a delicious macaroni & Y Fenni cheese pots, polenta & lentil cake, roasted vegetables and cucumber yoghurt sauce to start; then a sumptuous seafood fish pie containing cod, salmon, king prawns and mushroom sauce, topped with creamy mash potato and gratinated with Tintern cheese; and followed by an apple and rhubarb crumble tartlet with raspberry ripple ice-cream to round-off the delicious lunch, alongside barista-made coffees from the front of house team to finish.
The Chefs' Forum team really enjoyed their visit to Crosskeys Campus they're now looking forward to seeing our learners showcasing their skills at a St David's Day lunch, showcasing Welsh Seafood and chefs at L'Oscar in London on the 1st March, which will be an excellent work experience opportunity for our students!
If you want to make it as a chef, discover our range of catering, cookery and hospitality courses today. Join our next open event to see our fantastic facilities and learn about your opportunities at Coleg Gwent.