Alongside Skills Competition Wales and WorldSkills UK, we encourage our learners to get involved in competitions within their industries to push themselves to the next level and enhance their skills. So, when Level 2 Professional Cookery learner, Morgan Upcott, saw the Chefs' Forum 'Young Pastry Chef of the Year' competition, he jumped at the chance to show them what he could do in the patisserie section.
Morgan has always enjoyed working with food from a very young age and wants to turn his passion into his full-time career. He chose Coleg Gwent's Professional Cookery course for its excellent success rates, fantastic facilities, and a competitive edge that appealed to him. He particularly enjoys the practical side of the course that allows him to be hands-on and run free with his creativity with food.
As his skills continue to develop and improve, Morgan aims to continue with forging a successful career in the Culinary Arts – a creative and rewarding sector. Our Professional Cookery course has given him a strong foundation in a range of cookery disciplines, with access to industry-standard facilities, teaching from expert tutors, and a cushion of support along the way. And during his studies so far, Morgan has excelled in pastry, a section that's seeing a shortage of skilled young chefs in the UK. So, the chance to take his patisserie skills to competition level was an exciting opportunity.
The Chefs' Forum 'Young Pastry Chef of the Year' competition celebrates the creativity of highly skilled young pastry chefs and the fantastic facilities at their disposal in college to develop delicious plates of food and nurture their talents. Competing against young chefs from across the UK, Morgan faced two engaging and rewarding heats designed to inspire students after a very difficult time during the last year. He used all the skills and knowledge gained during his cookery course so far, and pushed through the heats to demonstrate his excellence and secure a place in the semi-finals.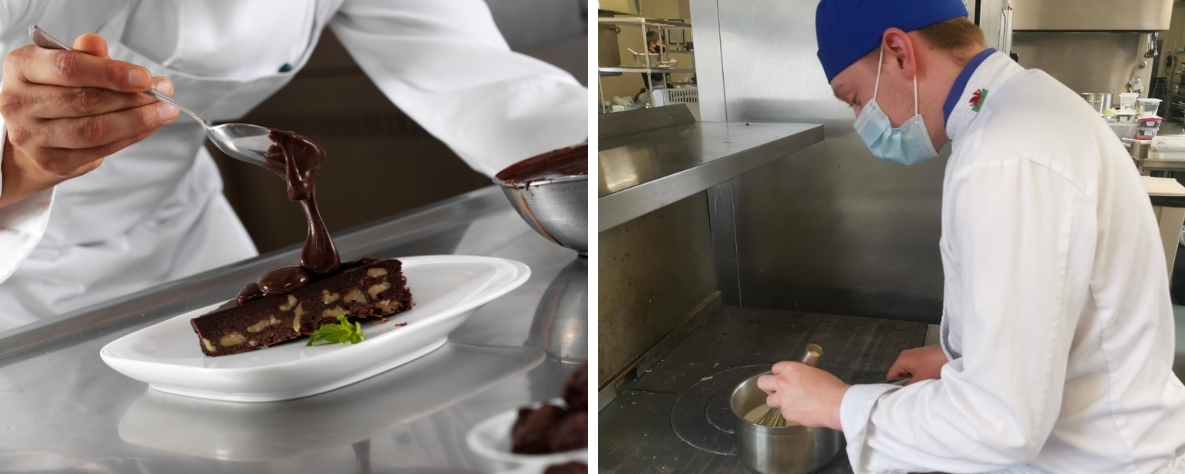 What happens next?
Morgan will now be competing against 19 other semi-finalists from colleges across the UK as the only semi-finalist from a Welsh college. Each semi-finalist has been sent details of the next challenge, seeing them design a multi-layered chocolate entremet for digital submission, with the finals being judged live in London on 15th June.  Judges include some of the nation's most-renowned chefs:
Jamie Houghton – Le Manoir aux Quat'Saisons and President of the UK Pastry Team
Luke Frost – L'École Gourmet
Chris Underwood – Belmond Cadogan Hotel
Thibaut Hauchard- Alain Ducasse at The Dorchester
Michael Kwan – Hotel Café Royal
Daniel Pearse – The Savoy
Everyone at Coleg Gwent wishes Morgan the very best of luck at the semi-final stage of this prestigious competition. It's been a valuable experience for Morgan, boosting his confidence and equipping him with even more skills for a successful career as a Pastry Chef.
Morgan commented; "When given the chance; go for Gold! The Open Events at Coleg Gwent are excellent, and the support during the course is very good, both for a competitive environment and for a work environment. I now wish to continue this and move forward with my patisserie work."
Discover more about our Professional Cookery courses at Crosskeys Campus and apply now to join us in September to 'Make It' your career too!