Did you know that the word 'staycation' has now been added to the English dictionary due to the rise in the number of us holidaying-at-home? This is great news for the hospitality, catering and tourism sector which has been hit hard by the pandemic, but as it bounces back with the rise in staycations, the sector is facing challenges like staff shortages and skills gaps which we need to address.
Fred Sirieix, renowned French maître d'hôtel and founder of National Waiters Day, believes that staffing is the biggest issue now facing the sector. He recently shared a Tweet to say;
"Staff and skills shortage in #hospitality is as acute as can be right now… No matter the business, sector or industry, #customer #service makes all the difference between success and failure. To deliver great service is about establishing trust and loyalty and thus longevity."
So, with brand trust and loyalty being key to success in the hospitality, catering and tourism sector, training the next generation of skilled workers to the highest standard of customer service is paramount in helping to tackle staff and skills shortages in the industry.
Now that's where we come in!
At Coleg Gwent, our tutors are experts in the areas they teach and we offer outstanding training facilities such as Morels Restaurant that's open to the public, making our courses a recipe for success. If you have a creative flair for cookery, a passion for events, or a love for travel, this could be the sector for you. You don't need experience to join many of our courses – at Coleg Gwent, you can start your training at beginner level and work all the way up to university level, and we offer hands-on apprenticeships so you can earn while you learn too. We offer Professional Cookery courses; Hospitality, Events Management and Catering studies; and Travel and Tourism programmes; and each course is designed with employability in mind, so you'll gain sector knowledge and job-specific skills for your chosen career.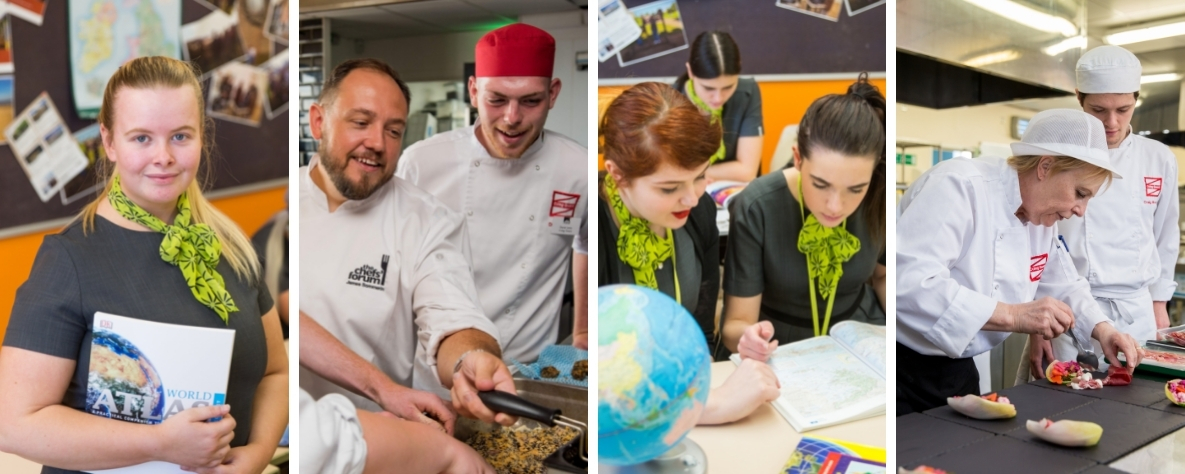 Our courses will prepare you for working in this vibrant field and enable you to meet the high standards that employers expect, giving you hands-on experience of the industry. As part of the Chef's Forum Academy, our learners have access to the expertise and inspiration of the country's most experienced chefs, the opportunity to work within prestigious hotels, restaurants and national events, and exposure to busy restaurant kitchens. We also have a passion for Welsh food and tourism, working with Monmouthshire County Council, Brecon Beacons National Park Authority, and Our Food, to develop a Regional Sustainable Food Partnership that tackles pressing issues in the sector, from rebuilding the local food economy, to addressing food-related health issues and climate change. We're leading the way with these innovative projects in our area and we have more exciting developments in the pipeline too.
Now's the time to consider a career in hospitality, catering and tourism
Finding enough high-calibre staff is one of the biggest challenges for employers in hospitality, catering and tourism, meaning that you'll be in high-demand if you've got the knowledge and skills they're looking for. As one of our fastest growing job sectors, there are a huge number of different roles to consider for a fulfilling career. It's all about customer service and working with people face-to-face. It's fast-paced and exciting, with a huge range of different environments to work in, from Front of House or Restaurant Management, to Event Organiser, Head Chef, Travel Agent or Tour Guide.
So, at Coleg Gwent, we're redefining our courses, improving our facilities, and developing new opportunities, to help you gain the skills you need to thrive in a career in this vibrant and growing sector. From expanding our further education and higher education course offer, to adapting our lesson delivery with virtual technology and simulated experiences; we're tailoring your college experience to set you up for success and upskill you in innovative new ways. We offer far more than just classroom study – you'll leave college prepared for employment and ready to kickstart your career!
It's a great time to join Coleg Gwent to study hospitality, catering and tourism as there are some very exciting plans coming up which we can't wait to announce – watch this space! So, apply now for courses starting this September and Make It your ambition with Coleg Gwent!