September marks the start of another academic year at Coleg Gwent. We're excited to see fresh new faces on campus as new learners join us to begin their full-time and enhanced part-time studies alongside returning learners. It's still not too late for you to apply and join us for a variety of intriguing courses this year too and we'd love to see you on campus. So, as term kicks off, we've been meeting our new learners at our freshers events to find out why they chose Coleg Gwent and what they're looking forward to the most.
Meet the Freshers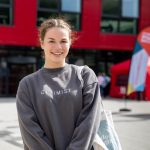 Cate Davies from Ponthir is starting her Level 3 Certificate in Health and Social Care course at Torfaen Learning Zone this September, with ambitions of becoming a midwife in the future. She picked Coleg Gwent instead of other colleges or sixth forms because of the college's "good reputation" as one of Wales' top performing colleges with a 97.7% pass rate.
Cate is looking forward to the chance to have a "fresh start" after school. She is hoping to gain work experience to help her follow her passion of becoming a midwife and gain the skills she needs for her future carer. She's already found that the teachers are "really nice and friendly" and college gives you more "independence and opportunities" than school. She's even found that Coleg Gwent is "very supportive" when it comes to taking part in sports alongside her studies. In fact, we're big on sport at Coleg Gwent and there are lots of opportunities to get involved in extracurricular activities, from netball and rugby, to hockey and football.
Sixteen-year-old Ben Chorazyczewski from Cwmbran wasn't sure what he wanted to do after school. But when he discovered Coleg Gwent's Level 3 BTEC National Foundation Diploma in Uniformed Protective Services, he decided to give it a go and see where it could take him.
Public and Protective Services are fantastic programmes that prepare you for a rewarding future career in roles in the police, fire service, paramedic or armed forces. It opens up a world of opportunities for Ben, who is looking forward to gaining "more knowledge and confidence" during his time at Torfaen Learning Zone. He's really "excited to find new friends at college", so the freshers fairs are a great place to start!
Kaylie Hawker, from Chepstow, took a gap year as she wasn't sure what she wanted to do and felt like she chose the wrong subjects at A Level. So, after some time out of education, she has now realised her love for animals and has chosen to pursue a career as a Veterinary Nurse.
Kaylie is "excited to start learning the course and get into the subject more" and plans to go on from Level 2 Veterinary Care Assistant to Level 3, enabling her to become a vet nurse working with animals in the future. So far, she would recommend Coleg Gwent as there is "always someone to support you, no matter what. The tutors have been really supportive and you're given more independence and treated as an adult." College is different to school in many ways, so although you'll have more independence, you'll also be helped and encouraged by our college support services along the way.
But college isn't just for school leavers!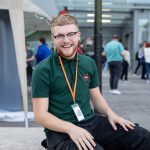 Nineteen-year-old Sam Loxton from Bargoed started a university course studying Construction Project Management but didn't enjoy it. So, after getting a temporary job in the Pot Noodle Factory instead, he then decided he needed a change and wanted to find the right route for him. Sam decided to look at college courses and chose to study Level 2 Diploma in Electrical Installations at Blaenau Gwent Learning Zone this September and he has ambitions to start his own company and be his own boss after college.
He's found it "really easy to meet people at college" and didn't know anyone else before starting his course, but he's "already made a few new friends and the people seem really nice!" Sam explained that as a more mature learner, the main difference between college and school is that "the teachers are more chilled here than school. At college, we're responsible for our own work and I like that. I prefer it to sixth form in that sense too."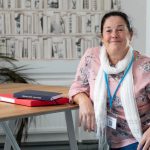 Teresa Heron, from Blackwood, finds that she's "comfortable and happy" at college as a mature learner and she's "made new friends for life".
Returning to education was both daunting and exciting for Teresa, who has been out of education for a while but was looking forward to pursuing her passion at Usk Campus, and she reminds us that "age is just a number!"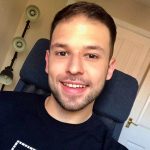 Meanwhile, James Allen, an adult learner from Rogerstone, chose Coleg Gwent for his Level 3 Personal Training programme as he knew he would "be in great hands" to shape his skills and improve his knowledge at this stage in his career. He knew that our tutors are experts in their fields with a passion for the subjects they teach, making Coleg Gwent "the place to go for health and sport!" James quickly discovered that some of the best things about college life include "the support from teachers and other students, and all the opportunities to progress your skills"
Joining Coleg Gwent is an ideal way to get onto the career ladder to work towards your goals. Whether you're just starting your journey, or looking to upskill and get to the next level, apply now to make it a reality this September!