Are you or one of your kids considering a college course?
As one of Wales' top performing colleges with A Level pass rates consistently above the Welsh and national average, you'll find a multitude of opportunities to inspire your future hopes and dreams at Coleg Gwent. Our hard-working expert tutors help learners to achieve their potential and exceed expectations time and again, and dedicated Personal Tutors are on-hand to give pastoral support along the way.
We believe that all our learners are made for greatness. So, we want you to believe in yourself as much as we do, and believe that you can achieve your aspirations. So, if you've always dreamed of going to Oxford or Cambridge University, or if there's a career path you've always wanted to follow, you can make it at Coleg Gwent.
But there are some common misconceptions about college. So, read on to bust some myths and find out the facts!
Myth 1: College is just like school
Fact: College isn't like school. College is a place for growth, development and independent learning, where you'll be treated like an adult and can focus on your real passions. At College, you'll be able to study the subject areas that you truly enjoy and want to explore more. You can choose your own path! College is also ideal for learners who are both practical or academic, offering a great alternative to sixth form studies.
Jesse Moody was home educated and felt nervous about coming back into the education environment to study Mechanical Engineering. But he settled in quickly and was always treated like an adult. He found that "there's a really good attitude in the workshops from both the staff and students – they treat you all equally and like adults."
Myth 2: I have to study A Levels if I want to go to university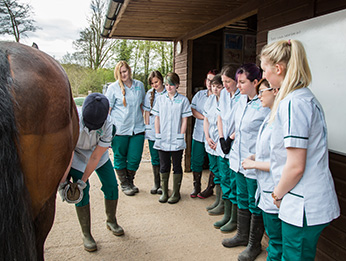 Fact: A Levels are just one route into university. But we know that everyone has a different learning style. So, if academic courses like A Levels don't sound right for you, you can study a vocational course instead and still be eligible for a place at university. Our hands-on vocational courses still attract UCAS points just like A Levels. In fact, a Level 3 Diploma is worth up to 420 UCAS points, which is the equivalent to 3 A* A-Levels. This means you can study a practical course that suits you, and still work towards university if that's what you want to do. What's more, you can even choose to study a university level course at college too, like Kieron Cole.
Kieron studied BSc (Hons) Top Up Veterinary Nursing after spending 6 years studying with Coleg Gwent. He said "if it wasn't for Usk Campus, I would not be where I am now or working in a job that I absolutely adore."
Myth 3: College is only for people who can't do A Levels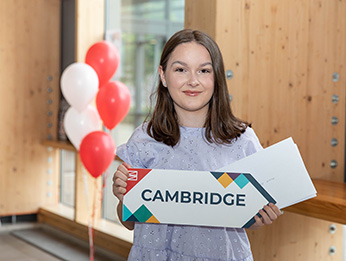 Fact: College isn't just for vocational learners. Although Coleg Gwent offers a wide range of vocational courses across five campuses, they also offer A Levels at Crosskeys Campus, Torfaen Learning Zone and Blaenau Gwent Learning Zone. Students choose to come to college and study the courses they are genuinely interested in. Some enjoy the academic style of A Levels, but others want to get a head start with an apprenticeship or a programme where they'll build up a portfolio of work to help them step onto the career ladder. So, whether you're looking for a vocational course or A Level courses to get you into university, Coleg Gwent has it all.
Blaenau Gwent Learning Zone A Level learner, Alicia Powell, secured a place at Cambridge University to study English Literature after achieving outstanding grades in her A Levels – an A* and 3 As. For Alicia, "the best thing about Coleg Gwent has been the opportunity for individual learning that has prepared me for my next step after college."
Myth 4: College isn't for me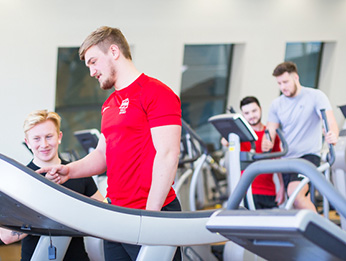 Fact: College is for everyone. Whether you're a school-leaver or you've been out of education for years, you'll find a course that's suitable for you. Students come to Coleg Gwent with a wide spectrum of GCSE results from all different backgrounds, and the college focuses on helping you fulfil your potential and achieve the best grades you possibly can in your chosen subject. So, whether school wasn't for you and your grades are lower than you would like, you haven't set foot in a classroom for a decade, or you're a high flier interested in the Seren Network, everyone is welcome.
Robin Hammett came to Coleg Gwent to study his Level 3 Diploma in Personal Training. He was nervous before starting college as it had been 27 years since he left school. But Robin explained "It is so different from school. It's all adults who want to achieve something. Being a mature student was daunting, but the tutors are amazing and will go above and beyond to really be there for you."
Myth 5: I might not cope without the support of my school teachers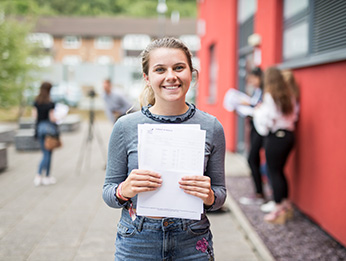 Fact: You'll be given more freedom at college to work and study independently, but you'll never be alone. You'll always have Coleg Gwent's caring community to fall back on when you need help and support from your tutors, peers or Personal Tutor. Unlike school, at College, you'll call your tutors by their first name and they'll be there to guide and support your learning. Alongside this, Coleg Gwent offers excellent pastoral care and support so that you can reach your potential. Every learner has a designated personal tutor to help them achieve their individual goals at college.
Eve, from Croespenmaen, achieved four A*s in Biology, Chemistry, Maths and Physics, enabling her to study Medicine at Oxford University. She explained, "my tutors were amazing. They really couldn't have done more. They were available to me any time of the day or night and the support I had was fantastic."
Myth 6: A Levels students don't have as many opportunities or experiences as vocational learners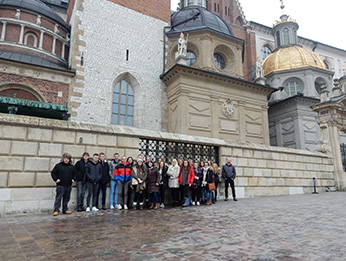 Fact: At Coleg Gwent, opportunities extend far beyond the classroom for all courses. The A Level programmes also incorporate subject-specific field trips to support your learning, such as Geography trips to North Wales, Bath and Exeter University visits for A Level Chemists, Photography trips to Mid Wales, and History trips to Auschwitz. You'll also have opportunities to attend inspirational events at top universities in the UK, like Think Big at Jesus College, Oxford University, which encourages aspirational goals amongst young people, aiming to encourage future successful applications to the UK's top universities.
With aspirations of becoming a paediatric doctor, A Level learner Emily Curtis-Jones from Blackwood, discovered that Coleg Gwent helped her work towards her goal and gain valuable work experience. She said: "My work experience at Neville Hall and the Royal Gwent Hospital was invaluable and re-enforced my choice of career. I've had lots of opportunities in college and had a really positive experience."
Myth 7: College is a waste of time when I could just go straight into a job instead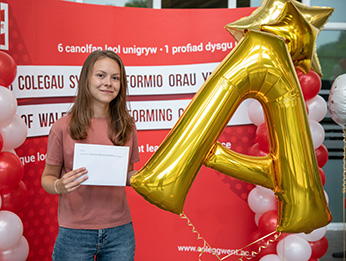 Fact: College makes a great stepping stone between education and employment. Coleg Gwent has close links with local employers and industry specialists who shape the curriculum to meet the needs of the future workforce. So, going to college will ensure you have all the skills and confidence that employers are looking for, making you far more qualified and experienced when you enter the world of work. You'll also be able to progress faster in your chosen career, and our courses give you both qualifications and hands-on experience that are valuable to employers and will put you a step ahead of the competition.
Hannah James from Ebbw Vale, found that "studying at Coleg Gwent has provided me with the opportunity to develop my independent study skills and confidence, which will be essential in my future prospects as a university student and a future employee."
Myth 8: College results aren't as good as sixth form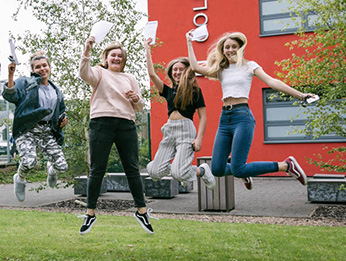 Fact: Each year, Coleg Gwent's A Level learners exceed expectations and consistently achieve pass rates above the Welsh and National average. Achieving A Level pass rates over 98%, many of their students go on to study at top Sutton Trust and Russell Group universities in the UK. Not only that, but they're the joint top performing Welsh college for vocational learning too, with excellent outcomes for learners who are highly sought after by local employers.
Sophie Long from Argoed achieved an incredible 3 A*s enabling her to go to Cambridge University. She explained: "In the hopes of attending a world-renowned university, Coleg Gwent has been a useful step in nurturing my efforts to achieve this, and applying early entry to Cambridge was an indicator of how dedicated the college is to the success of their students."
So, if you have big dreams of studying at a top university like Oxford or Cambridge, discover the range of A Level programmes on offer at Blaenau Gwent Learning Zone, Crosskeys Campus and Torfaen Learning Zone. Or if you're searching for a hands-on course to kickstart your career, discover the vocational courses available at your local campus, and apply for courses starting in September to begin your journey and make it at Coleg Gwent.
Even if you think university isn't for you, there's something for everyone at Coleg Gwent.