Have you always dreamed of going to university and achieving a degree? Make it a reality at Coleg Gwent! 
University is a dream for many of us, but with high tuition fees, expensive accommodation, time commitments and travel costs, it isn't always easy to achieve a degree around our busy lifestyles. But that's where Coleg Gwent comes in and makes it possible for you.  
With university level courses available across a range of subject areas, there are lots of benefits to studying a higher education course at Coleg Gwent: 
You can study close to home at one of our 

five local campuses

 in Newport, Crosskeys, Cwmbran, Ebbw Vale or Usk.

 

You can save time and money with reduced travel and uni accommodation expenses.

 

Our tuition fees are lower and more affordable than most universities.

 

There are several 

financial support options

 and subsidies available. You could be eligible for a grant of up to £6,885 a year!

 

We partner with several 

leading universities

 to bring good-quality higher education courses to your doorstep, plus a graduation ceremony at the end of your degree.

 

Our 

tutors are experts

 with experience in their fields of teaching.

 

Classes are smaller and more intimate than a university setting, so you can get the help and support you need.

 

We don't have such strict 

entry requirements

 for our higher education courses. We look at your life and work experience, as well as previous qualifications.

 
So, if you've always dreamed of going to university, a higher education course at your local campus could be the answer you've been looking for. A degree is within your reach – make it happen at Coleg Gwent! 
Explore our Higher Education courses
Follow your dreams
With a passion and a love for caring for animals, Erin studied our Foundation Degree in Veterinary Nursing at Usk Campus to fulfil her childhood dream of becoming a vet nurse. Hear all about Erin's experience of a university-level course at Coleg Gwent and how she made her dream a reality:
"Coleg Gwent is one of the only local colleges that do the Foundation Degree in Veterinary Nursing. Not many others do it! Knowing that the tutors are also veterinary nurses is great too. It helps as they understand the role and have experience in it!
Something I've really enjoyed about my higher education course is learning nursing styles and what I can actually do and achieve. I loved learning the science behind it all! My favourite part is anaesthesia, as it is a massive part of the veterinary nursing role. But I loved it all to be honest. It was definitely the right decision for me.
I wanted to be the best veterinary nurse I can, by expanding my skills by working in different practices and becoming a locum. I've now started my own business as a locum veterinary nurse, meaning I'm self-employed. I have a recruitment agent and an accountant, and I go around other practices and work when and where they need me.
If you want to study a university level course or be a veterinary nurse like me, you must really want it. It's not easy, but there is help to hand!" 
Follow in Erin's footsteps – achieve a degree and MAKE IT to your goals with Coleg Gwent. 
Join our next open event to explore our courses, meet our tutors, discuss your options, and discover our support services, and apply now!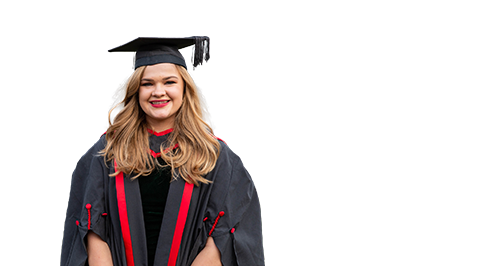 Experience university-level study to make it as a graduate!