A career path that can take you anywhere
Qualifications in cyber and digital technology could lead to an exciting career path that you might not have considered. Almost every sector of work is now influenced by IT, from healthcare to financial services, or Construction, Engineering and agriculture. So, tech is certainly a future-proof career choice. But how do you know if it's the right career path for you?
Where could Cyber and Digital Technology take me?
At Coleg Gwent, we understand that it's hard to know exactly where you want your career to go, especially at the start of your journey. But as technology crosses the boundaries of almost every sector, cyber and digital technology could take you anywhere. With qualifications and skills in IT, you can unlock doors to many different industry sectors throughout your career, following whichever paths interest you the most.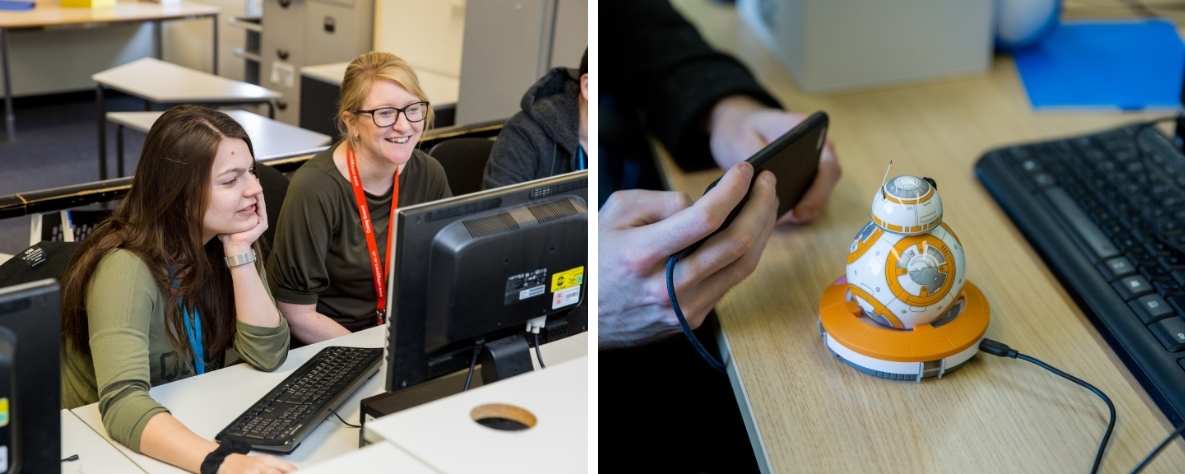 Healthcare
Nursing and medicine are not the only routes into the rewarding field of healthcare. In fact, technology plays a huge part in this sector, so there are a wide range of cyber and tech roles you could pursue. In our modern digital world, there are new technological advances all the time.
Can you imagine developing the latest smart watch that measures abnormal heart rhythms? Or programming robotic arms that can perform life-changing surgical procedures? Maybe you could see yourself working behind the scenes with cyber security to keep personal medical records safe and the NHS systems running smoothly. You could be at the forefront of innovation in healthcare.
There are so many ways you could use your tech skills to make a difference in healthcare. So, if you have a caring nature, but you're a bit squeamish and still want to make a positive impact on peoples' lives, IT could be a great route to consider. You can discover more about careers in healthcare here too.
Agriculture
Coleg Gwent's Usk Campus is home to a working farm as well as agricultural and animal care studies. So, we can see that technology is having a huge and positive impact in these areas. Artificial intelligence, robotics, technology and mechanical automation now enable us to farm more efficiently on a mass scale. This has helped to feed the world's growing population – one of the most pressing concerns of the 21st century.
Thanks to technology, tractors and machinery use sensors to monitor crop conditions so we can optimise farming productivity. Tasks like fruit-picking, harvesting and milking can be performed by agricultural robots. We even use digital systems to keep track of the origin of food in our supply chains. This is all an integral part of our daily lives, and you could be part of it. So, if you have a flair for problem-solving, you could use cyber and digital technology to solve 21st century problems.
FinTech
The UK is a leader in global financial technologies. Organisations are transforming digitally, with more online banking, data storage and digital systems. This means there's an ever-growing need for cybersecurity to tackle threats like hacking and phishing. Employers need to ensure their data is secure, so they're searching for people with the skills to work with the latest technologies. So, in this sector, you could find yourself working with artificial intelligence, cloud services, virtual reality or even robotics. There are skills shortages in this area. So, with cyber skills, you'll be in high demand!
This sector is fast-paced and continuously changing and growing as new threats emerge. You'll be challenged every day and learning new skills throughout your IT career. So, if you're curious about the latest tech innovations, Coleg Gwent's employer led Cyber College Cymru course prepares you for this demanding sector first-hand. You'll gain the skills, knowledge and understanding you need to excel in FinTech.
Built Environment
Our modern world is built on technology, from the homes we live in, to the cars we drive. Digital innovations in construction, manufacturing, engineering and our environment have transformed everything around us. Cyber and digital tech skills could see you working in green energy and conservation to tackle climate change. You could be developing 'smart factories' that use artificial intelligence to improve the supply chain. Or you may be designing new cars with latest assisted driving and car repair diagnostics technology to improve safety.
These innovations are now filtering down the supply chain and reaching consumers. Smart technology in now the norm in our homes, solar panels are built into new build houses, and more affordable electric cars are hitting the market. At Coleg Gwent, we feel it's important that learners experience this first-hand at college to prepare you for the world of work. So, we've invested in technology to enhance your learning. We even have a brand-new Tesla car in our Automotive department!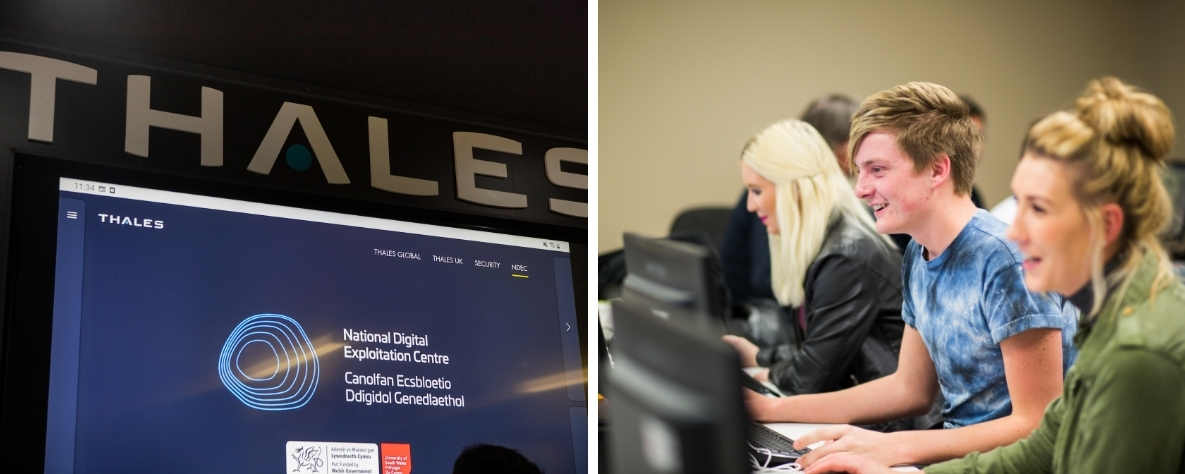 Keeping up with an evolving digital world
Technology is always advancing with new developments and breakthroughs. This means that digital and cyber skills are sought-after in the workplace in every sector… especially if you've trained using industry-standard facilities and the latest equipment, like learners at Coleg Gwent.
To keep up with this fast-paced sector, Coleg Gwent is proud to be a Cyber First Gold College and strives to offer learners the most up-to-date facilities. This includes fully-equipped IT suites, and access to the latest hardware and software to develop your IT skills and partnerships with leading employers – Admiral, Fujitsu and Thales – as part of Cyber College Cymru, working to shape the curriculum. So, Coleg Gwent's IT courses develop your skills to meet the evolving needs of the sector, setting you up for success!
Launch your career in cyber and digital technology with a course at Coleg Gwent – Register for our next Open Event to discover more.