Congratulations to three talented Coleg Gwent students who have been selected from hundreds of competitors to represent the United Kingdom in the WorldSkills National Squad.
The squad is made up of 94 young people who have excelled in regional and national competitions throughout the year, across 27 different skills. Competition for spaces in the squad is fierce, with only the most talented students making the final selection.
In order to prepare them for the challenge of the international competition, the team will take part in an 18-month intensive training programme with coaching from highly skilled trainers, industry experts, former medal winners and performance coaches.
A number of these trainers are from colleges that form part of the WorldSkills UK Centre of Excellence. This programme aims to raise standards in apprenticeships and technical education, helping boost economic growth, create jobs and level up the country. Coleg Gwent is proud to be one of the first 20 colleges to be part of this innovative scheme, with a number of our tutors engaged in mentoring programmes to allow them to bring the highest standards to our students.
Throughout the training process members of the squad will be aiming to prove they have what it takes to compete against the very best of the rest of the world, as part of the 'skills olympics' in Lyon in September 2024.
Meet the talented Coleg Gwent learners who have been selected as WorldSkills UK National Squad members: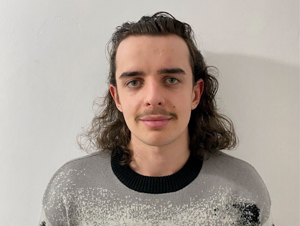 Ryan Williams, 18, Foundation Degree Games Art and Design
Gold medal winning 3D Digital Game Art competitor, Ryan Williams, saw Skills Competition Wales and WorldSkills as a great opportunity to test his skills and get a glimpse of what it's like in the Gaming industry.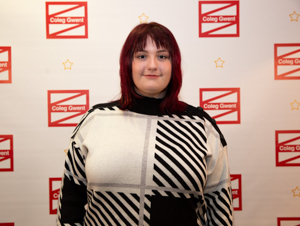 Niah Lewis, 18, Foundation Degree Games Art and Design
3D Digital Game Art competitor, Niah Lewis, loved the whole experience of competing in Skills Competition Wales.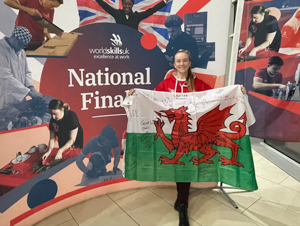 Hannah Cooper, 21, Level 3 Professional Cookery
Restaurant Service competitor, Hannah Cooper, enjoyed learning new skills and completing the flambé tasks.
Speaking about the selection and competition process, WorldSkills UK Deputy CEO Ben Blackledge said:
"This is a life-changing moment for the 94 members of our squad, as they prepare for international competition. These are such important opportunities to both raise the profile and prestige of UK skills and enable us to transfer the insights and best practice gleaned from other countries to drive standards at home."
Keep your eyes on our social media channels as Ryan, Niah and Hannah begin their journey to compete against the best in the world in Lyon. Find out more about enhancing your career prospects through skills competitions at Coleg Gwent.