Name: Holly Overfield
Home: Abertillery
Course: HNC Electronic and electrical engineering
Campus: Crosskeys Campus
Electrical and electronic engineering apprentice, Holly, has thrown herself into the world of engineering, embracing opportunities with both hands. One experience and achievement she's proud of is coming second in the Screwfix Trade Apprentice of the Year competition.
What is the Screwfix Trade Apprentice of the Year?
Open to all trades, the Screwfix Trade Apprentice of the Year competition enables you to show your skills as an apprentice through numerous stages in the competition. If successful, you work alongside the company which helps to get your name out there in the sector. It also gives you the opportunity to work alongside Screwfix reviewing tools too. You can change your whole career by applying, and if you win, you receive £10,000 worth of tools to help kickstart your career. Holly explained:
"I'd recommend it to anyone. Screwfix is a game-changer, and it helps you get your career off the ground. It's helped me a lot with my job and allows you to make contacts for the future. It makes a massive difference to anyone's CV and is a standout factor. It's so simple to enter and the rewards are amazing! I continue to work alongside screw fix reviewing and testing new products, and I've become an advocate for the competition. I want to encourage students to go for it this year!"
Holly did exceptionally well to achieve second place in Screwfix Trade Apprentice 2021, and she told us a little more about her experience as an apprentice at Coleg Gwent…
Why did you choose to do an apprenticeship in electrical & electronic engineering?
"I always loved design technology in school, and I was told when it came to GCSEs, I should go for something more 'academic'. Girls were always discouraged when it came to practical work. But I thought why should I listen when that's what I love? I loved practical work and went ahead with doing design technology at GCSE.
I then got my apprenticeship just before I left school and went on to do my level 3 Enhanced Engineering Programme before carrying on to my HNC. I wanted to progress further with my education so I could go further in my career. I want more women to be encouraged into the industry and into an apprenticeship, and to not to be scared. As women, we can do whatever we want. As long as you're willing to put the effort and work in, you can accomplish anything. Just always stay strong and keep your head up and focused!"
What's been the best thing about doing an apprenticeship at Coleg Gwent?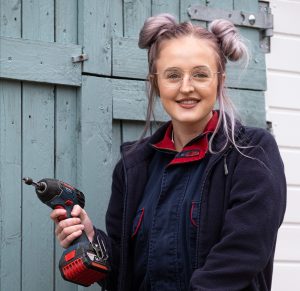 "I love how the tutors are so passionate about the course. Over 4 years, I've had many practicals and the support is exceptional. I love how I can progress in college without having to go to university, and I can stay in the same facility and build bonds with my tutors.
I wouldn't recommend any other way. Going through an apprenticeship is amazing. You earn and learn at the same time and it's a lot of work, but it's so worth it in the end!
With an apprenticeship at Coleg Gwent, you can go through the course year by year getting to know your tutors, and they encourage to go further with your work. I've even been able to take part in an NVQ as an extra qualification, which is amazing for industry!"
What's a typical week like for you as an apprentice?
"As part of my apprenticeship, I go to college one day a week and work 40 hours a week in shifts, which change between days, nights and afternoons. It's difficult to balance, but everything is worth it. It takes hard work to get where you want to be, but education and an apprenticeship build your career and your confidence as a person within your profession.
I'm now finishing my HNC, and my career plan is to do my HND next. I want to progress in my career to management or supervisor level and continue to build my knowledge and experience."
The Screwfix Trade Apprentice 2022 competition has come around for another year and applications close on 20th February 2022. Follow in Holly's footsteps and make it as an apprentice in the trades with an apprenticeship at Coleg Gwent.