Torfaen Learning Zone has been highly anticipated for quite some time, and after a difficult year in the midst of a global pandemic that's affected us all, we're excited to officially open our brand-new state-of-the-art campus in the heart of Cwmbran. After many months of teaching and learning remotely, we're thrilled to welcome learners and staff through its doors and mark the occasion with a small opening ceremony.
The new campus offers a wide range of courses for all types of learners in Torfaen, with industry-standard facilities at one of Wales' top performing colleges. The Learning Zone will provide learners with fantastic opportunities for post-16 education in the Torfaen region. Our Blaenau Gwent Learning Zone in Ebbw Vale has already revolutionised outcomes for our learners in that area, and we look forward to seeing the same success at Torfaen Learning Zone.
Torfaen Learning Zone is part of the Welsh Government 21st Century Schools and Colleges programme. Managed and run by Coleg Gwent in partnership with Torfaen County Borough Council, the learning zone replaces three English medium school sixth forms in the borough and will be home to all A Level education in Torfaen. It will also offer the Welsh Baccalaureate and a range of complementary level 2 and 3 qualifications, bringing further education services together under one roof for Torfaen.
Despite the uncertainty of COVID-19, the build of the new campus made good progress and has come a long way since the original announcement made to all staff, learners and the wider community back in June 2018.
The Journey to Torfaen Learning Zone
In November 2018, although the foundations were well underway, we saw the ceremonial sod cutting of Torfaen Learning Zone and it was a landmark day for both Coleg Gwent and Torfaen Council.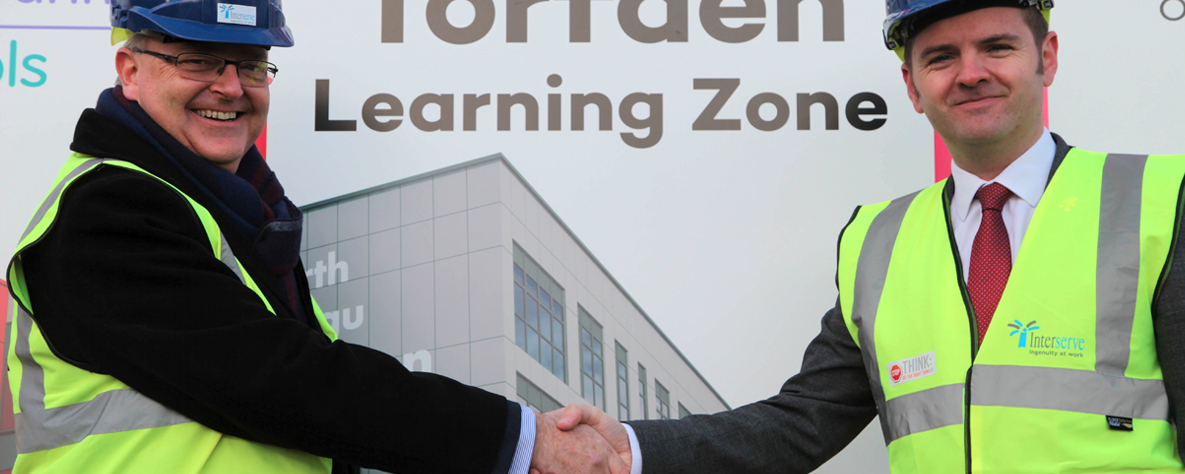 In September 2019, we 'topped out' in a special ceremony to mark the important milestone in the £24 million development. We held a roof top ceremony with Torfaen Council to celebrate.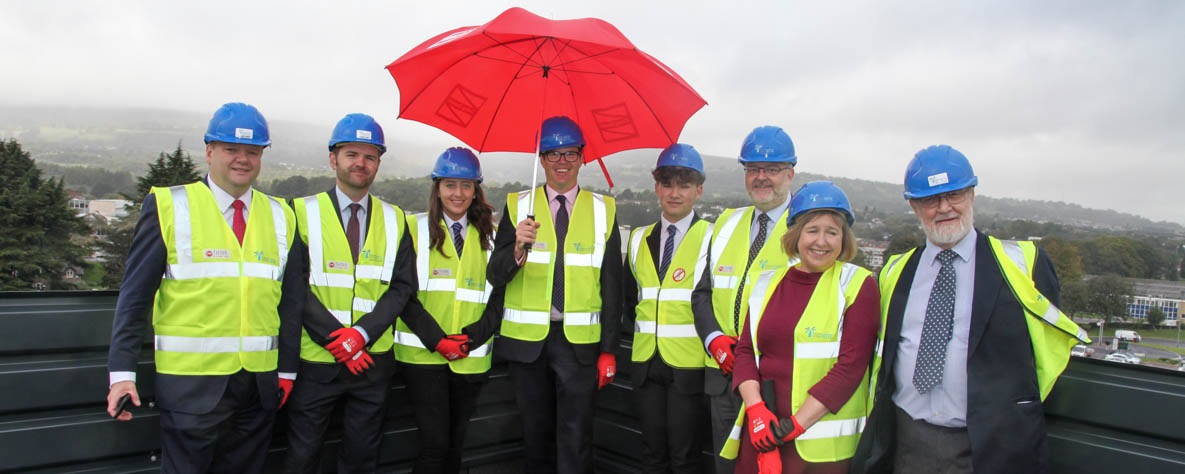 Due to the COVID-19 pandemic, we saw a pause on building work during the lockdown period in the interest of safety, which meant the building work was slightly behind. So, in June 2020, the decision was made for all staff and learners for the Torfaen Learning Zone to begin the new term in our Pontypool campus.
Then, in September 2020, the site was officially handed over to Coleg Gwent staff and arrangements were made to start fitting all of the furniture and equipment.
October 2020 marked an important milestone as we saw our learners visit the site to see the finished campus before moving there in January 2021.
COVID restrictions sadly meant that teaching and learning had to take place remotely in January 2021 to keep everyone safe, but our learners and staff adapted excellently to the situation and looked forward to the time when they could make use of the fantastic new campus facilities.
And finally, in April 2021, we were able to open the doors of the new Torfaen Learning Zone to all learners and staff after the Easter half term break to begin face-to-face teaching and learning again.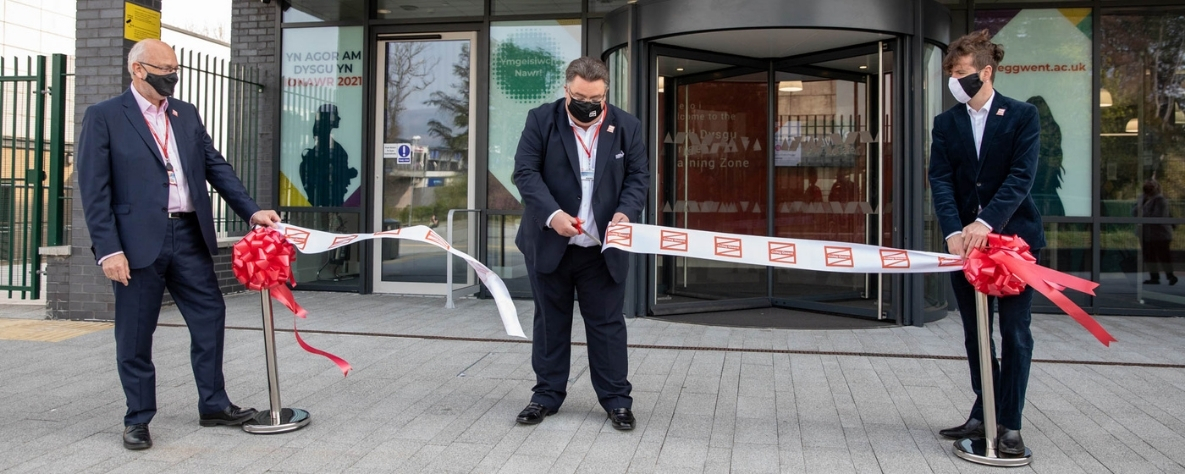 Principal Guy Lacey said "we are all tremendously excited in the College about the opening of the new Torfaen Learning Zone. It will be an amazing place to learn and study and we can't wait to see our students using it. It has been a long process to get here – the pandemic may have delayed things, but it hasn't stopped us from getting to the goal of having an amazing new College for all the young people and adult learners of Torfaen."
Following a similar model to the Blaenau Gwent Learning Zone in Ebbw Vale, the building will be fully accessible and will include specialist facilities for pupils with Additional Learning Needs (ALN). The campus is bright, light and airy with modern amenities and facilities – an ideal environment for learning and inspiring young minds. The Learning Zone's prime location next to the Morrisons store in the town centre is also easily accessible for learners and staff, with excellent links to public transport and local facilities.
Leader of Torfaen Council, Councillor Anthony Hunt said: 'Torfaen Learning Zone will help secure a more sustainable way of delivering post 16 education in Torfaen. Our motivation as always is our learners, and making sure they will be able to access the broadest possible curriculum and quality of provision into the future.'
If you would like to learn about our new campus and the courses on offer at Torfaen Learning Zone this September, register now for our next virtual open event where you can explore the campus and meet our expert tutors!