Our apprentices come from far and wide to learn new skills and improve their career prospects, and we have over 500 apprentices studying at Coleg Gwent. Our apprenticeships cover a range of subject areas, from Health and Social Care to Bricklaying, and Plumbing to Hospitality. So, you'll find something to suit your interests. And not only that, but they also appeal to people of all ages too, from school-leavers to mature-learners.
Many learners choose an apprenticeship because it offers a very different learning style and environment to school. So, it suits learners who didn't enjoy school, as well as those who have been out of education for some time.
Introducing Jade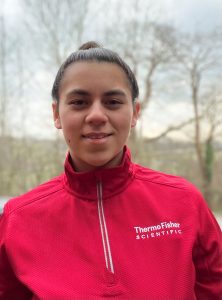 Jade Parry studied BTEC Enhanced Engineering and went on to do an apprenticeship with us too. Being in college helped Jade gain her qualification and she was able to use the college links with local employers to gain an apprenticeship with Thermo Fisher Scientific, studying HNC Level 4 in Electrical Engineering and Level 3 NVQ in Engineering Maintenance.
What did you like most about your course?
"I 100% prefer my apprenticeship to attending full time college. I go to college one day a week on a Monday and then I'm in work Tuesday-Friday. You get so much more hands on experience and I find it less intense than full time study. It can sometimes be a challenge to fit in study around my work, but the company are really good and let me take time to complete college work."
Why did you choose Coleg Gwent?
"Doing an apprenticeship was appealing as it meant I could earn money whilst also studying for my qualifications. Plus, I don't have to pay for the qualification and some of them can be really expensive. There's a better variety of courses at college than those offered at sixth form, and I wanted a change from the school environment with a new challenge and something different. There's also lots of opportunities for apprenticeships at college. The Head of School informs the tutors of opportunities to pass onto us students."
Words of advice for other apprentices…
"Engineering is still definitely a male dominated industry. But my company actually took on another female apprentice at the same time as me. There are definitely more women getting into the industry now. It would be nice to see more women in engineering as lots of people assume it's a job for men as it can be a physical job. But this is completely wrong and actually men and women do equally well."
Introducing Harry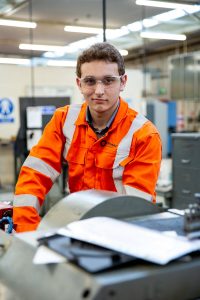 Harry Hoskins joined us to complete his Level 2 Mechanical Engineering apprenticeship at Crosskeys Campus while working for TARMAC. The company enrolled Harry at college to enable him to gain his qualification. Here's what he has to say about his experience:
What did you like most about your course?
"The practical sessions are interesting and the teaching staff are friendly and helpful. I can speak with my tutors regarding any issues. Also, the equipment in the workshops are not available in schools!"
Why did you choose Coleg Gwent?
"Once I left school, I saw an advert for an apprenticeship with TARMAC. As soon as I started working there I was enrolled at the college to do my apprenticeship.
I now want to complete my qualification and continue working as a quarry fitter and fabricator maintaining the machinery. But in order to this, I'll need to complete level 2, then go on to level 3 and HNC, and HND."
Words of advice for other apprentices…
"I would say you should complete your assignments on time and to a high standard. And don't be afraid to ask for help."
Introducing Jesse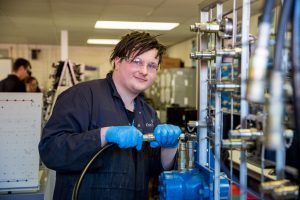 Jesse Moody also did his Level 2 Mechanical Engineering apprenticeship at our Crosskeys Campus, but his story is different to Harry's. Growing up on a farm, Jesse had always enjoyed fiddling around with machinery and being hands-on and practical. He always had an interest in engineering, which led Jesse to taking an apprenticeship:
What did you like most about your course?
"I was home educated, so I felt nervous about coming back into the education environment to do my apprenticeship. But I settled in quickly and I was always treated like an adult. There's a really good attitude in the workshops from both the staff and students – they treat you all equally. I really enjoyed working in the workshops and carrying out practical activities."
Why did you choose Coleg Gwent?
"I choose Coleg Gwent because I preferred the workshops at Crosskeys Campus compared to other colleges. Feedback from friends who study at Coleg Gwent was great too. I started at entry level because I left school with no qualifications, but due to my practical skills I was able to move on to Level 2 and miss out Level 1. In an ideal world, I'd like to go on to have my own workshop working on small machinery in the future. So, after completing Level 2, I plan to progress to Level 3 and possibly an HND too!"
Words of wisdom for other apprentices…
"Get ahead with the work as quickly as possible – if you complete your work ahead of time, you have more practical time in the workshop!"
Is an apprenticeship right for you?
Apprenticeships are a great route to take if you're looking to upskill or change your career. There are many benefits of taking an apprenticeship, including earning recognised qualifications alongside a wage. Many local employers also appreciate the value of apprentices in the work place, such as Stately Albion, a family-owned business and the oldest manufacturer of park homes in Europe. Production Managers Robert and Darren explained:
"We wanted to work with local education and invest in local youngsters. Our start-up apprenticeship last year has been a huge success and started us off on the right path towards our objectives."
So, why not explore our apprenticeships today and make it with Coleg Gwent?