Earlier this term, Cardiff Metropolitan University hosted a group of our Applied Science students for a full food science experience day at their ZERO2FIVE Food Industry Centre, gaining an insight into the degree options and career pathways available within the food science and nutrition sector.
We work closely with partner universities like Cardiff Met to not only deliver higher education courses at your local college campus, but also to prepare learners for the next step towards a degree. So, during your studies at Coleg Gwent, you'll have the opportunity to go on educational trips and visits to universities to learn more about the courses and careers you can aim towards.
The visit to Cardiff Met's ZERO2FIVE Food Industry Centre was a great opportunity for our learners to meet face-to-face with course directors, researchers, and food technologists, to find out more about the field they're interested in working in and delve deeper into their higher education course options.
Learner Ann Mati explained that "it was a great opportunity to discover more about the food science sector and the career pathways within it. I never thought that the food industry would require all this advanced technology. I was amazed by augmented reality technology and how it helps to create a simulated environment to support the sector."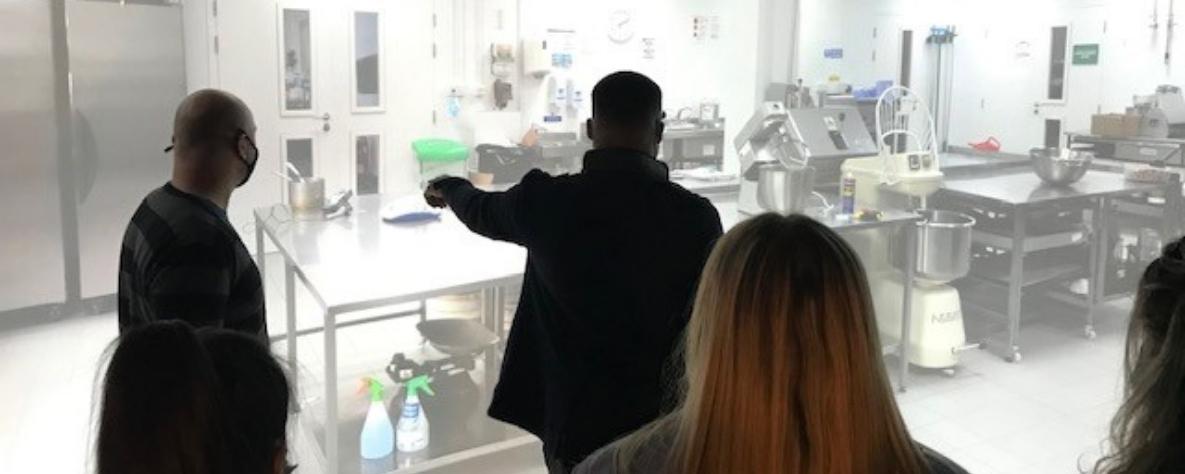 The university held the event as part of ongoing engagement with schools and colleges, to help inspire the next generation of food scientists. Course directors, Dr James Blaxland and Dr Ian Ashton, gave the students a tour of the ZERO2FIVE Food Industry Centre's state-of-the art facilities. This included the bakery, confectionary, and sensory analysis suites, as well as a new product development kitchen and the Perceptual Experience Laboratory (PEL), all of which are based at the Llandaff campus.
Experiencing the ZERO2FIVE Food Industry Centre
The ZERO2FIVE Food Industry Centre at Cardiff Metropolitan University brings together a unique collaboration between industry-experienced managers and respected academics. They work with around 150 Welsh food and drink companies of all sizes and stages of growth every year, providing support with factory design, start-up advice, new product development, third party certification and global food standards compliance, food safety and security, food and labelling legislation, nutrition, market analysis, and marketing.
For Mohammed Eisa, the visit to Cardiff Metropolitan University has changed his view on his future goals. "We met amazing PhD doctors who taught us a lot about the importance of the food industry and the quality of the food that we eat. The ZERO2FIVE Food Industry Centre was something spectacular; it demonstrates how respected academics and industry-experienced technical, commercial, and operations managers collaborate to achieve their goals."
During the visit, lecturer and researcher, Dr Joe Baldwin, showcased the latest augmented reality technology and how it is supporting the Welsh food and drinks sector – something we're extremely passionate about at Coleg Gwent. Students wore eye-tracking glasses to experience a range of simulated environments including food retail, branding, and packaging, using immersive sound, smell, temperature, and vision to bring the experience to life.
Isha Yousaf learnt a lot of new information and was fascinated by how much effort it takes for our food to go on the shelves – "My Favourite part of the day was standing in the screen and exploring it made me feel like I was shopping."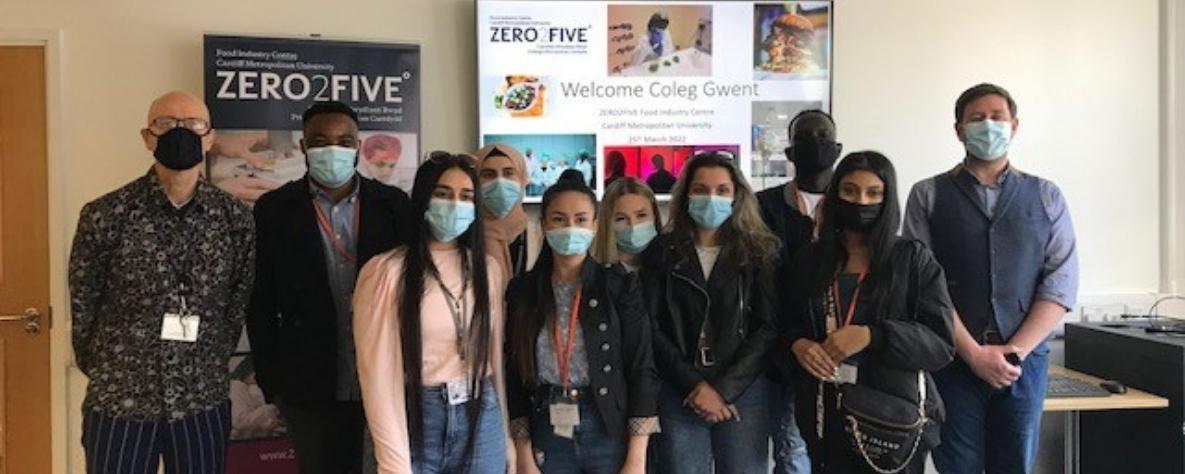 Learners also had the opportunity to meet with second-year undergraduates to ask questions about the courses and career opportunities in the industry. The experience gave the learners a great insight into studying food science and nutrition at university and all the different roles available in the sector.
Make it your career
There are hundreds of courses available at Coleg Gwent in a broad range of sectors. You can discover jobs and industries you've never considered before, and your exciting career starts here. Thanks to our partnerships with top universities, you can experience opportunities like visiting ZERO2FIVE, to help you prepare for your degree and future career! Make it happen at Coleg Gwent – apply now to join one of Wales' top performing colleges.