Climate change is one of the most significant global challenges of our time. We can all play a part in helping to reduce our impact on the planet. So, we're making sustainability a priority at Coleg Gwent. We're making progress in line with the UK government's target to reduce 100% of greenhouse gas emissions by 2050, but we still have a way to go and we all need to help!
What we've achieved so far
Lots of changes have been happening around the college to reduce our impact on the planet. From altering how we get rid of rubbish and introducing new processes, to setting up our sustainability task force; we're putting sustainability at the heart of what we do.
Thanks to our ongoing efforts to be cleaner and greener, we've turned things around at our campuses. Since 2005, we've been monitoring our practices and we've reduced our energy usage and can now proudly say that 100% of our rubbish is diverted from landfill. We've reduced emissions by 62% through upgraded equipment, and we're using only 100% renewable electricity. We've also collaborated with local communities on sustainability projects and developed partnerships with Cynnal Cymru, Keep Wales tidy, and the Woodland trust.
Our five-year plan to reduce our waste, emissions and environmental impact saw us crowned winner of the College of the Year in the National Environmental Awards 2021, spurring us on to do even more!
What we need to do next
Our sustainability task force has a lot planned for the coming years, as we continue to improve our college and reduce our environmental impact. We'll be focusing on travel, introducing recycling points, and building a more knowledgeable work force.
Our staff and students will play a key role as we work towards a net zero carbon target by 2050. It's important that we all do our bit in college to save the planet, and here are some of the simple ways you can help:
Use less paper – 81% of our emissions come from how much paper we use, and last year, we used 11 million sheets of paper. With these shocking numbers, we need to reduce how much we're printing and start thinking more digitally.
Take part in our travel survey, so we can understand how learners and staff commute to college. If you live nearby, why not consider walking or cycling?
Carry on turning off lights and computers when they're not in use.
Use Microsoft Teams for cross-campus meetings to reduce our emissions.
Our range of green courses
Our commitment to the environment doesn't end there. As a college, we educate and train the future workforce. So, alongside making changes in college to promote sustainability, we're also upskilling future employees so they can make a positive difference in some of the most environmentally impactful sectors, by using the latest methods and technological advances.
With sustainability in mind, we're delivering courses focusing on green energy, electric vehicles, and sustainable construction, which are key considerations now and in the future. Many of these flexible courses are available through free Personal Learning Accounts (PLAs) if you meet the criteria. So, you can take steps towards becoming an environmentally friendly professional with our Electric/Hybrid vehicle courses, our specialist Daikin air source heat pump training, or an NVQ Diploma in insulation and building treatments.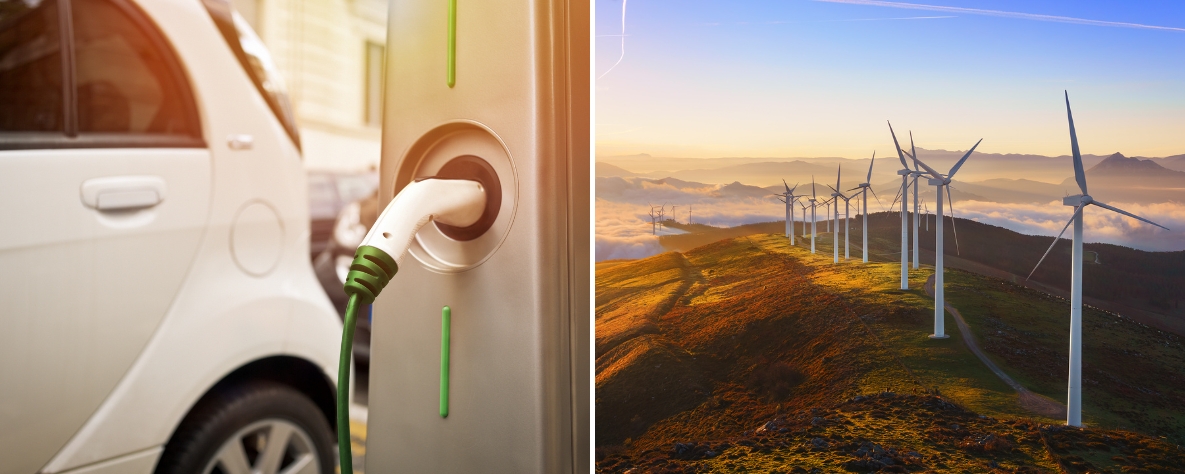 There's a lot we can do to reduce our personal environmental impact too. Our evening courses like Furniture Upcycling and Basic Household Maintenance enable you to reuse, repurpose, recycle and fix things, rather than buying new. If we all do our bit and keep sustainability in the forefront of our minds, we can collectively make a positive impact on the planet.
As a college, we're committed to becoming cleaner and greener, setting an example for future generations. So, we're calling on our learners, staff and community to join us in the fight against climate change!