Over 80% of organisations in the UK experienced a successful cyber-attack in 2021/2022!
Whether phishing, ransomware, spam or malware; cyber security is a big industry. Demand for cyber professionals in the UK has increased by 60% in the past year. So, our courses are always evolving to give you the best opportunities and experiences to succeed in this sector.
Our Cyber College Cymru programme gives you the equivalent of three A Levels, while you develop specialist skills and knowledge by working with industry-leading employers. You'll even get a head start in your career thanks to a series of activities, competitions and events which enhance your learning, like the JISC Conference and the Smart Homes Challenge.
JISC Cyber security conference
This year's JISC Cyber Security conference took place in November at Newport's International Conference Centre, with Coleg Gwent invited as a keynote speaker and as part of a student panel. Looking at hot topics in cyber defence, the conference delved into zero trust policies, cyber resilience, multi cloud environments, and sharing tips in the battle against cybercrime.
During the conference, our expert ICT team delivered a keynote session about how the college tests IT infrastructure and policies using simulated incidents and an incident response team. Meanwhile, four learners from our Cyber College Cymru programme at Blaenau Gwent Learning Zone attended the student panel about educating the next generation of security talent. Alongside their tutor, Mike Aubrey, they answered questions relating to what they do through Cyber College Cymru, what the Cyber First Gold award is, why they're pursuing careers in cyber, and the challenges they've faced.
It was a very successful event which allowed the students to network with key players in the cyber security industry, while giving the industry an opportunity to learn about them and the Cyber College Cymru programme too. Thanks to the conference, we've forged stronger links with the organisers, JISC, and we hope to repeat this in future.
Smart Homes Challenge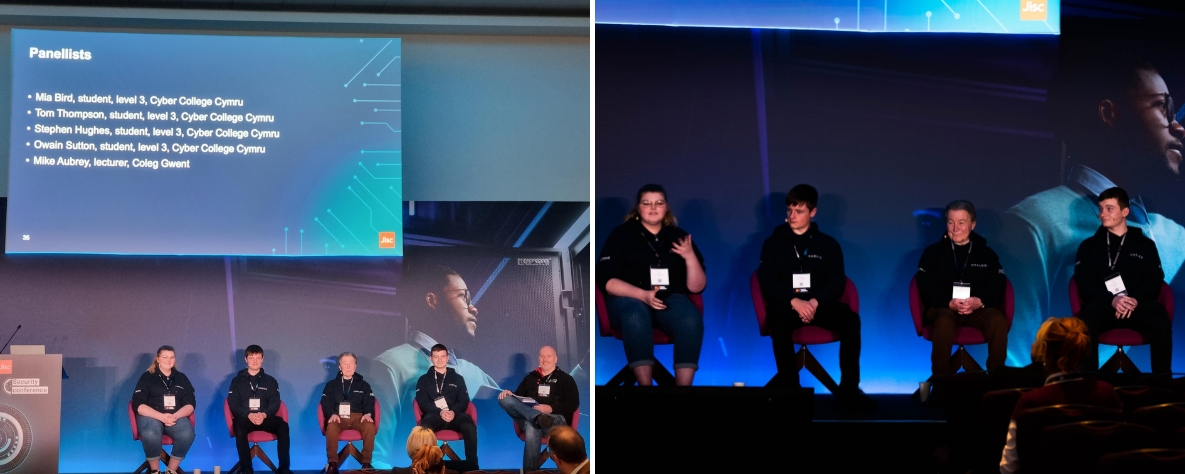 Our Cyber College Cymru learners have achieved further success as part of their Welsh Baccalaureate Enterprise and Employability challenge, where they entered three teams into the Smart Homes Challenge for 2022.
The smart homes project is a challenge for all partner colleges within the Cyber College Cymru network, which culminated in a short conference, presentation of ideas, and prize-giving event in October. Teams from each college were challenged to come up with an innovative solution which uses digital technology or monitoring systems to support residents or particular populations such as the elderly, vulnerable, or first tenants, to live independently and make use of smart features in their home. It could be linked to fuel efficiency, independent living, or the use of new technologies, and it encouraged learners to come up with challenges and solutions that have the potential to be trialed in the real world.
During the project, teams could collaborate with an industry partner or just run the project internally within their college. It was a great opportunity for the students to apply theory to practice in a simulated scenario, and with £7,000 of prize money up for grabs, the winning team could put this towards their subject area in college or use the funds to take their idea to the next stage of development.
Our Cyber College Cymru learners produced three successful entries this year, and we're extremely proud to announce that they won all the prize money available. They've now been invited to a presentation ceremony at University of South Wales.
Congratulations to the three winning teams from Coleg Gwent:
Team 1 – Awarded £1,000:
Mia Bird (Captain)
Rhys Maddox
George Evans
Alicia Bailey
Stephen Hughes
Joel Upham
Team 2 – Awarded £1,000:
Timothy Herridge (Captain)
Alex Wright
Lewis Rogers
Ethan Priddy
Tyler Davies
Team 3 – Awarded £5,000:
Owain Sutton (Captain)
Euan Bell
Rhys Lewellyn-Holley
Tom Thomson
Jonathan Conjoice
Get set for a future proof career and join the fight against cybercrime – discover our hands-on cyber security courses now!