We know that employers are looking for more than just a qualification on your CV. So, throughout your studies at Coleg Gwent, you'll have many opportunities to get involved in fantastic extracurricular activities that complement your learning, like the innovative City Car Cup.
This year, around 60 first and second year learners from Level 3 Motorsport Engineering at Blaenau Gwent Learning Zone are taking part in an exciting Student Motorsport Challenge in the City Car Cup! Offering our learners real experience of the careers they're aiming for and an insight into the motorsports industry, the City Car Cup gives them a chance to complete some of the practical elements of their course outside the workshop and in a real race environment.
Motorsport Engineering learners take on the challenge
Bringing their theoretical learning into practice, our ambitious students will be converting a standard Peugeot 107 car, donated by local car retailer Ron Skinner and Sons, into a race-ready vehicle using parts provided by Essential Racing. With funding for parts from the Royal Academy of Engineering, the team have already hit £7,000 of their £12,000 target that has allowed them to purchase all the parts needed so far. They're now tasked with fundraising and presenting to local businesses for the final sponsorship amount to complete their project. They'll be taking care of the commercial side of motorsports too, such as marketing and recruiting a driver.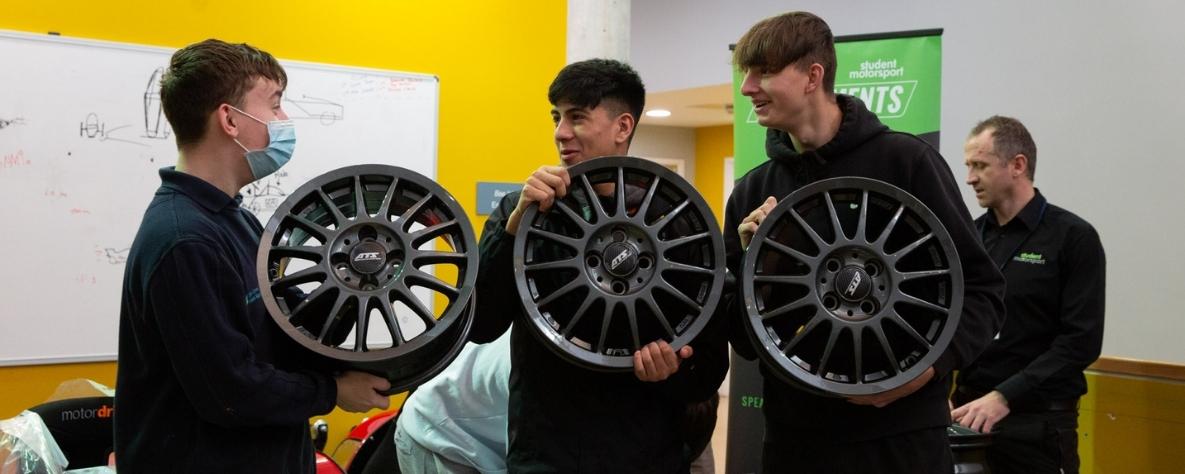 The students are aiming to complete the car in early March, ready for test runs at Llandow or Castle Coombe Race Circuit, before competing in the first of seven races in the 'Student Motorsport Challenge' in April. The race series includes around 50 cars per race, with six entrants from other colleges in the UK forming a mini league within the championship.
Motorsport Engineering learner Joseph Pereira said, "the series is very fun. It's entry level and there's a lot of work that goes into it to making it cheap and efficient for us to take part in. An activity like this will help me if I put it on my CV or cover letter, or if I mention it to a motorsport company or F1 team in the future. I can now say that I built a race car with my college as well as completing a two-year diploma in Motorsport Engineering!"
Boosting skills and CVs
Aiming to make racing more sustainable and affordable at entry level, former motorsports tutor and founder of Student Motorsport, John Paul Latham, developed the idea of a student racing series. He teamed up with Essential Racing and BRSCC to create the Student Motorsport Challenge, offering real-world experience and professional development to boost students' employability and work readiness.
The challenge demonstrates that motor racing is not just a spanner and four wheels, but it involves a range of support departments and industries to make that car, get to the track, market it, run it, and repair it. It teaches our learners about not just the preparation of the racing car but also the commercial side of motorsports, preparing them for the workplace.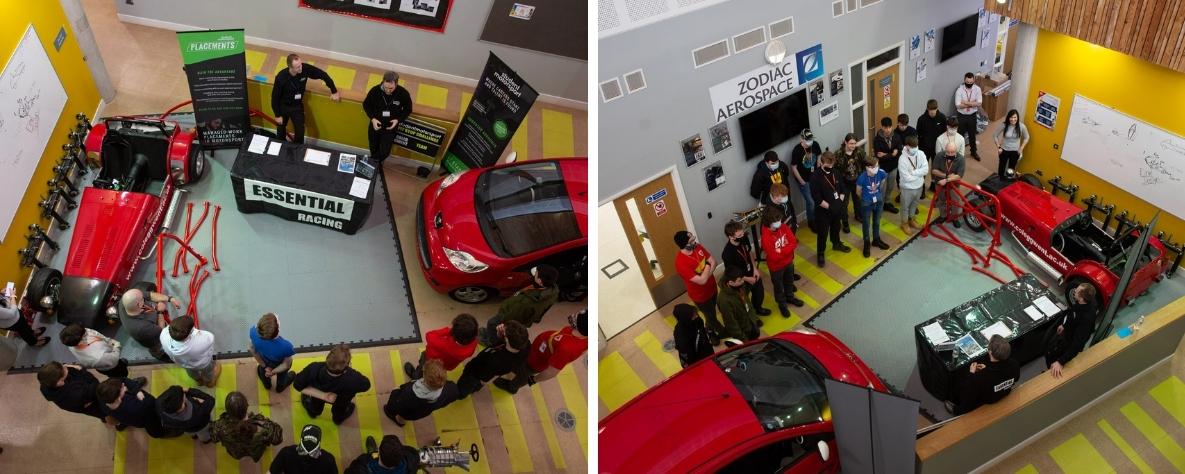 The City Car Cup is a great opportunity for our Motorsport Engineering learners to network and meet teams from around the country, gain insight into their future careers, and enjoy a fun competition alongside other student teams. Our learners will visit racetracks around the UK over the next year, experiencing real-world racing by looking after and maintaining a live race car in a professional environment. It will provide invaluable experience to be added to their CVs and UCAS applications.
Motorsports Tutor, Dan Lockett, explained that "with access to this championship, students will get hands-on experience in a professional racing series, where they'll get to meet students from other colleges, other professional motorsport teams, and hopefully make the contacts they need to get into industry in the future. We'd like to say a big thank you to Ron Skinner and Sons, because without our sponsors, none of this would be possible."
Gain more than a qualification
Our courses are designed to give you extra experiences that enrich your skillset and prepare you for your career, helping you get one step ahead of the competition. So, like our Motorsports Engineering learners, you'll gain far more than just a good grade at Coleg Gwent. Find out more about our courses at our next open event – register now!