Every year, hundreds of adult learners join Coleg Gwent to change their story. Whether they're looking for a career change, aiming for a promotion, or learning a new trade; our adult learners have all sorts of reasons for going back to education. We offer a wide range of free and flexible courses that are ideal for adult learners, as well as a range of financial support options to make it possible for you at Coleg Gwent.
This Adult Learners Week, we met some of our mature students to hear their stories and find out why they joined Coleg Gwent this September.
Meet Cai Griffiths
Age: 31
Course: Vehicle Maintenance (full-time) and Fabrication and Welding (part-time)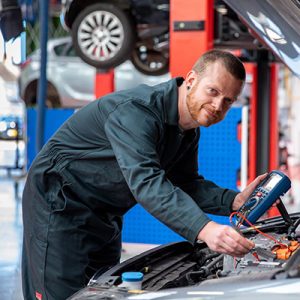 From the age of 17, Cai worked in offices and call centres to earn money and pay the bills. But he knew it wasn't for him and decided to redefine his career as an adult learner. After hearing good reviews from friends, he realised that re-training at Coleg Gwent was his answer. Cai now plans to gain a new skill set and learn a trade to build a brand-new career for himself.
This September, Cai is studying Vehicle Maintenance to become a mechanic. Cai has enjoyed working on his own motorbike in the past. However, he's never had the chance to work on a car and is looking forward to learning new skills during his course.
"I've worked on vehicles in the past, but I've never worked in an environment like this with a brand-new workshop and high-tech cars and equipment that I'm not used to working with. I'm now looking forward to feeling like I have a whole understanding and structure around working on vehicles and becoming confident in my approach."
As an adult learner, Cai felt more conscious of how much time it would take to re-train and start again on a new career path. But he's found that there's a lot more scope at college and a more personal approach from tutors. He soon discovered that with his good GCSE grades and experience working on his motorbike, he wouldn't have to start at Level 1. Instead, Cai has been able to go straight into Level 2 Vehicle Maintenance at the City of Newport Campus instead!
"Tutors take the time to speak to me about things that are personal to my learning style – like whether I prefer group or individual work. Then they tailor it to fit me better."
One concern for many adult learners like Cai is working out how to make full-time study affordable if you can't work alongside it. But as Cai found out, hundreds of full time and enhanced part time courses and free at Coleg Gwent, and we offer a lot of support and information on financial aid too. Your tutors can talk you through options which will help, and our flexible enhanced part time courses may even enable you to work alongside your studies.
Every adult learner has a different reason for returning to college. Whatever yours is, make it the motivation you change your story with a course at Coleg Gwent. Apply now for our free and flexible full time and enhanced part time courses – it's not too late to join us!