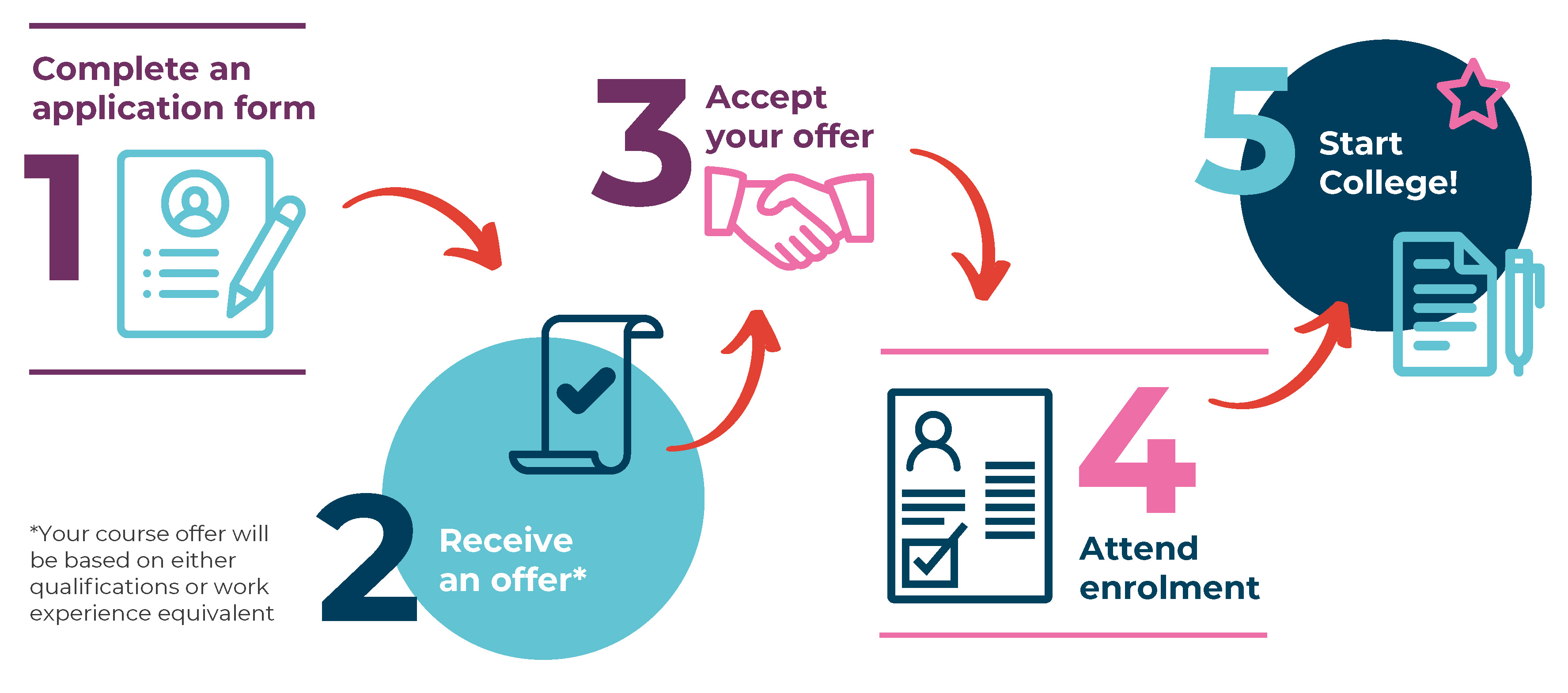 *Your course offer will be based on either qualifications or work experience equivalent
Once you've found a Higher Education course you're interested in, applying is easy – just click the apply now link at the bottom of your chosen course page to get started. The application is separated into five easy steps and takes minutes to complete.
If you'd like more information or have any questions, just call our friendly Student Recruitment Team on 01495 333777 or email hello@coleggwent.ac.uk.
Receiving an offer
Once we receive your application, we'll assess it based on the relevant criteria and offer you a conditional place at college. The entry requirements depends on the course you are applying for and we take into account work experience too. If you would like to learn more about the entry requirements for one of our Higher Education courses, please contact our Student Recruitment Team on 01495 333777.
Accepting your offer
You will need to accept your offer by logging into your Coleg Gwent account.  If you would like more advice and guidance before accepting your offer, you can choose this option and book an appointment with our Student Recruitment team
Please ensure that your email address is correct in your application as we will send regular updates to the email address you provide.
Enrolling on your course
Enrolment and induction is usually in early September. We'll let you know closer to the time to let you know exactly which date you'll need to come in, and what you'll need to bring with you.  While you're here you can find out more from the people who'll be teaching you, meet others on your course and start getting familiar with the college campus. You should expect to be in college for up to two days.
*Please note that when applying for University of Worcester courses the UCAS application route must be used.
Recognition of Prior Learning
Recognition of Prior Learning (RPL) provides you with an opportunity to gain recognition for previous relevant academic achievements and allows credits to be transferred to the new course to avoid the duplication of previous learning.
Applying was easy! I was nervous because of my age and having worked full time since I left school, I thought that was my only option. The interview stage helped straight away as they answered all of my questions and put me at ease, so I was pleased to get onto the course.
Tom Hathway
Foundation Degree Illustration