You want your qualifications to help you get the job and career you want. So it makes sense that your courses should be designed with employers, so you have the skills they need.
That's where being a Career College comes in – and Coleg Gwent is the only Career College in Wales. If you're interested in Health and Care or Digital Technologies, we've got the courses you need created in partnership with local employers.
What makes a Career College different?
Career College courses have been specifically designed with employers, so students can get involved in real life industry projects and gain invaluable experience in the workplace. In other words, you're learning EXACTLY what companies need from potential employees, guaranteeing you a step on the career ladder. In fact, many students on similar courses have gone on to apprenticeships, University and employment.
What courses are on offer?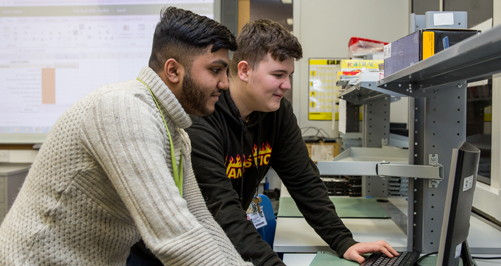 Digital Technologies
Digital technology is, literally, the future. It's always growing and changing, and companies are desperate to find technically savvy candidates to help them stay ahead of the game. You could earn as much as £55,000 as a Computer Network Manager – and we could give you the relevant qualifications to get your career started.
Apply now >
These courses have been designed to meet the skills shortages in South Wales. That's why we've teamed up with companies such as Amazon, DVLA and Cisco, to give you the skills employers need and get you workready.
Are these courses only available at Coleg Gwent?
Coleg Gwent is the only college in Wales offering these courses. You'll be learning from local employers in their working environment and receive close mentoring from our experienced lecturers.