Predicted grades can be an important part of the admissions process here at Coleg Gwent, so it's important to have a clear understanding of what predicted grades are and how they can affect your application process.
So, what are predicted grades? Predicted grades are provided by a lecturer/teacher before you sit your exams and reflect what results you can expect you to achieve in your GCSEs or A Levels (or equivalent exams).
Why are they important?
Predicted grades are an important part of the application process as they allow us to get a view of your academic capabilities before you join us. A lot of our courses have entry requirements, this is to ensure that you have the right skills and knowledge to successfully complete your chosen course.
Predicted grades are particularly important for anyone applying for higher education or higher level courses. These courses can be very challenging, so it's sometimes suggested that you take a course at the level below first, to help develop the key knowledge and skills that will help you succeed in your studies.
Predicated grades are also important for you as a learner as they can help you measure your progress. It can help you set yourself goals to get you where you need to be!
What if my predicted grades don't meet the entry requirements?
If your predicted grades don't meet the entry requirements – don't give up!
If you feel you can achieve the entry requirements, put in the work and revision and talk to your teachers/tutors about what you can do to improve your predicted grades. They're unlikely to bump your grades up just because you ask – and if they did, you'd be risking disappointment on results day. They might be able to suggest a study plan or other opportunity that could help to improve your grades.
Talk to us! If you're still unsure, you can talk to our student recruitment team about some alternative pre-entry programmes in the way of a lower level course that may be available to help set you on the right path.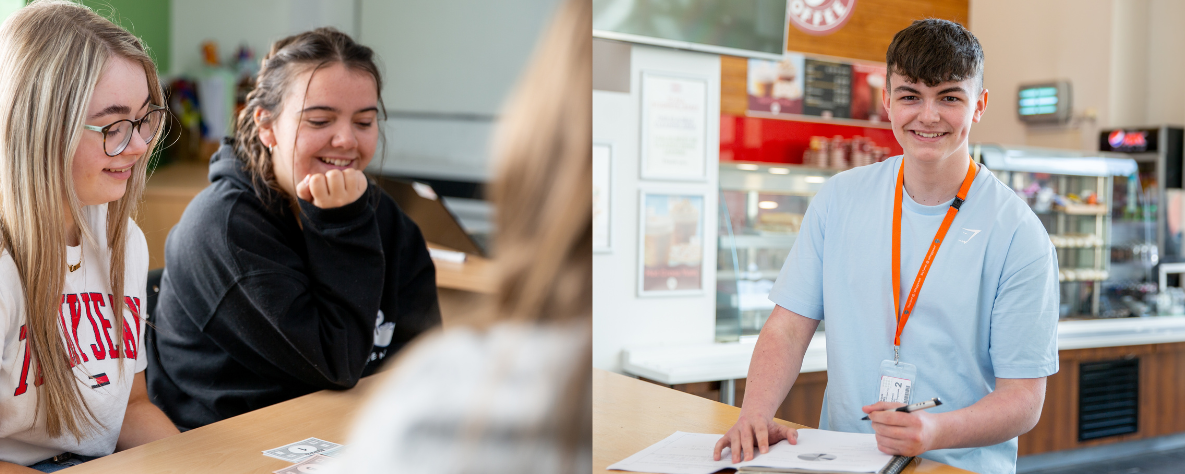 What if my school/college don't provide predicted grades?
Not all schools provide predicted grades, but don't worry! You can still apply, just include grades that you're hoping to achieve in your application. It's important to be realistic so that you can be sure that you're setting yourself up on the right path.
Resitting your Maths and English at Coleg Gwent
At Coleg Gwent, we take maths and English development seriously. We recognise that good maths and English are vital assets in today's job market, as well as everyday life. So if you didn't get the grades you need in GCSE Maths and English for the future you want, we can give you a second chance to improve them alongside your course, as well as help you achieve the level you need to.
As a full time learner at Coleg Gwent, maths and English will form part of your learning programme, where we will support you to gain the maths and English qualifications that are needed for course progression, employers and university. If you did not achieve a grade C or above in your maths and English Language at GCSE, you will continue to study these subjects at college. Dependant on your attainment, this will either be GCSE re-examination, or Essential Skills.
What to do once you have your predicted grades?
Apply for your chosen course! Once you have your predicted grades, you can apply straight away – there's no need to wait until results day. This will help you prepare your travel arrangements and apply for any financial support that may be available to you in advance.
Unsure about your grades? Just get in touch. Our student recruitment team are on hand to help and have a lot of experience helping learners find the course they need to set them off on the right path. Get in touch with us via hello@coleggwent.ac.uk or call us on 01495 333 777 (croesawn alwadau yn Gymraeg).