We're lucky to have some fantastic, award-winning and inspirational tutors across our campuses at Coleg Gwent. Every day, they share their knowledge, experience and expertise to help you work towards your goals. But our tutors care about much more than just your grades. They also have a strong and supportive pastoral focus, helping you thrive and grow while at college.
Lecturer, Brian Back, has taught Sociology and Access to Humanities and Social Sciences at Blaenau Gwent Learning Zone for ten years. As a sociology tutor, he gets learners to see the world and themselves differently and achieve more than they ever believed they could. Using his counselling skills and personal experiences, Brian supports students to overcome issues and achieve their goals.
Sharing his insight
To continue passing on his experience, knowledge, support, and passion, Brian has written a book called 'THE ANSWER TO LIFE: The Simple Solution to the Problems of Living'. Based on the lessons he learned through studying his Access course, being a lecturer and working as a counsellor, his book uses personal experiences to help others understand their lives and overcome adversity.
Why did you decide to write your book?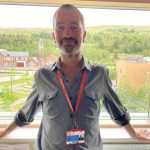 "The book came about because I trained to be a counsellor. This happened for two reasons. Firstly, because I have always had difficulties with my mental health. So, learning to be a counsellor meant that I could help myself and others who might be experiencing similar difficulties. Secondly, in my role as personal tutor, I'd often have to act as an unofficial counsellor. I'd hear awful stories of how my learners were struggling to feed their kids, or dealing with a threatening and abusive ex-partner, or having problems with anxiety or depression. I'd sometimes have multiple learners breaking down and crying hysterically in front of me, all in one day. I found it really hard to deal with, often feeling helpless with no idea how to support them. So, I decided to train as a counsellor to become better at my role as personal tutor.
Once I started training as a counsellor, I realised that the key ideas from counselling were not just applicable to people struggling with mental health problems, but they were relevant and helpful to everyone. So, I began to apply these ideas at work and I learned how to be better at getting students to believe in themselves, work hard, stay on the course, and achieve more than they were previously predicted to."
What's your book about?
"Whilst training as a counsellor, I saw that in psychology, sociology, philosophy, literature, legend and mythology, and in all major spiritual beliefs and religions across the world, there was one fundamental idea at the heart of all of them. So, I went looking for the book that tied all these different ideas from the different schools of thought together. But I couldn't find it. This made me feel like I had to write it myself, because it seemed such an important idea that could help people transform their lives, as it had done for me.
So that's what the book is about. It's semi-autobiographical, containing compelling examples from my private and professional life to demonstrate how all the key ideas aren't just theories, but they very effectively explain 'real' life. It demonstrates how all the different schools of thought share one key fundamental truth about the answer to the human condition, and how this answer is applicable to all of us, in every aspect of our lives."
How does it feel to be a published author?
"Writing my book is a great achievement for me. It took me three years to write and it was an amazingly hard and growth-inducing journey. But it was worth it – It feels great to have completed the book at last! Pursuing something you really believe in and working hard to achieve it, is one of the things that makes life worthwhile and satisfying."
Congratulations to Brian on completing his fantastic book – 'THE ANSWER TO LIFE: The Simple Solution to the Problems of Living' – now available on Amazon and Audible. Sales of Brian's new book will support the mental health charity,  Mind.
If you're a college learner who would like access to further help and support, get in touch with your personal tutor and take a closer look at our College Support Services.