We've all be negotiating the challenges and changes that come with remote teaching and learning over the past year. But for our more practical courses like Music, our creative learners have gone above and beyond expectations to find exciting and innovative ways to make the most of the situation they find themselves in.
It seems our Level 3 Rock School Music Practitioners learners from Blaenau Gwent Learning Zone have found inspiration in the pandemic. While learning from home, they've been sharing creative and exciting new ideas proactively amongst themselves. So, during a time when they can't be in college to work together, they've been busy collaborating on a lockdown album as part of their studies.
The Rock School Lockdown Album project compliments their studies on several levels. Incorporating aspects of key modules in 'Composition as a Collaboration', 'Music Performance' and 'Music Events Management', the project pulls all of their learning together, culminating in a real sense of achievement and a tangible record to put their names to.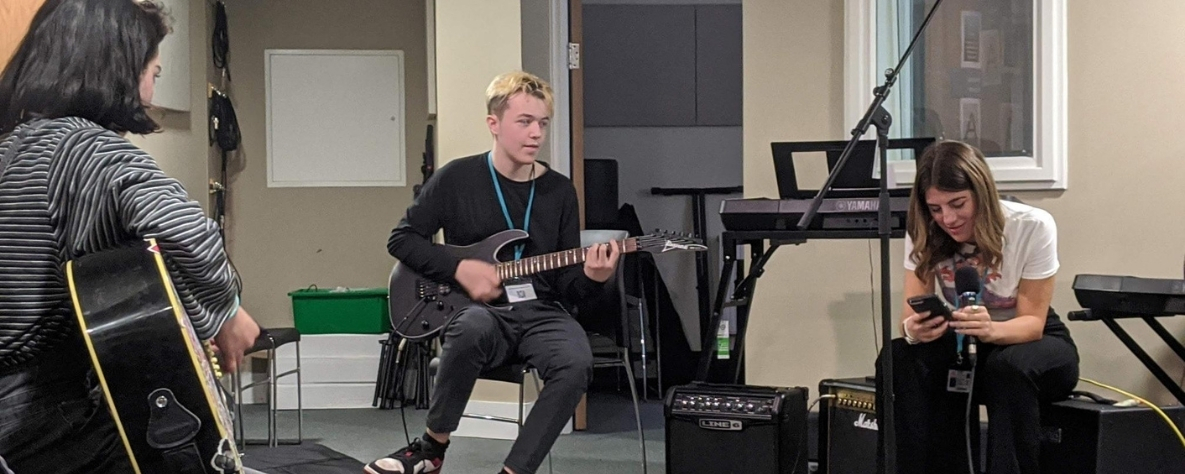 With 25 Rock School learners taking part, there's a wide range of genres and styles, from Electronic Dance Music to Post Hardcore Metal, and Rock to Contemporary Pop. Between September and December 2020, learners spent time writing their own original music and lyrics in groups, bands and individually for their very own album. They managed to record some of their work using state-of-the-art digital equipment in our music studios during times when lockdown rules allowed them to be on campus, and their album started to develop and grow.
Spending full days in the recording studio, the process has been eye-opening for the learners. It surprised them with how long and time-consuming the recording process can be from start to finish. However, it was a fantastic experience for them to be part of the project, giving them a different perspective of music compared with their usual performances. And although in the post-COVID world our learners will be able to perform in front of live audiences again, the project has been such a huge success that we plan to continue with the album project in future as it's a great opportunity to showcase our learners' hard work and talent.
The Rock School learners are now planning to finish recording their original music in the studios at Blaenau Gwent Learning Zone when they're able to return to campus, and they plan to launch their album in summer 2021 with an event at Ebbw Vale Institute to mark the occasion when COVID allows. The album will be available to buy as well as download.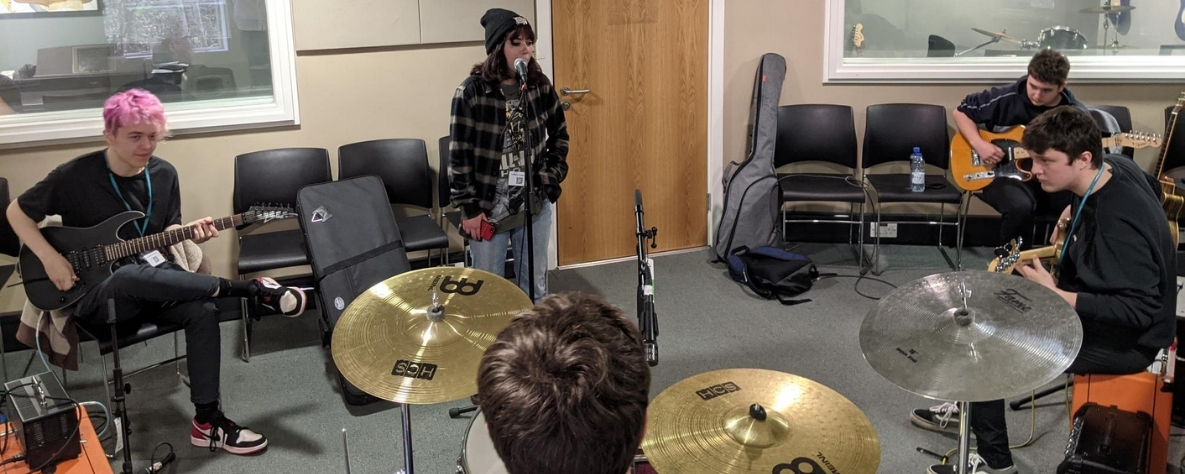 Music Tutor, Holly Ellis, is really proud of her Rock School learners and the excellent standard and impressive work ethic they've demonstrated in such a tough year. Although the learners haven't had their usual opportunities to perform in front of an audience, their album showcases their incredible talent, inspirational creativity and positive can-do attitude, and we know they're destined to go far in their music careers.
So, if a career in music appeals to you, whether you're aiming to be a songwriter, sound engineer or involved in music production, apply to study music with us today. With the Rock School Music Diploma at Blaenau Gwent Learning Zone and a range of courses in Music Production and Music Technology at Crosskeys Campus too, you can make Music your career with Coleg Gwent.