It's no secret that Wales has produced some incredible creative talent over the years, and we're proud to play our part in nurturing new Welsh performers too. Our Foundation Degree in Performing Arts paves the way for ambitious performers breaking into the competitive world of drama. They're not only guided and benefitted by our skilled tutors, professional facilities and official partnership with the Riverfront Theatre; but also by a whole host of guest speakers with valuable insight into this complex industry.
Our Foundation Degree gives you the opportunity to explore drama from an inter-disciplinary perspective, opening doors (and not just stage doors) to roles across the sector. There's something for everyone, whether you're looking for a starring role on the West End stage, a stint on the big screen, or a chance to write your very own script!
This year, our Foundation Degree Performing Arts learners have had the opportunity to meet and learn from professional Welsh actors, directors, playwrights and film-makers, who shared their years of experience and knowledge through virtual sessions.
Meet the professionals
Owen Thomas, Gareth John Bale, Richard Harrington and Tracy Harris are well-known names in the performing arts industry in Wales. Each of them brought our learners a unique insight into the sector. One learner, Kayleigh Barton, has enjoyed meeting professionals from the field of performing arts: "Since starting in September, the number of professionals that I've been able to meet and work with for a module has been amazing! Every professional I've met has given me amazing feedback, which I can use for my future career and will continue to benefit my skills as an actress."
Film critique with Gareth John Bale
Renowned Welsh Actor and Director, Gareth John Bale, has starred in numerous TV productions and award-winning theatre performances, as well as directing a range of theatre productions. He critiqued our Performing Arts learners' film work from the standpoint of acting and directing, offered guidelines on acting for screen, discussed his experiences and talked about career development.
Performing 'Ripples' by Tracy Harris
As part of their Creation of Performance module, our learners were joined by Welsh Playwright and Film-maker, Tracy Harris, who is working with them on her play 'Ripples'. Tracy feels it is important to nurture, support and mentor the next generation of Welsh artists and she's looking forward to collaborating with them. Due to COVID, Tracy's play couldn't be performed in a theatre last year, so, our students have the exciting opportunity to be the first to perform it in a theatre.
Script editing with Owen Thomas
During their Creative Industries Practical Project, our learners worked with Owen Thomas, a Welsh Playwright with a string of successful plays to his name. Owen was the script editor for the students, setting the theme for their episodes and giving feedback on their drafts. He shared his experience in writing effective dialogue, constructing a story and the rudiments of storytelling required in a script, commenting that "the chance to give back a little of what we have learnt is a rewarding experience."
Production and performance masterclass with Richard Harrington
Household name, Richard Harrington from Hinterland, Gangs of London and Poldark, joined our group to discuss the writing and producing of Laura Wade's play 'Home, I'm Darling'. Richard deconstructed the text, advising on character and delivery, and our learners read and performed scenes with him. He commented that "working with these gifted Performing Arts students reminded me of why I wanted to be a performer. They brought their personalities to the session and used them to their advantage – their interpretation injected new life, vigour and intelligence into the material that enriched it beyond measure."
Over the course of their studies, more Welsh performing arts professionals are scheduled to work with our learners. This will enhance their skills and take them to the next level of performance, giving them valuable insight into a career in the industry.
Curious about a career in Performing Arts?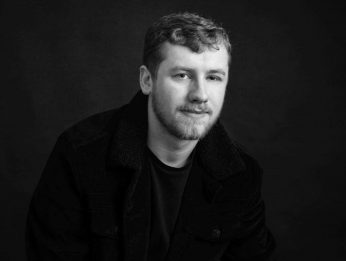 Studying Performing Arts at Coleg Gwent gives you the opportunity to explore the range of roles this industry has to offer and develop a strong understanding of the sector. With workshops, rehearsals, discussions, projects and performances throughout the course, you'll gain vital experience to boost your employability. Not only that, but you'll gain real insight from professionals during your course too.
First year student, Dylan Guard said "you feel as if you can experiment and try new things with no judgment, which is exactly what you need for this industry. I have no doubt that the skills that I've learnt from this course will help me achieve my goal to become an actor."
If you'd like to find out more, visit our website to discover our Foundation Degree in Performing Arts and begin your career in this exciting sector at Coleg Gwent.