For many years, our Equestrian Department at the Coleg Gwent Usk Campus has supported the Clytha Group, a branch of the Riding for the Disabled Association (RDA) based in Usk. And thanks to our ongoing support, the RDA have been able to help dozens of local people with disabilities who have attended their inclusive riding sessions.
The RDA can help most people with disabilities varying from physical disabilities to Autism, and everything in between. They even work with school children and encompass the National Curriculum through having fun, creating a sense of achievement, and using a little imagination.
Our Equestrian Centre
Throughout the year, our Equestrian Centre at Usk Campus runs equine events including dressage and show jumping for all ages and abilities, as well as offering inspiring professional lectures with information on the latest trends and techniques.
It's ideal for anyone with an interest in working with horses or learning more about caring for horses too, and the campus facilities are available for learners on all our equine courses, from Part-time Riding Skills Development and Full-time Diploma in Horse Care, to our Foundation Degree in Equine Studies!
But furthermore, we've made our equestrian facilities available to the RDA, so they can continue their fantastic work with people with disabilities in the local community, extending the benefit beyond our learners.
Working with people with disabilities
At Coleg Gwent, we know that horses and ponies are a wonderful medium and they're very empathetic with peoples' needs. This makes them great companions for people with disabilities, and we've seen some inspirational success stories through our work with the RDA!
Rachel Wolverson, Chair of Clytha Group RDA, told us a couple of her most memorable stories:
Autism allies
"One boy on the Autistic Spectrum decided he would give up speaking. So, when the school brought him to us, we asked what would be most beneficial to him besides having the opportunity to ride a horse, and they said for him to speak again. We worked on this and explained that he didn't have to talk to us (people), but he would need to tell Des (the horse) what to do.
After a couple of weeks working with this boy, he would quite happily tell Des to "walk on" and to go right or left while also using his reins. He came to us in September, and after spending a few months with us, we broke up for the Christmas break and he rushed over to me and said "have a very happy Christmas, Miss". That was his first uninitiated speech for a long time!! He'd only been answering questions until then and that had only started since coming riding with the RDA. Everyone was delighted and it turned out that he only needed to find the right key to unlock his speech again and he's never looked back!"
Stroke recovery
"We also worked with a lady who had a severe stroke, but before that she had her own horses and went riding all the time. So, she really wanted to get back in the saddle and came to us for a number of weeks. During this time, we helped her find new ways of mounting a horse and generally improve her strength for riding. This helped her to regain her confidence and ability to be able to find a quieter horse and hack out with friends from her home."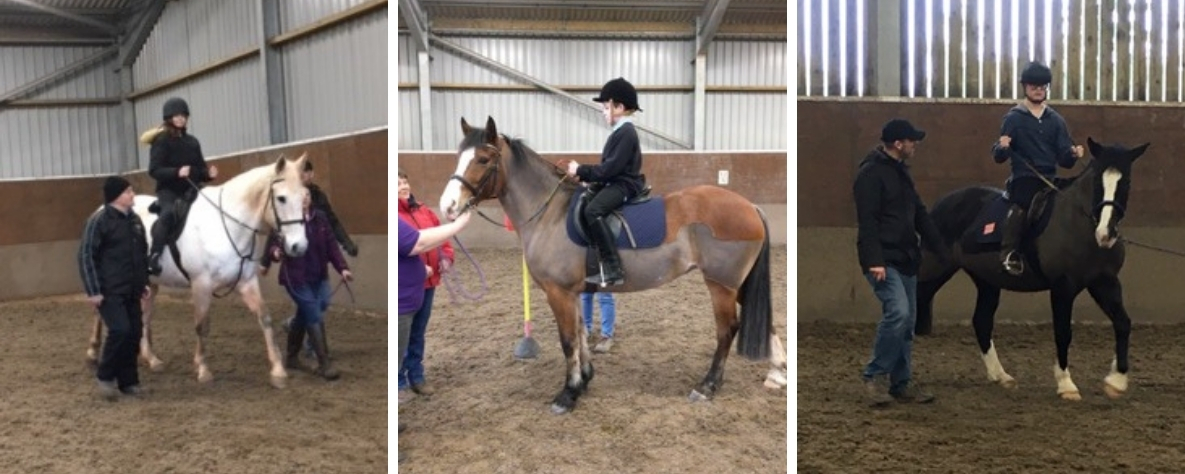 More than just horse riding
These inspirational stories are the reason why our community work is so important to us at Coleg Gwent. On the whole, the RDA find that learning to ride is an added bonus for the people they work with. But we agree that gaining confidence and independence through riding spills into peoples' everyday lives and we can't put a value on that.
The RDA even introduced some of their more capable riders to competitions where they've had to overcome their nerves and learn that they can't always win, especially at National level. This is a huge advancement and achievement for most people with disabilities who would never have that opportunity if not for the RDA and our Equine Centre facilities and horses!
And at Coleg Gwent, these opportunities extend far beyond just equine studies. We welcome learners of all abilities and disabilities to apply for our range of courses, and our support services are designed to help you thrive and get the most out of your time at college.
So, if you have an interest in working with horses, developing your skills, or learning something new, discover our full-time, part-time and Higher Education courses and much more at our next virtual open event!