Meet the Learner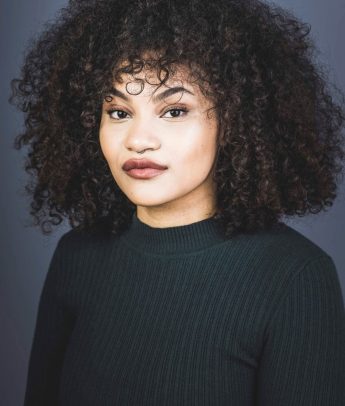 Name: Emily Hawkins
Home: Newport
Course: Level 3 Musical Theatre (2018-2020)
Campus: Crosskeys
Emily studied Level 3 Musical Theatre at Crosskeys campus under the watchful eye of tutor Cheryl Harper, who helped cement her passion for performing. Having always enjoyed singing and theatre, Emily applied for the course to turn her passions into a career path, and it was an eye-opening experience for her, that's led to place at the prestigious Guildford School of Acting!
Why did you choose Coleg Gwent?
"I actually attempted seven other courses before fully committing myself to Musical Theatre, because I was convinced that I'd never be able to make a career out of performing, so I thought why even bother? Of course, now I know that's not true.
I knew that Crosskeys was the place to be rather than other colleges, since I'd already done a year of A-Level studies there and I was familiar with the environment and the support that's offered. I had a wonderful time in my first few weeks, being warmly introduced to the format of the course and my Musical Theatre family."
What did you like most about your course?
"The course outline was laid out clearly initially regarding how much was practical versus written, and the kind of work and dedication that was expected. This all aligned with the masses of care and attention that was given to us newcomers by the tutors and the unity that we, as a class, formed very early on.
The first month was very intensive and jam-packed with dance classes which I will forever be thankful for, considering my lack of dance experience and general fitness. The work is great because if you don't class yourself as someone who can digest mountains of written work, no matter how much writing you actually do, it's always compensated for with practical work in the form of dance classes, singing classes, group work and rehearsal time.
The teachers were friendly, very knowledgeable and always happy to watch their student's progress. There were many opportunities for us to participate in workshops with external practitioners and industry professionals, including Julian Woolford and Mitchell Harper, who led us for a Guildford School of Acting workshop. We were also encouraged to attend trips to watch various musicals including Heathers and Waitress in London, and we even fundraised money to support our bi-annual performances."
Did you face any challenges during your studies? How did you overcome them?
"I was worrying at first about committing myself to Musical Theatre and whether it was going to benefit me in the long run, but meeting Cheryl and Nick made me instantly feel at ease. They provided us with a multitude of opportunities to bond with each other and with the second year students, with whom we performed our end-of-year musical, Mary Poppins.
There was plenty of support offered to students when struggling to complete written work both within and outside of the department. It helped solidify the fantastic learning experience that the college was offering. The library facilities were great for researching and completing work and the staff were always incredibly friendly to the point where they'd order in books or plays that students needed. So, if there's a play you're dying to read, don't be afraid to ask!"
What's been your biggest achievement so far?
"I suppose my biggest achievement was getting accepted in my dream drama school, Guildford School of Acting, which I never thought I'd have the opportunity to apply for, let alone get in!
Once I was accepted, I was given the opportunity to then apply for the many on offer and, to my amazement, I was awarded the Andrew Lloyd Webber Foundation Scholarship, which benefits winners with a very generous loan that covers tuition fee costs.
This all happened over the course of quarantine, so it was incredible to see how much I could achieve from my laptop. It's taught me that it's always worth taking any opportunity that comes your way and coming to terms with having control over your future."
What are your long-term goals?
"Well the sky is certainly the limit, even though of course the impact that coronavirus has had on the performing arts industry will take a lot of time and effort to reverse, but I'm determined to make it to the main stage. I'd love to be able to fulfill at least some of my dream roles and continue to follow in the footsteps of my biggest inspirations, meaning if all goes well, you can find me playing Effie in Dreamgirls!
Coleg Gwent has strengthened my knowledge of making oneself employable enough to actually feel confident in being able to support this career path. I was also given the chance to complete my Maths GCSE that I hadn't been able to gain prior to the course, so it's lovely that students are able to re-sit exams."
Any advice for students thinking of studying at Coleg Gwent in the future?
"I would advise to anyone, whether they're set on a career path or not, to go to a college open evening and to not settle for the sake of location or cost; the Crosskeys campus is the only campus that offers the relevant performing arts training that I and my classmates needed, so it was worth the journey to get there knowing that the lessons would benefit me.
Don't be afraid to grab opportunities as they come, because you'll find yourself experiencing things you never even considered possible and you'll most likely have fun doing them. Surprise yourself! What's the worst that can happen?"
Emily is now embarking on her studies at the Guildford School of Acting and we wish her the very best of luck for her future. We can't wait to see her on the big stage, and if you dream of being in the spotlight too, join us now!