Yesterday, we held our annual learner awards event – a celebration of all our inspirational learners and their achievements throughout the academic year. As a college, we like to recognise effort, commitment and hard work, and reward exceptional achievements as learners make it to their goals. So as the academic year draws to a close, we took the opportunity to celebrate our learners' dedication to their studies with inspiring Welsh sports presenter, Jason Mohammad.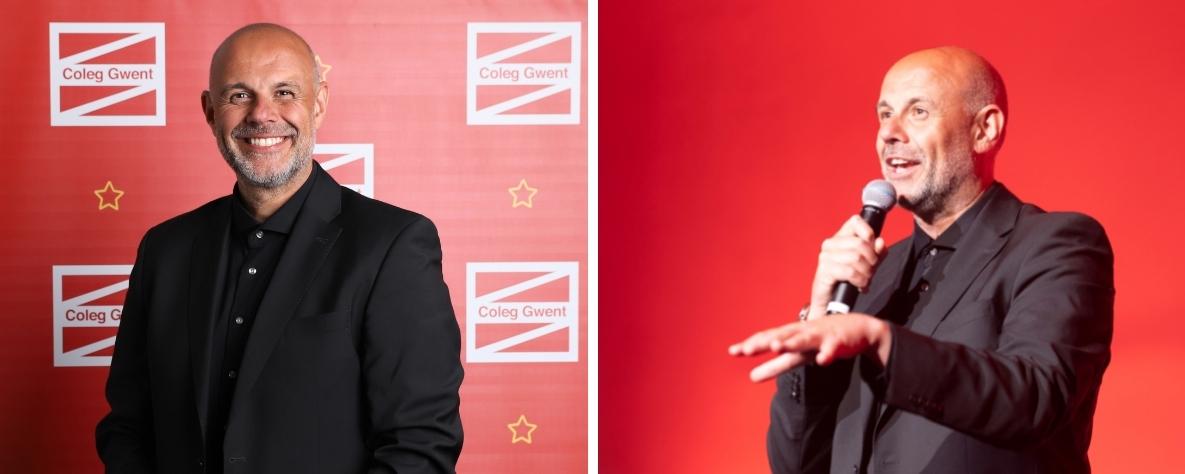 Nominations for the 2022 learner awards were made online by tutors and staff across the college, either for most improved learner, overcoming adversity or outstanding achievements. We received over 450 nominations this year, a testament to our incredible learners and their resilience and determination to succeed.
To receive an award, learners may have overcome adversity, displayed a positive attitude or exceptional talent, or turned failure into success. The nominations were whittled down to 89 Learner Achievement Award winners across the three schools at Coleg Gwent. Five learners were also selected for special recognition awards, with three being awarded the Faculty Director Awards for progress made during their studies, one receiving the Chair's Award for overcoming adversity, and one winning the Principal's Award for outstanding performance.
Vice Principal Nikki Gamlin said, "We're enormously proud of our learners' achievements and of the talented and hard-working team of staff who support our learners in achieving great things."
With a special guest appearance from motivational speaker Jason Mohammad, and performances from our talented learners and musical theatre students, the awards evening was a night to remember. It highlighted the exceptional talent of our learners and their resilience during a challenging year. Despite disrupted lessons, working remotely and the uncertainty around assessments and exams, our learners have proven how adaptable and committed they are to achieving their goals.
The pandemic has taught us many things about meeting our challenges head on and it has shown us that if we put our minds to it, we can achieve anything and make it to our goals. So, congratulations to all our winners and award nominees – you inspire us every day!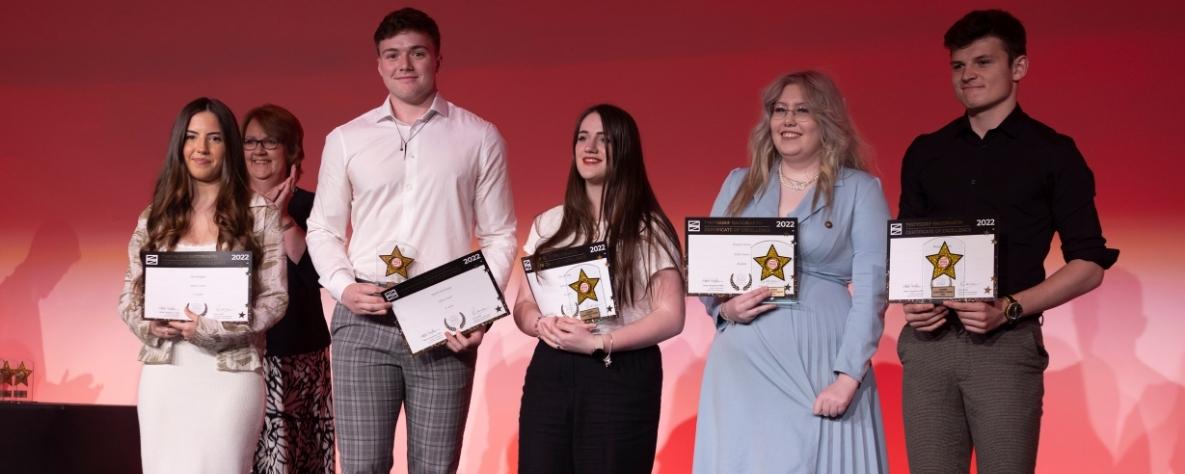 Congratulations to all our winners
Faculty Director's Awards – Mia Vaughn, Toby Collins and Victoria Blanks
Chair's Award – Isabelle Marshall
Principal's Award – Danni Haynes
Faculty of Creative and Technical Studies
Engineering Achievement Award
Blaenau Gwent Learning Zone – Tyler Davies | Crosskeys – Jayden Harris and Jay Garrett | Newport – Adam Need
Motor Vehicle Achievement Award
Blaenau Gwent Learning Zone – Victor Owen Muema | Crosskeys – Courtney Williams | Newport – Ethan Palmer
Construction Achievement Award
Blaenau Gwent Learning Zone – Luke Topping | Newport – Joshua Evans
Building Services Achievement Award
Blaenau Gwent Learning Zone – Liam Haddow | Newport – Iestyn Sansom
Art & Design Achievement Award
Blaenau Gwent Learning Zone – Lowri Green | Crosskeys – Esther Taylor | Newport – April Shakesheff | Torfaen Learning Zone – Kyle Passaro
Media Achievement Award
Blaenau Gwent Learning Zone – Michael Tranter Owens | Crosskeys – Ryan Williams and Toby Collins | Newport – Joshua Loder | Torfaen Learning Zone – Megan Marshall
Music Achievement Award
Blaenau Gwent Learning Zone – Dylan Bell | Crosskeys – Charlotte Francis
Performing Arts Award
Skills Achievement Award
Maths – George Barnes | English – Maeson Matthews -Smith
Faculty of Care and Community Studies
Childcare Achievement Award
Blaenau Gwent Learning Zone – Millie Clarke | Crosskeys – Charlotte Smith | Newport – Calyse Davies | Torfaen Learning Zone – Jennifer McCarthy
Health and Social Care Achievement Award
Blaenau Gwent Learning Zone – Danni Haynes | Crosskeys – Mafaza Ali | Newport – Rhian Edwards | Torfaen Learning Zone – Muhammad Hassan
Independent Living Skills Achievement Award
Blaenau Gwent Learning Zone – Jamie White | Crosskeys – Dane Hussey | Newport – Shaun Davies | Torfaen Learning Zone – David Hollis
Hairdressing Achievement Award
Blaenau Gwent Learning Zone – Aleshia Lane | Crosskeys – Sophie Keevil-Morgan | Newport – Harriet Moxley
Beauty Achievement Award
Blaenau Gwent Learning Zone – Jade Cray | Newport – Ellie Witch
Theatrical Make-Up Achievement Award
Crosskeys – Tiana Roberts
ESOL Achievement Award
Hospitality Achievement Award
Crosskeys – Joshua Williams
Travel & Tourism Achievement Award
Crosskeys – Bethany Hodson
Science Achievement Award
Newport – Ann Matti | Torfaen Learning Zone – Nethan Llewellyn
Access Achievement Award
Blaenau Gwent – Junping Huo | Newport – Laura Hazlewood | Torfaen Learning Zone – Victoria Blanks
Skills Achievement Award
Maths – Ali Abassi | English – Bethany Newman
Welsh Language Award
Faculty of Enterprise and Academic Studies
AS Level Achievement Award
Blaenau Gwent Learning Zone Christina Williams and Adele Hope | Crosskeys Isabelle Marshall and Ffion Rendall | Torfaen Learning Zone Liam Davies and Maddy Groves
A Level Achievement Award
Blaenau Gwent Learning Zone – Eleanor James and Morgan Watts | Crosskeys – Daniel Greenway | Torfaen Learning Zone – Ella Grundy and Nell Bridges
National Diploma in Science
Business Achievement Award
Blaenau Gwent Learning Zone – Casey Davies | Crosskeys – Cherry Christmas | Newport – Saddam Hasan | Torfaen Learning Zone – Jamie Thomas
Computing Achievement Award
Blaenau Gwent Learning Zone – Mia Bird | Crosskeys – Tan Gilmour | Newport – Mohammad Ahmed | Torfaen Learning Zone – Josh Tozer
Sport Achievement Award
Blaenau Gwent Learning Zone – Katie Young | Crosskeys – Natalia Barnes | Torfaen Learning Zone / Usk – Phatcharee Phimpho
Public Services Achievement Award
Blaenau Gwent Learning Zone – Connor Backhouse | Crosskeys – Mia Vaughn | Torfaen Learning Zone / Usk – Kieran Matthews
Animal Care Achievement Award
Vet Nursing Achievement Award
Equine Achievement Award
Access Achievement Award
Blaenau Gwent – Caitlyn Buffrey | Crosskeys – Daniel Biggs | Newport – Aimee Lancaster
Skills Achievement Award
Maths – Rhys Tucker | English – Keith Laing
Welsh Language Award