This September, we're launching an exciting new pilot scheme offering Engage to Change Gwent supported internships for our Independent Living Skills (ILS) learners at Crosskeys Campus, in conjunction with our local Aneurin Bevan University Health Board (ABUHB).
We're the first college in Wales to be awarded the Careers Development Award, and we're passionate about giving all our students the opportunity to gain real-world experience while studying with us. It helps to prepare them for a successful future career after college, and work experience is just one of the ways we support our learners with their career development. We also provide support with CV writing, skills development, competitions and entrepreneurship advice.
Work experience doesn't just give you a taste for different work environments. It also prepares you for the world of work by helping you learn valuable transferable skills that will make you more employable after college. So, when it comes to applying for jobs, employers will see that you're experienced and ready to hit the ground running!
Kicking-off our Supported Internship Scheme
For our ILS learners, the opportunity to gain practical experience in a work setting is vital and supports their curriculum and learning goals. So, our Engage to Change Gwent supported internship scheme gives ILS learners the opportunity to gain an insight into the different types of roles they could consider in the field of health care, while developing their employability skills in a supported workplace setting at the same time.
The Engage to Change project is delivered in partnership between Learning Disability Wales, Agoriad Cyf, Cardiff University, and ELITE. It is funded by the National Lottery Community Fund and Welsh Government.
On 1st September 2021, our ILS learners met the Facilities Team from Aneurin Bevan University Health Board at Nevill Hall Hospital in Abergavenny to kick off their internship programme for the academic year. The day gave them a chance to explore the different roles they'll be undertaking during their work placements at the hospital and got them excited for their internships to begin.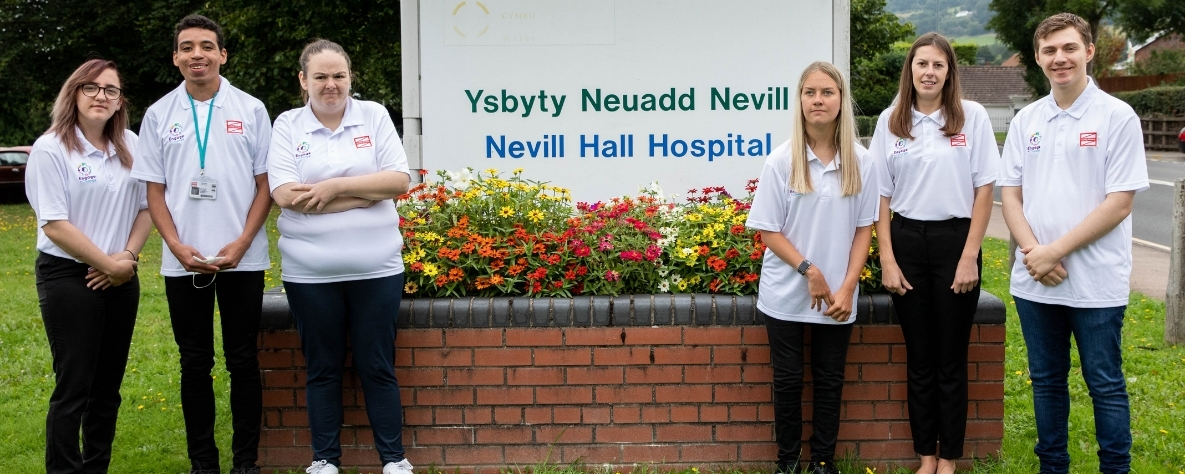 Gino Parisi, Person Centred Care and Partnerships Manager at ABUHB, explained that as a health board, ABUHB always strives to support their local community. He said; "We're really happy that we've been able to develop this partnership with Coleg Gwent and Elite, allowing these interns to gain valuable real-life work experience with our Facilities team at Nevill Hall Hospital in Abergavenny. We welcome the interns into the health board and look forward in supporting them, and thank them for supporting us in the services that we deliver. I'm sure they'll become very valuable team members".
The Engage to Change Gwent supported internships will take place over the course of an academic year, giving our ILS students time to develop their skills over a longer period and prepare them for the world of work. The interns will go on rotation to experience different areas of the hospital during their work placement, providing them with a well-rounded experience of working in a health care environment and an opportunity to learn a range of new skills. This internship experience may even offer learners a chance to apply for a job with Aneurin Bevan University Health Board afterwards. At the end of the internship, all learners taking part in the scheme will have learnt and developed a fantastic range of skills to use in the workplace, which they can transfer to other jobs and work settings in the future.
To get involved in the Engage to Change Gwent supported internship scheme, ILS learners simply need to contact their Head of School to express their interest. For all other learners at Coleg Gwent, our Enterprise and Employability team is on hand to help you find suitable local work experience opportunities and help you progress towards your individual career goals.
For more details and information about the project, visit the Engage to Change website or social media channels:
Twitter: @engage_2_change
Facebook: @engagetochangewales