After one of the toughest years we can remember, with COVID affecting each and every one of us in some way, we're very excited to announce that we've decided to support a Charity of the Year – St David's Hospice Care. Charities like St David's Hospice Care have been hit hard by coronavirus, but throughout the pandemic, they've continued to provide their vital services and support to families who need it most, and we want to help them continue doing this.
Why St David's Hospice Care?
To make their free services available to patients and their families when they need it most, St David's Hospice Care needs to raise £9 million pounds every year, with just a small percentage given by local Government. So, we want to help them achieve this goal in 2021.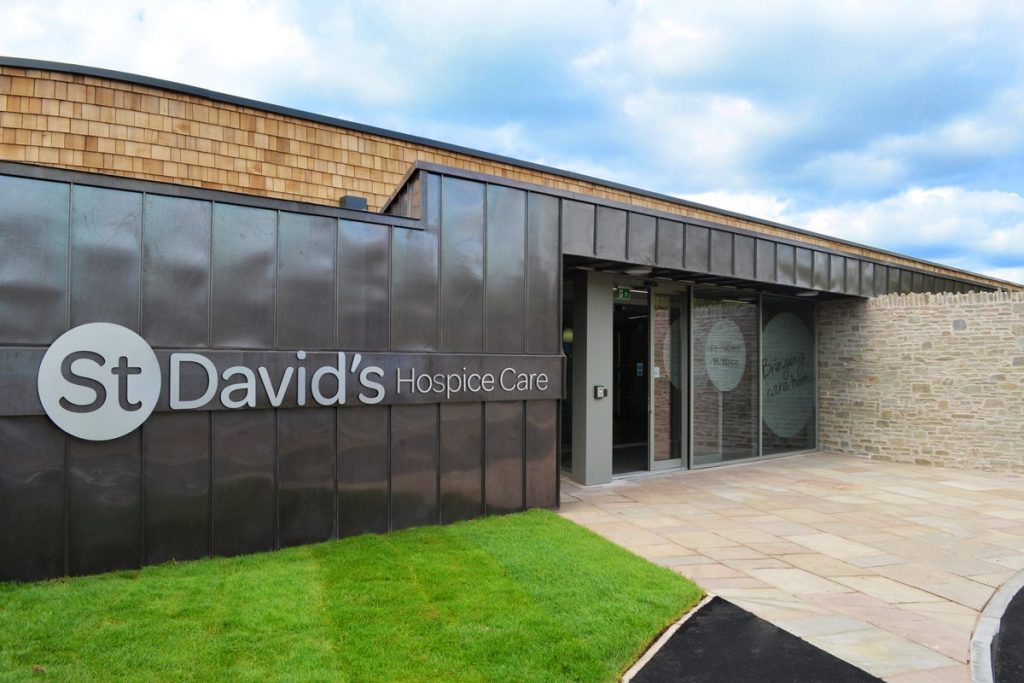 There are lots of reasons why we've chosen St David's Hospice Care as our Charity of the Year for 2021:
As a college, we offer a range of Health and Care courses, and we're proud to educate the healthcare providers of the future who might go on to work at a hospice like St David's
We feel passionately about raising the profile of hospice care among our younger generation of learners who might not know about the wonderful services that hospices provide
We want to give back to our community in a real and tangible way, by supporting a local charity that serves our community and grew to meet the needs of local people
As an organisation that's central to our communities, we hope to set an example by taking our Corporate Social Responsibility seriously and making a difference where we can
It's been a difficult 12 months for all charities, but we recognise that palliative hospice care has carried on quietly in the background despite the pandemic, fighting against even more challenges than usual
The hospice's vital fundraising events had to be cancelled and put on hold due to COVID restrictions, and coronavirus rules changed the way they could work as their day hospices had to temporarily close.
By supporting St David's Hospice Care as our Charity of the Year, we'll be encouraging our staff and learners to take part in charitable events throughout the year to help raise funds for the hospice, as well as sponsoring some key events in the St David's Hospice Care calendar.
Dates for your diary
This year, we'll be supporting St David's Hospice Care with some exciting events – there's a lot in store for 2021!
Big Welsh Brew


On Monday 1st March 2021, we'll be getting together virtually and putting the kettle on to catch up over a cuppa, and it's all for a good cause. The Big Welsh Brew can be as big or as small as you like, so whether you get together for afternoon tea, G&T at 3, or wine at 9, a virtual get-together will bring you closer together with loved ones during lockdown, while supporting the hospice too.
Cwmbran Kolor Dash


On 9th July 2021 (COVID dependent), the popular Kolor Dash is coming to Cwmbran for the first time, and it's going to be even more colourful than ever before. The Cwmbran Kolor Dash is a fun 5k circular run, walk or jog around North and South Fields, with the added touch of brightly coloured powder paint, foam, water, glitter (biodegradable) and music stations along the way! It's set to be a fun, memorable and messy event that can be enjoyed by people of all ages!
And there's more to come… keep an eye out for the family-friendly Newport Dalmatian Bike Ride and the renowned Tour De Gwent coming soon, as well as a fantastic Celebrity Cookbook to keep you busy in the kitchen during lockdown.
We're looking forward to working with St David's Hospice Care as our Charity of the Year in 2021 and supporting them to provide their vital services in our community. If you'd like to nominate a Charity of the Year for consideration in 2022, please send us your suggestion and reasons why you'd like to nominate your charity by emailing us.
About St David's Hospice Care
St David's Hospice Care provides bespoke, free, palliative care to patients and their families who are suffering from life-threatening illnesses, supporting them at the most difficult time in their lives. From their first year of operation, St. David's cared for six patients, but the charity has now grown to become the UK's largest provider of hospice at home care, looking after over 3,200 patients and families every year. They provide 24-hour and on-call care at home, at their day hospices, and in hospital, available for patients throughout Newport, Caerphilly, Monmouthshire, Torfaen and South and Mid Powys. They also provide advice, family support, bereavement support, complementary therapies, chaplaincy services, and educational resources too.
Find out more about St David's Hospice at www.stdavidshospicecare.org.