Independent Living Skills (ILS) learners at Blaenau Gwent Learning Zone could certainly give Alan Sugar something to talk about with their latest enterprise, a pop-up charity retail shop in support of St David's Hospice Care! The shop is solely run by the students and staff of the ILS department at our Ebbw Vale campus, and they've been working hard to set up, stock and run their very own retail shop.
Open every Wednesday, the shop is made up of nearly new goods which are being sold to students and staff on the campus. Each learner gets a chance to play a role in making the shop a success. From cleaning the goods, stacking and displaying items, handling sales and balancing the money; students are learning the basics of enterprise, and it's all for a very good cause.
The pop-up shop will be selling branded items including t-shirts and wrist bands from St David's Hospice, as well as items donated to the hospice such as books, DVDs, CDs, jewellery, gift sets and clothing. Donation bags from St Davids Hospice can also be taken home by students and staff in the college, filled with unwanted goods, and dropped into a donation basket at Blaenau Gwent Learning Zone to help re-stock the shop.
All money raised by the pop-up charity shop will go towards the work of St David's Hospice, as our chosen charity in 2021/2022. In the three weeks they've been open, the ILS team have already raised over £300!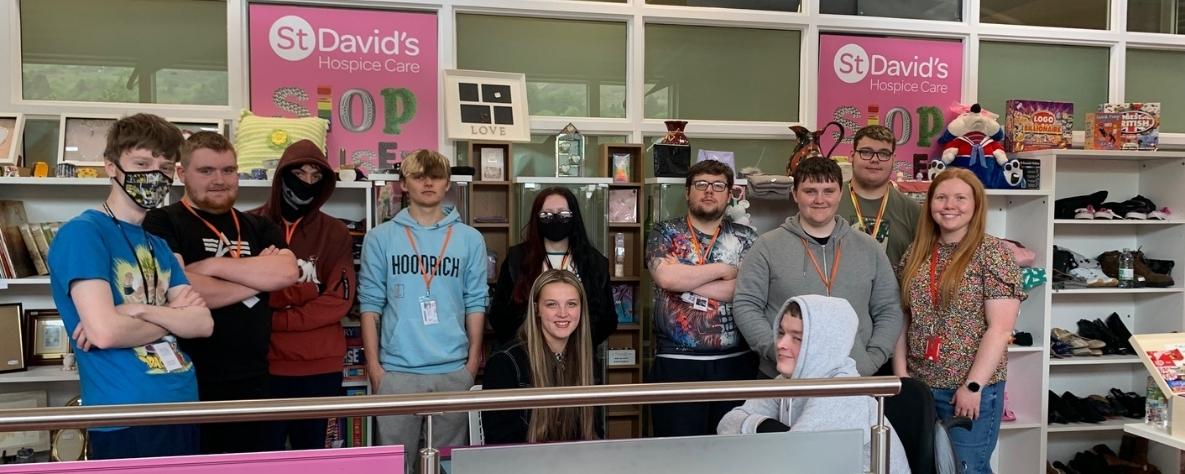 How the pop-up shop supports our ILS learners
As part of their studies, ILS learners take part in a wide variety of tasks and projects to support them with integrating into their community, establishing independence and confidence, and preparing for the world of work. Throughout their course, they take part in projects such as running a tuck shop and smoothie bar to sell freshly made smoothies to learners on campus; as well as learning baking and cooking skills; perfecting daily living skills such as ironing and money management; learning new crafts like soap and candle making; and improving literacy and numeracy skills for employment.
The ILS course focuses on four pillars of Learning based around Health and Well-being, Employability, Independent Living and Community Participation. The charity shop project incorporates several of these pillars, teaching our learners vital skills for the workplace such as communication and customer service, community participation, and offering a service for the college community.
ILS lecturer, Nikita Meade, oversees the running of the charity shop with her group of employability learners. While two learners and a member of staff run the shop, the rest of the group are busy washing and preparing garments and other items ready for sale. Our learners will be maintaining stock, staffing the shop, pricing items for sale, and dealing with customers, as well as managing stock behind the scenes to ensure any clothing is clean, ironed and presentable for sale.
Find out more about the opportunities available on our ILS courses at our five local campuses at our next open event.