Between 16-22 November, we're celebrating Global Entrepreneurship Week 2020 – a week of 40,000 activities, events and competitions in 180 countries around the world, that inspires millions to explore their potential as an entrepreneur. It aims to remove barriers and support inclusion of individuals and communities who have traditionally faced barriers to entrepreneurship, or those pushed to the side by strong competition.
So, at Coleg Gwent, we're delivering a week of virtual activities to support our entrepreneurial learners to go freelance or start their very own business, without letting COVID-19 put their dreams and plans on hold. If you're a current learner at Coleg Gwent and you want to get involved, email zoe.blackler@coleggwent.ac.uk in our Entrepreneurship and Enterprise team to book your place for our week of exciting entrepreneurial activities:
Monday 16th November: 1pm – 2pm – NatWest Workshop – 'How to pitch anything'
Tuesday 17th November: 6pm – 7pm – Explore Series – 'Vision' with Ibby Taradfa Creative
Wednesday 18th November: 10am – 11am – Enterprise and Employability Q&A
Thursday 19th November: 11am – 12pm – Finding Finance for your Business
Friday 20th November – Wales Student Marketplace
If you have a bright business idea but lack the confidence and knowledge to make it happen, our virtual workshops and information sessions will help you make your dreams a reality.
But read on to be inspired by the story of one of our very own entrepreneurial role models, Abigail Chamberlain – a Coleg Gwent alumnus who has gone on to be a successful young Welsh businesswoman. She's worked hard to develop and grow her business idea since studying at Coleg Gwent, even getting into the final of Young Entrepreneur of the Year 2020 in Wales.
Introducing Abi and the Welsh Luxury Hamper Co.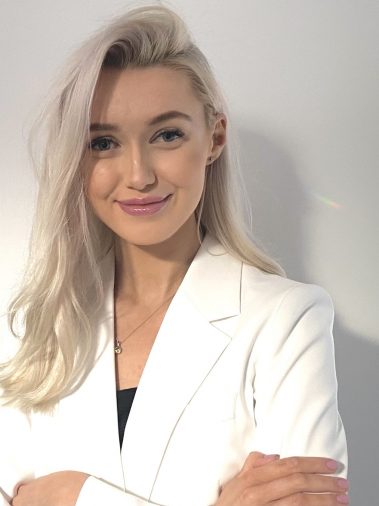 21-year-old Abi studied our Business Level 3 Extended Diploma in January 2019 and launched her business, Welsh Luxury Hamper Co, in October 2019 with the help of Coleg Gwent, Tafflab and The Princes Trust.
Abi's business provides luxury hampers containing the very best Welsh produce. She supports many local independent food and drink businesses across Wales, showcasing their products through her website (www.welshluxuryhampercompany.co.uk) and to the corporate market. She's worked with various high-profile clients during her first year, and Abi's business was also nominated as the 'Best Luxury and Corporate Gift' 2020 in the UK.
Starting her own business is something that Abi didn't think she'd ever achieve. She explained:
"I studied A-levels at Sixth Form and really struggled academically. I was so disappointed when I received my results (DDEU), but I managed to scrape a place into University to study Music. I really started to struggle through the first month and got advised to get tested for dyslexia. My test results came back indicating that I was in fact dyslexic. I finally had an answer as to why I struggled so much. Then 3 months into the course I took the decision to drop out suffering with anxiety and my mental health. I felt totally lost and didn't know what to do with my life.
After the new year, a notification popped up on my phone showing a college course at Coleg Gwent's City of Newport Campus. I decided to enrol and try something totally different. The college was so welcoming and had a great community. I came up with my business idea during an assessment and got advised to pitch my idea to Tafflab, which gave me the initial funding and guidance to help me get my idea off the ground. I then joined the Princes Trust family who have supported and helped me throughout my journey.
Coleg Gwent believed in my idea from the start of the journey and gave me the confidence I needed to take my idea to the next level."
Abi now plans to continue to grow her business and take it to the next level by employing staff members and supporting more local food and drink organisations by showcasing their great Welsh produce to a large audience. On top of this, she's now been invited back to Tafflab as a Mentor, and The Princes Trust as a Young Ambassador, and she thoroughly enjoys using her experience to encourage future entrepreneurs and be a positive female role-model. Based on her experience as a young entrepreneur, Abi says:
"Having a business can be quite daunting, which is why it is so important to have a strong supportive and positive network around you. It was also quite daunting entering into the world of business as a woman. However, the support I have received from fellow businesswomen and men has been incredible.
My journey shows that university wasn't right for me. There isn't a specific right or wrong path in life to take. The journey is unique to you and its important you pursue something that makes you feel happy."
We're so proud of Abi's journey to become a successful young entrepreneur, and many learners at Coleg Gwent continue to amaze us with their passion and drive to start their own businesses. This year, another 4 inspirational learners have gained Tafflab funding for their entrepreneurial ideas, and you too could follow in thier footsteps and begin your journey to success this Global Entrepreneurship Week.
Find out more about how our Entrepreneurship and Enterprise team can support you at Coleg Gwent.