Not sure if A Levels are the right route for you? Have you ever wondered what else you could do after school instead?
College is a great option for everyone! Whether you're keen to follow an academic A Level route, or you want to find an alternative career path, there's a course for you at Coleg Gwent.
Engineering is one of the many options you could explore. So, we recently held an exciting 'Engineer your Career' event at the City of Newport Campus, for year 10 pupils from two local schools – St Joseph's RC High and Bassaleg School.
The young people attended the event to gain an insight into alternative career options if they're not looking to pursue the traditional academic route. It gave them the opportunity to see our state-of-the-art automotive and engineering workshops and industry-standard equipment, while participating in fun, interactive tasks.
The students took part in a variety of activities arranged by our expert tutors, giving them a taste for a range of engineering roles. This included spray painting cars, fixing tyres, polishing, buffing and welding. It was a fantastic opportunity for them to get hands on and experience the world of engineering at their local college.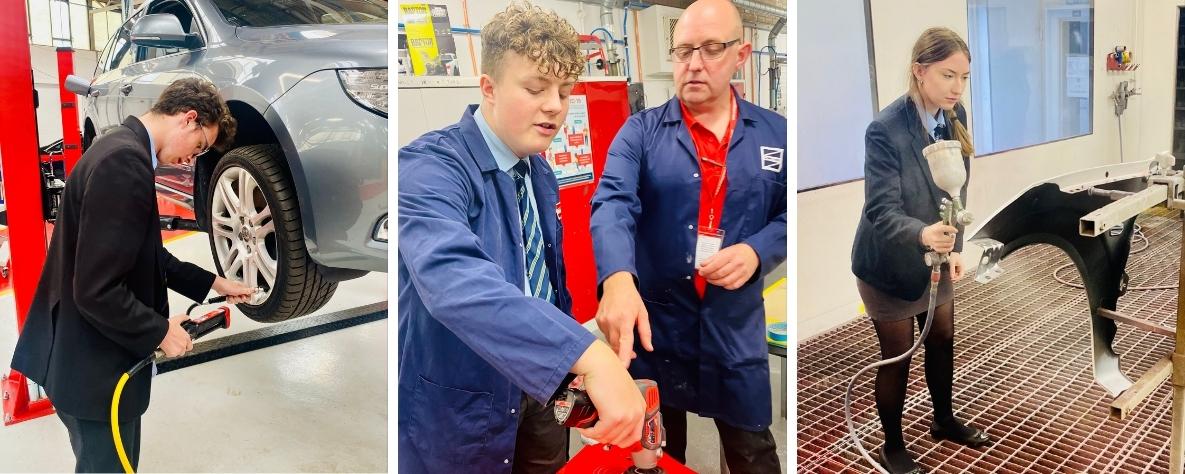 What's more, we work with some of the most well-known engineering organisations in South Wales. We have links with BAE Systems, Thales, Pro Steel Engineering, Tata Steel, Thermo Fisher Scientific and more! In fact, many of our learners find apprenticeships with these organisations to gain work experience while they study. An engineering course at Coleg Gwent opens lots of doors for a successful career in the sector, so you can make it in the world of engineering!
Why consider engineering as your future career?
If you're curious about pursuing a career in engineering, here are 5 reasons why it is a great option to consider:
Apply now for an engineering course at Coleg Gwent and join us this September to start your journey as an engineer.  Places fill up fast, so don't miss out!