This month, the employer engagement team at Coleg Gwent hosted a successful apprenticeship awareness event to celebrate National Apprenticeship Week. This event is one of a number of collaborations that feed into the wider college strategy of employer involvement.
A number of big industry players were keen to get involved in the week's event, demonstrating an awareness amongst organisations that investment in the future is vital for business longevity.  This comes as Economic Minister Vaughan Gething announced a £366 million investment over the next 3 years to deliver 125,000 all-age apprenticeships in Wales.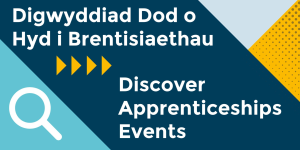 The first week of events saw participation from Office for National Statistics, Audit Wales, NHS Wales, Network 75, Newport City Council, Monmouthshire County Council, Arts & Business Cymru, Renishaw and Careers Wales.
The second week of events aimed to inspire those with a STEM or construction interest and hosted organisations including Royal Airforce, Stately – Albion, BAE Systems, Aspire, Blaenau Gwent County Borough Council, Y Prentis, TATA Steel, CITB and GE Aviation.
The talks allowed students to gain insights into the huge number of opportunities available to them upon completing their current studies, as well as showcasing local organisations that they could be a part of. Students were also given application tips and the chance to take part in Q&A session. The event received huge praise from both students and the organisations that took part.
Kendal Desmond, Head of Apprenticeships at the ONS said:
"As Head of Apprenticeships I recognise the importance of attracting new talent into the organisation. Offering students the opportunity to engage with employers through the Discover Apprenticeships event, gives them the opportunity to gain exposure to the world of work and what opportunities this may give them."
This is a sentiment echoed by Sian Grainger, Graduate Trainee and Apprenticeship Co-ordinator at Audit Wales:
"A career at Audit Wales means working at the heart of society in Wales and inspiring and empowering the Welsh public sector to improve – so these events are about highlighting who we are, how we make a difference, and the job opportunities we have. I think that these sessions are so important both for us as an employer and for the students looking at the options available to them.
So often schools and colleges focus on university entry but with the growth of higher-level apprenticeships, I think they are a real alternative to university to gain entry into a number of careers, including finance."
Coleg Gwent are continually looking to evolve and refine their offering to employers, making sure to provide a destination for not just apprenticeships but training, funding and student support opportunities. Discover Apprenticeships is one of a number of events being hosted by the college this year to open communications between students and industry.
Speaking about the success of this month's event, Kate Cox, the college's Employer Engagement Coordinator said:
"We're delighted and grateful for the level of enthusiasm shown by our employer partners to get involved in our apprenticeship week events. Having input from experienced individuals who are actively working in industry helps to inspire students about the future options available to them and the exciting careers available through apprenticeships.
Apprenticeships offer a brilliant opportunity for organisations and students alike, with students gaining valuable skills alongside a wage and employers able to protect against future skills shortages."
Find out more about how you could get involved with employer engagement at Coleg Gwent, by visiting our employer pages.