We're pleased to announce that we've become an Official Commercial Partner for Dragons Rugby for the 2021 – 2022 seasons. Alongside growing young rugby talent, we're one of Wales' top performing colleges for A Level and vocational studies, so you can pursue post 16 education alongside improving your skills on the rugby pitch.
Dragons Rugby are known to develop some of the best new talent in Welsh rugby, with locally produced players gaining international recognition on the pitch. We've worked with the Dragons for several years to facilitate post 16 education alongside rugby training, delivering the Dragons players of the future. Many of these home-grown players emerged from our successful Dragons Junior Rugby Academy at Crosskeys Campus, with 11 former Coleg Gwent players currently playing as full-time pros, five players in the transition squad, and seven current learners in the Dragons Academy. Former Coleg Gwent learner, Elliot Dee, has also played a fundamental part in Wales' rugby successes over the last few seasons, as well as Welsh internationals and Coleg Gwent alumni Ollie Griffiths and Tyler Morgan.
The Coleg Gwent Dragons Junior Rugby Academy enables aspiring rugby professionals to upskill and access a range of courses and qualifications on their doorstep, while opening up opportunities to enter the world of professional rugby with the Dragons. Our Dragons Junior Rugby Academy has grown from strength to strength coached by Matthew Jones (Head Coach and former Wales/ Ospreys/ Dragons player/ WRU Level 3 coach/ and current player/coach at Bridgend RFC), Scott Matthews (Rugby Academy Coorindator for boys and girls and former Wales U20 international/ WRU Level 3 Coach/ and current Pontypool RFC Captain), and Steven Llewellyn (former Cardiff RFC/ Crosskeys RFC player/ WRU Level 3 coach).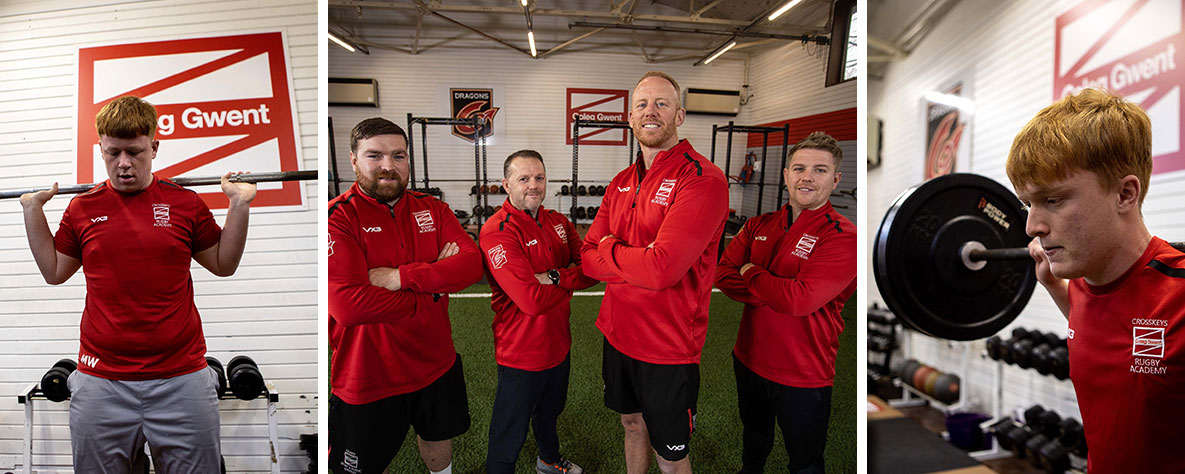 Last year, the team was crowned WRU Welsh Colleges and Schools Champions, and 16 of our current squad played representative rugby for the Dragons Under 18s, with six players selected for Wales Under 18s/Under 19s, and 3 playing for Wales Under 20s. Meanwhile, the success of our Girls team last year has been unprecedented, winning both the WRU Urdd 7s and the WRU 10s final at the Principality Stadium. The Girls Welsh Colleges 7s squad are current Welsh Champions and four Coleg Gwent players were integral to their success. The growth and dedication of the girls has instigated the first girl's rugby academy in Wales to be established at Crosskeys Campus last September, building upon the last year's achievements.
This new partnership cements our long-standing relationship with Dragons Rugby, with the Coleg Gwent logo featuring on the new season jersey, LED display and pitch banners. It will help attract fresh new talent to our Coleg Gwent Dragons Junior Rugby Academy and enable Dragons Rugby to continue supporting the community they represent, assisting young players coming through the development programmes and supporting post 16 education in our local area.
Jonathan Westwood, Head of Commercial at Dragons, is delighted to welcome us into their commercial family. The relationship we've created in a short time is testament to a shared passion and vision of growth. He explained that "Coleg Gwent has played a significant role in many people's lives within the Dragons, including our very own careers, and our partnership will provide further inspiring opportunities for future students. We're proud of our affiliation with Coleg Gwent, which is built on very strong foundations. We believe Sport and Education are a perfect combination to enhance physical and mental wellbeing, whilst developing the essential life skills required to reach one's full potential."
We now look forward to working together to nurture new rugby talent and open up opportunities on the pitch and beyond for those who aspire to make it into the world of professional rugby. Find out more about the Coleg Gwent Dragons Junior Rugby Academy and how you can combine your rugby development with academic studies.