College can be difficult for all of us at times (especially with the added impact of COVID!), but learners with hearing impairments face even more challenges than most. We offer a range of support services to help all our learners when they're finding things tough, but students with hearing impairments have faced even more difficulties with the increase in online learning during the COVID pandemic. So, two of our Hearing Impaired (HI) Communicators at the City of Newport Campus, Lisa Jones and Nisha Davey, have now set up a Deaf Club, so we can proudly support our community of hearing-impaired learners and help them achieve their full potential.
The extra challenges of COVID
Deaf students can find life a challenge every day, but even more so during a global pandemic. With COVID, many people are wearing face coverings which prevents HI learners from lip reading – a vital aspect of their communication. In addition, online learning can cause hearing-impaired learners to feel more isolated and disconnected compared with classroom-based learning, making it difficult to maintain relationships with classmates and tutors.
To tackle these issues, Lisa and Nisha created Deaf Club, and they now meet every Tuesday to provide encouragement and support to HI learners at the City of Newport Campus, with learners from other campuses also joining in virtually through Microsoft Teams. The weekly Deaf Club gives our HI students a connection to each other and to the college support staff. Together, they chat and support each other, giving them a feeling of inclusion and being part of a team, while combatting feelings of isolation.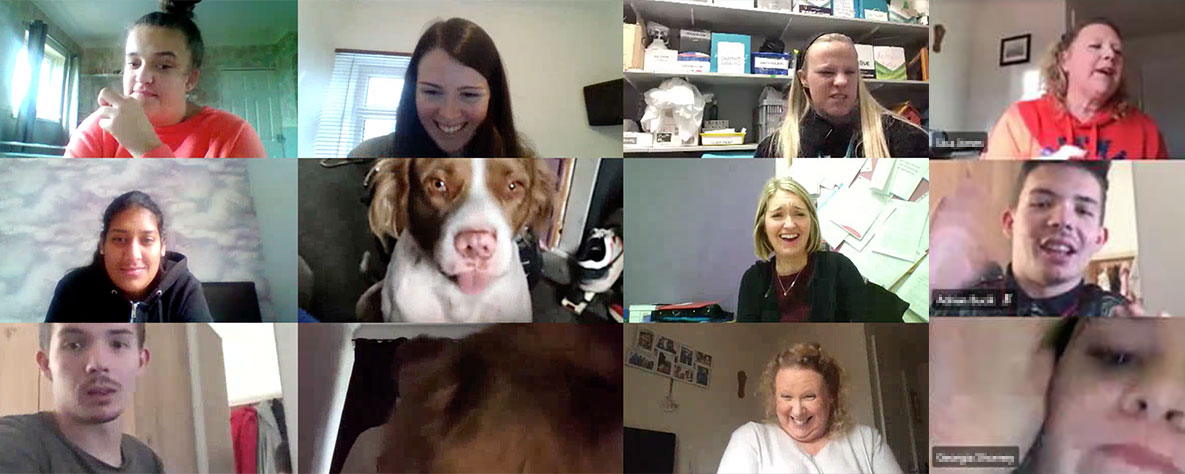 Working around timetabled classes as best as possible, the new Deaf Club has been a hit, with eleven students joining the group chat including 9 joining via video call every week, and they look forward to meeting in person when they're able to.
Bringing HI Learners Together
Ten of our HI learners who have joined Deaf Club are already good friends having studied at Cwmbran High School together. The students were all very close and good friends in school, but due to COVID, they finished school much sooner than scheduled and felt isolated at home. When they joined Coleg Gwent in September, they all spread across our different campuses for their chosen studies, and having been split up, we realised that they could benefit from support as they were all missing each other; and Deaf Club was the perfect answer.
During the Deaf Club meetings, topics of conversation range from discussing courses and learner support, to talking about pets and plans for the weekend. But to take the club one step further, Lisa and Nisha have arranged a surprise guest every week, who joins the meetings to chat with the students. Special guests have so far included the Head of the Hearing-Impaired Base at Cwmbran High School, where ten of our HI learners attended and became very good friends, as well as Mike Sage from Wales Deaf Rugby, who explained how we'll hopefully arrange a Deaf Rugby day next spring when COVID will allow us to do so.
What's next?
After the success of Deaf Club, Lisa and Nisha's next project is to set up a British Sign Language (BSL) tile on the CG Connect learner app. Thomas Barlow, a Level 2 Art & Design learner from Torfaen Learning Zone, is going to design the CG Connect tile and they're hoping to get all Deaf Club learners involved in recording a series of signs so that other students and members of staff can learn basic BSL communications. They hope to start it off with just a handful of signs such as 'Good Morning', and build on it throughout the year with an aim of ending the year with a Christmas message and a signed song.
To further improve awareness of hearing impairments and the support available at the college, Lisa and Nisha would also like to include a Deaf Awareness video within the BSL tile. It would help to promote Deaf Awareness and demonstrate how everyone can help make HI students feel included within Coleg Gwent.
We're proud to be an inclusive college that supports and values everyone in our community and promotes awareness where we can. So, if you're a HI learner at Coleg Gwent, or you're thinking of studying with us and would be interested in joining our Deaf Club, please e-mail Lisa or Nisha for more information: lisa.jones@coleggwent.ac.uk or nisha.davey@coleggwent.ac.uk