This academic year has been a huge success for our female rugby and netball academies. The teams have excelled in their tournaments and competitions, coming out on top with a list of accolades and achievements this season.
Girls Rugby Academy
With increased interest in female sport, the ever-growing Girls Rugby Academy at Crosskeys Campus is enticing rugby playing students from across the region. The academy allows girls to improve their skills on the pitch alongside their studies, welcoming more and more players every year.
Inspired by a visit from former Coleg Gwent, Dragons and Wales player, Elliot Dee, the girls felt at ease about playing in big matches and they've had a very successful season, winning multiple competitions this year. They've succeeded in the Welsh Colleges 7's, the WRU Urdd 7's, and the National Welsh Schools and Colleges final at the Principality Stadium.
Welsh Colleges 7's – The Coleg Gwent Girls Rugby Academy became Welsh Colleges 7's Champions in a round robin tournament involving teams from Cardiff and Vale College, Coleg Y Cymoedd, Gower College and a Welsh Colleges Invitation side. The girls from Crosskeys Campus showed their dominance by comfortably winning all their games with an average 25 point winning margin.
Urdd WRU Welsh 7's – Competing against 18 teams from schools and colleges from across Wales, the Coleg Gwent Girls Rugby Academy won the Urdd WRU Welsh 7's in Cardiff this year. Some outstanding rugby was played, and they scored 351 points and 41 tries, with only one try conceded. No previous team, male or female, could match these figures!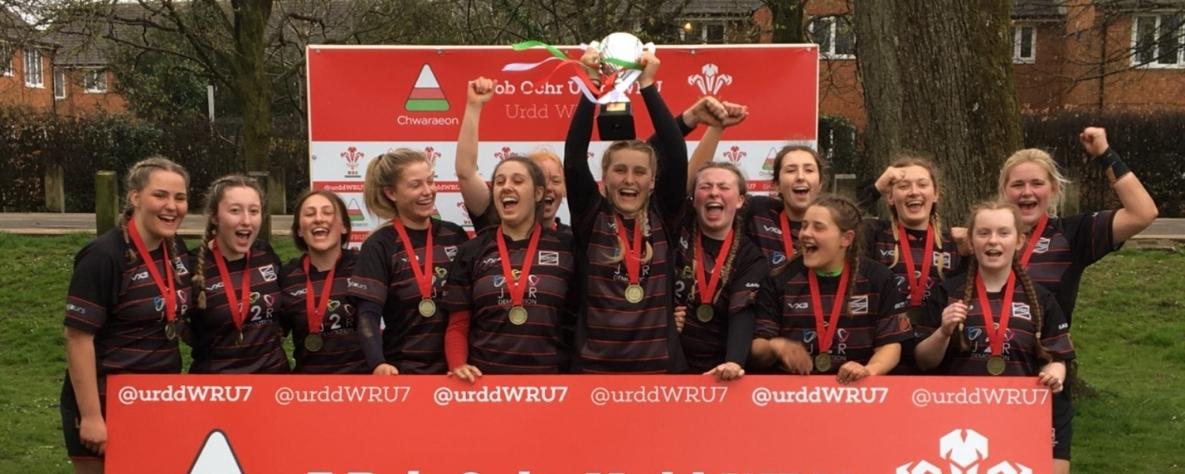 National Welsh Schools and Colleges – During the National Welsh Schools and Colleges final against Llandovery College at the Principality Stadium, the first half saw the lead change hands with every score. Then early into the second half, the scores were tied before the Coleg Gwent girls showed their true ability by scoring four unanswered tries and dominating the final quarter. The bench was emptied, and all the girls had the experience of a lifetime playing at the Principality Stadium. They conquered Llandovery College 46 – 22!
Girls Netball Academy
Members of the female netball academy at Crosskeys Campus study a range of courses at Coleg Gwent, including AS/A levels, Sport, Public Services, Health and Social Care, and Media. The academy makes netball accessible to all learners alongside their studies, so they can excel in their qualifications as well as their netball.
Following in the footsteps of the rugby girls' successes, the female netball team have also demonstrated their outstanding skills this season. They went on to win the final to be crowned as AoC Sport Welsh Region Netball Champions, beating Coleg y Cymoedd 50 – 16! This season has also seen the team crowned AoC Welsh Netball League Champions, and they reached the 5th round of the AoC netball cup too.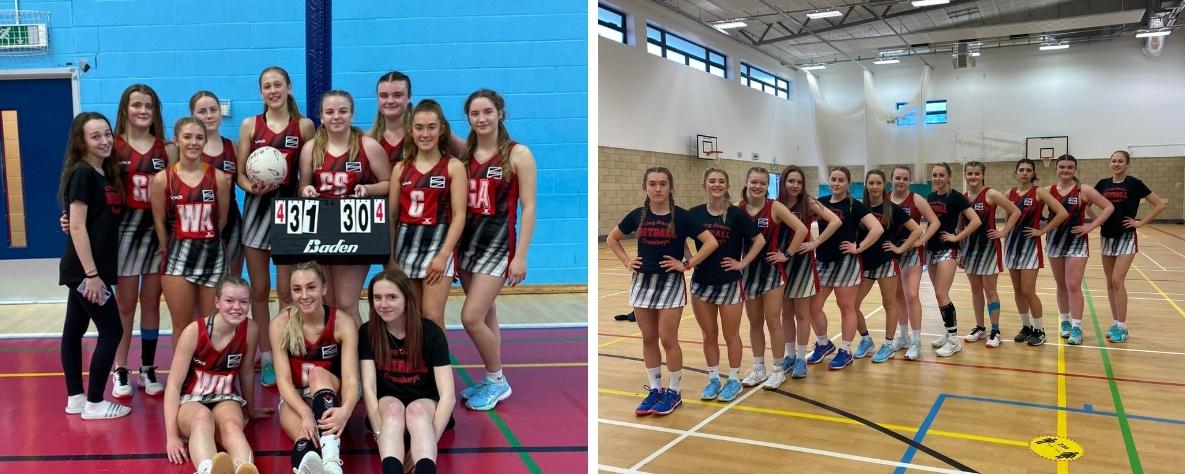 On top of their team achievements, several members of the female netball academy have gone on to achieve personal successes in the sport too. Six members of the team have been selected for the Welsh Colleges Sport National Netball squad – Elyse Veater, Lowri Stephens, Shannon Jones, Alex Chetland, Tayla Ambrosi and Lucy Hodges.
Meanwhile, Elyse Veater made the Wales under 21 squad and Severn Stars Under 19 team, and Lowri Stephens made the Celtic Dragons Under 19 team.
Elyse explained; "I'm really proud of all my netball achievements especially being selected for Severn Stars because I used to not be very good at netball and with lots of hard work, good coaching and encouragement, I've proven how good I can be."
Lowri commented; "I love netball because it's such a friendly, welcoming, yet competitive environment. I've met so many people that I wouldn't have met without netball. Through netball I've been able to travel over Wales for training and competitions."
Congratulations to all the girls and their coaches on their fantastic wins this year. They continue to drive forward as sector-leading female sports academies and we're proud of their achievements. Find out more about playing sport alongside your studies at Coleg Gwent and join us this September to make it happen!