Coleg Gwent Crosskeys Rugby Academy Relives 2012 Glory!
What a nail-biting night! What a brilliant start to 2020!
This week we saw our squad become league champions of Wales once again, battling Coleg y Cymoedd right to the very end to win the final of the Welsh School and Colleges Rugby trophy by 14 points to 8.
The atrocious weather conditions didn't affect the quality of the game at all, and the commitment of both teams was evident right from the start Coleg y Cymoedd played brilliantly but were foiled by the usual positive attitude and skill of the Coleg Gwent team. Victory for Coleg Gwent comes eight years after their previous title, won by a team which featured current Dragons players Elliot Dee, Ollie Griffiths, James Benjamin and Jack Dixon.
World Cup star Elliot Dee was invited to provide a pre-game pep talk to the class of 2020. He encouraged the boys, "To make memories" and "Don't let the moment pass you by". The team certainly did that!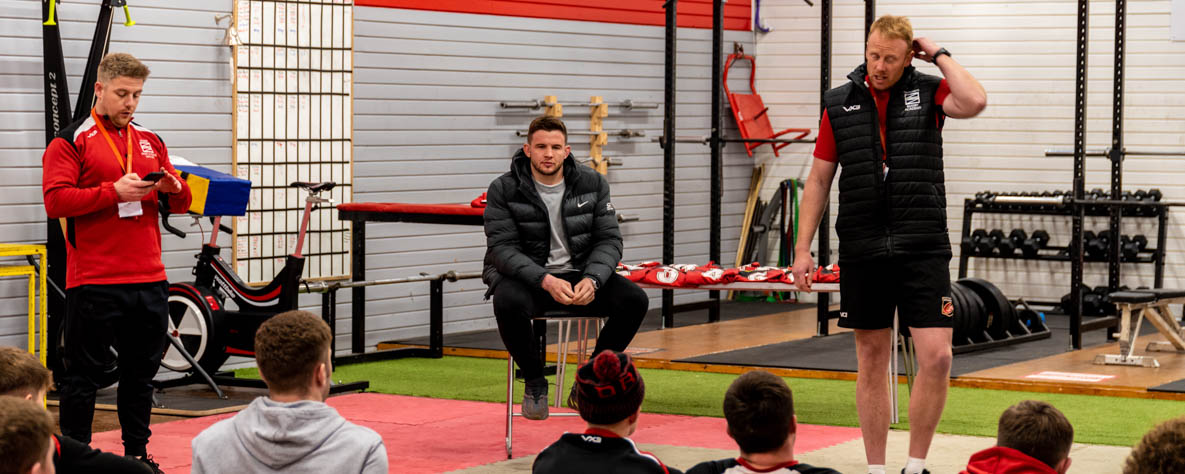 At the time, Elliot said:
"I'm rooting for the boys and it would be great to see them do it again. It's brilliant to see them back in the final. Gwent rugby struggled last year with a few teams going down from the Welsh Premiership to the Championship, so it's good to see youngsters coming through again. They will feed into those clubs and hopefully into the Dragons as well."
In addition to our successes on the field, Coleg Gwent is also making a difference off it with our commitment to Rugby and the wider community, thanks to the great relationship we have with the Dragons. Crosskeys Campus is home to the Dragons Junior Rugby Academy where players gain qualifications alongside their rugby training. They benefit from 16 hours coaching with Dragons coaches whilst studying either A Levels or vocational courses.
As well as our academic work, we proudly support the Dragon's mascot package, giving selected young rugby fans the opportunity to run out onto the pitch with the players at match games, allowing them to enjoy once-in-a-lifetime experiences.  We even take Rodney the Dragon to their school to give them a signed picture of the day and treat their class mates to some Coleg Gwent goodies.
So do you think you've got what it takes to be part of our winning team or even a future Dragon?  Coleg Gwent could be the perfect place to start your success story!
Find out more about our sports courses  and apply now!