BBC X-Ray Visits our Leading Automotive Department
Last week, our Crosskeys Campus was host to some very special guests for the day – the BBC X-Ray film crew. On Tuesday 17th March, staff and learners at the Coleg Gwent Automotive department were visited by some well-known faces from the BBC, who dropped in to use our facilities to report on MOTs and motor vehicle maintenance for the popular consumer rights TV programme which aired at 7:30pm on Thursday 26th March.
Coleg Gwent is considered one of the leading training providers for the automotive industry in South Wales, with an Automotive Technician Accreditation (ATA) Centre being home to some of the best facilities in the country. Across our campuses, we have a body shop, prep room, spray booth, engineering workshops, and highly qualified and experienced staff on-site. With four light vehicle repair workshops, the only motorcycle maintenance & repair workshop in South Wales and electrical vehicle workshop, our college was the ideal backdrop for the BBC X-Ray episode presented by Lucy Owen.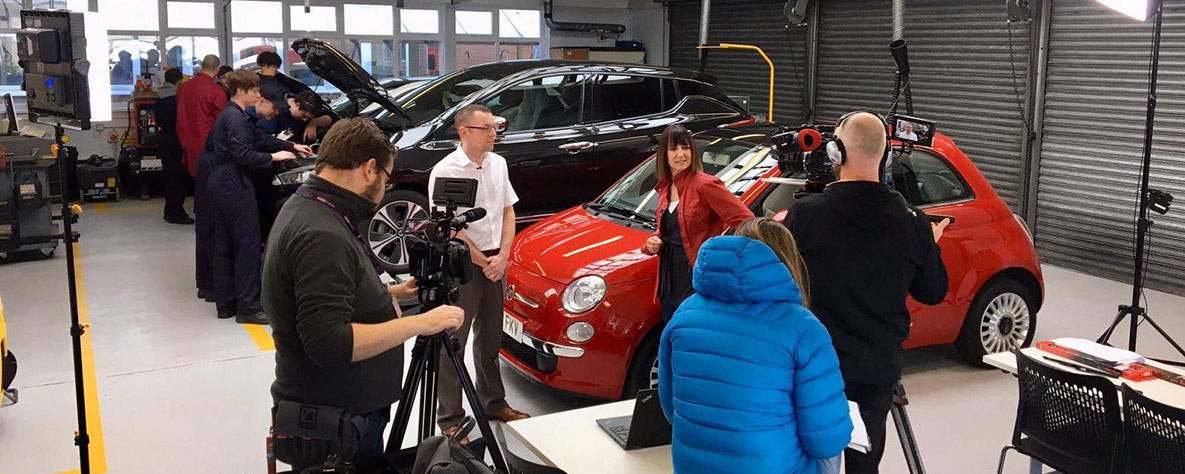 Stephen Wardman, our Automotive Technologies Lead Lecturer, was filmed alongside Lucy, giving key advice on MOTs and top tips on vehicle maintenance from our Crosskeys workshop. He said: "It takes a lot of time to gain a good reputation within the motor trade and that comes with being helpful to people and providing clear and sound advice. I felt it necessary to show that the majority of people in the Motor Trade are good people, who genuinely want to support customers and give them the best possible service and experience."
He explained that "the Coleg Gwent Automotive Department is an amazing place to work. Every year we get the opportunity to train the next batch of great automotive technicians. There is currently a huge shortage of good quality automotive technicians within the motor trade, so now, more than ever, is an excellent time to get into this industry."
With the automotive sector changing at a rapid pace, we've heavily invested in this area of study to update and renew our facilities and equipment for learners and to keep up with new training requirements and methods. This is especially important with the petrol and diesel vehicle ban that is expected in 2035. Therefore, we have recently purchased new electric vehicles for our learners to work with, including the Nissan Leaf and BMW i3, as well as all the testing and safety equipment required to work on these vehicles.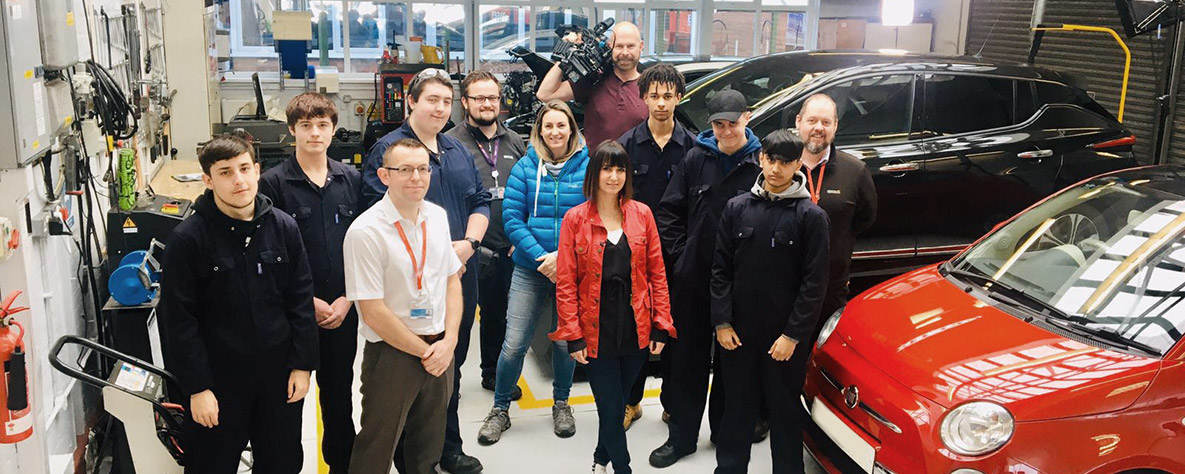 Our Automotive department has many exciting full and part-time courses available for all levels of ability, including cars and motorcycles, and electric vehicle training in the very near future. It really is a thrilling time to be an Automotive learner at Coleg Gwent.
After spending the day filming on location with the BBC X-Ray team, Stephen Wardman said: "I hope the advice I've given is beneficial to consumers and helps them ensure their car passes the MOT first time around, or at the very least, saves them a little money."
Meanwhile, Lucy Owen commented to say: "Big thank you Coleg Gwent for having the BBC X-Ray team here today. We've had a fantastic time – the facilities are amazing, and we've had a great welcome. So, Diolch."
Catch Stephen's top tips and advice on BBC X-Ray which is now available on BBC iPlayer, and visit www.coleggwent.ac.uk to find out more about studying in our Automotive department at Coleg Gwent.