Coleg Gwent achieves best ever A* - C grades despite COVID uncertainty
We've had a very good reason to celebrate today with another outstanding year of A Level results, despite difficult circumstances for the class of 2020. Our pass rate was sustained at a superb 98%, with the best A* – C grades ever, a 2.2% increase in A*/A grades and learners from both campuses securing places at Cambridge University!
A Level results this year have been based on calculated grades, as COVID-19 meant that many exams couldn't take place, and with restrictions and social distancing still in place, all our learners received their results electronically by email at 8am this morning.
Across the college, 913 A Level results were received today, with 76% of these achieving A*- C grades. We're also celebrating a 100% pass rate in 46 A level subjects – an impressive increase from 34 subjects last year.
Learners at Blaenau Gwent Learning Zone enjoyed a fantastic 98% overall pass rate in grades A*- E, while those at Crosskeys campus also celebrated with a 97% overall pass rate. We're very proud of the hard work and dedication our learners have shown throughout the COVID pandemic, as this year group faced challenges that have never been faced before.
Principal Guy Lacey said: "Congratulations to all our learners on their outstanding results this year – we're very proud of your hard work and achievements! This year group has faced challenges we've never experienced before with COVID-19, but as a solutions-driven college, we've risen to the challenge to keep learning going throughout the pandemic, and it has certainly been reflected in this year's A Level results with our best ever A* – C grades!
The hard work and dedication of the class of 2020 will set them in good stead for their next steps after college. We wish them the very best of luck for the future."
Hear more about the Coleg Gwent class of 2020:
Crosskeys Campus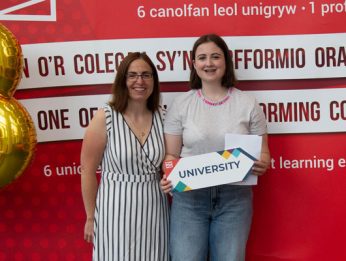 With aspirations of becoming a paediatric doctor, Emily Curtis-Jones from Blackwood studied Chemistry, Maths, Biology and the Welsh Baccalaureate at Crosskeys campus and today celebrates achieving impressive grades A and 3 Bs!
College helped Emily work towards her goal and gain valuable work experience, and she now looks forward to studying Medical Biochemistry at the University of Leicester.
She explained: "The teachers at Coleg Gwent are very helpful. The support I received from them was excellent and the work experience at Neville Hall and the Royal Gwent Hospital was invaluable and re-enforced my choice of career. I've had lots of opportunities in college and have loved my two years there – it's a shame it ended so early. I've made great friends and had a really positive experience."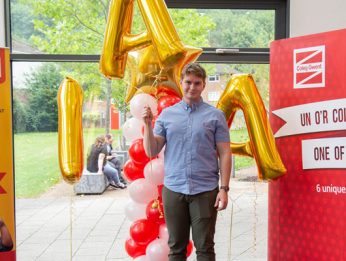 Dylan Bevan of Oakdale is thrilled with his 2A*s and 2As in Maths, Biology, Chemistry and Physics, enabling him to go on to study Medicine at Cardiff University this September, with a long-term goal of becoming a surgeon.
He said: "COVID-19 has had a big impact on my final year of studies as my learning came to an abrupt stop and I didn't even sit my final exams which was very jarring. But the college has been transparent as to the situation and what's happening which has been reassuring."
"The teachers at Crosskeys campus are all excellent and really made my time at the college very enjoyable. Every teacher I had was very supportive and always willing to help if I was struggling."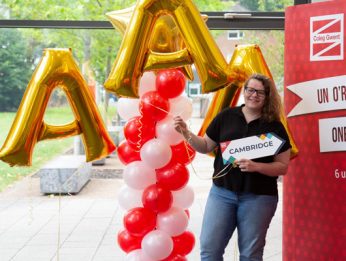 Excited to be heading to Cambridge University this September, Sophie Long from Argoed celebrates achieving an incredible 3 A*s in English Literature, Law and History!
She explained: "In the hopes of attending a world renowned university, results day is a source of anxiety but also the start of a distinct new chapter for me. Coleg Gwent has been a useful step in nurturing my efforts to achieve this, and applying early entry to Cambridge was an indicator of how dedicated the college is to the success of their students."
"Overall, the most positive aspect of the college has been the support network offered to me as a dedicated and ambitious student!"
Blaenau Gwent Campus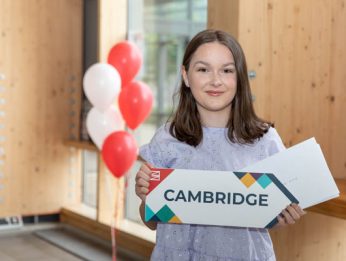 Alicia Powell is the first learner from Blaenau Gwent Learning Zone to ever secure a place at Cambridge University to study English Literature!
With outstanding grades in all subjects – an A* and an 3 As – she's excited for what her future holds. Results day was a concern for Alicia as she wasn't able to prepare for exams and it came as a bit of a disappointment, but she's over the moon with her grades and feels her hard work paid off.
She commented: "I'm so happy with my results and can't wait to go to Cambridge. The best thing about Coleg Gwent has been the opportunity for individual learning as it has prepared me for my next step after college."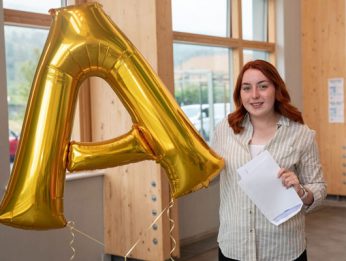 Coleg Gwent helped Mackenzie Morgan from Ebbw Vale to grow in confidence and develop a number of useful skills to boost her employability and secure a place at the University of Exeter.
She's proud to have achieved 3 As in Law, Drama and Psychology and has a goal of becoming a solicitor in the future.
Aside from academic support, Mackenzie thought: "The opportunities presented by Coleg Gwent were incredibly helpful for my future and helped me to consider my educational opportunities after college."
"I found that the presentations given within the college were helpful during my UCAS application and the educational opportunities given by Coleg Gwent are incredible and can be perfect for students who are unsure about their future."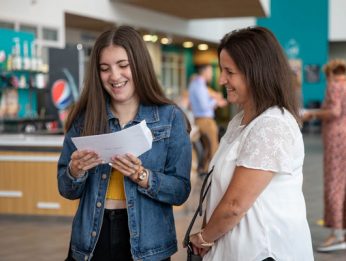 Katie Stokes of Abertillery studied a range of A Levels at Blaenau Gwent Learning Zone, including Maths, Physical Education and Psychology.
Despite securing an unconditional offer at her first-choice Swansea University, she's been feeling nervous about results day and has been hoping that her grades reflect the hard work she's put into her studies. Today, Katie is thrilled to achieve 2 A*s and an A in her A Levels and is excited to be progressing onto studying Mathematics at university in September.
She said: "The best thing about studying at Coleg Gwent is the tutors and the support they provide. I have strong relationships with my tutors and they were always available to help or push me to aim higher."
With a passion for STEM subjects, Martyna Nawrocka from Tredegar found an engaging range of A Level subjects at Blaenau Gwent Learning Zone.
Today, she's achieved A*AB in Maths, Biology and Physical Education, opening the doors to a Biology degree at the University of Bath.
Martyna explained: "The best thing about studying at Coleg Gwent is having access to the fantastic resources on offer. The library has all the necessary books for all the courses."
"Also, the staff are always happy to help at any time with queries, and the college offers specialised equipment and facilities for practical work, allowing you to professionally carry out experiments."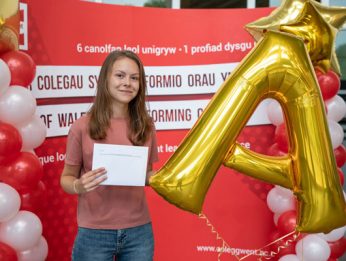 For Hannah James from Ebbw Vale, results day would determine where she'll be able to study at university in September.
After working extremely hard, she's achieved brilliant results – 2 A*s, securing a place to study an integrated Master's Degree in Mathematics at St Andrews University.
College has helped Hannah grow in many ways. She said: "Studying at Coleg Gwent has provided me with the opportunity to develop my independent study skills and confidence which will be essential in my future prospects as a university student and a future employee."
Mature learner, Maggie Smith, returned to college at the age of 53 to pursue her hobby and interest in Photography as an A Level.
She found Coleg Gwent to be welcoming and the staff to be very helpful, explaining: "They put me at ease and were always approachable, welcoming and friendly, and I was impressed by the staff in the comprehensively stocked library. There is a fantastic range, not just of books and magazines on the primary subject, but also on study and writing skills – something very useful to a returning learner."
Achieving an A* in A Level Photography has increased Maggie's confidence and has benefitted her current and future employment prospects too.
Congratulations to our class of 2020 who faced unprecedented challenges during their A Level year, and good luck for the next step, whether that be further study or employment!
With a range of Higher Education courses on offer at Coleg Gwent, it's not too late to apply now for September to join one of Wales' top performing colleges.