Coronavirus Update for Learners, Applicants, Parents and Carers
Update: Wednesday 11 November 2020
We look forward to returning to college for teaching and learning on Monday 9th November. Our existing health and safety measures will remain in place and we'll keep in close contact with Welsh Government to update you if there are any changes. Our canteens and cafes will also mostly be re-opening as normal from Monday 9th November, offering a 25% discount for learners and staff on campus.
Following the Welsh Government announcement (10/11/2020), we can confirm that there will be no end of year exams for GCSE, AS Level and A Level qualifications in 2021 in Wales. Learners will complete supervised teacher-managed assessments which will include externally set and marked assessments. Further information about this will be shared in December. In the meantime, if you have any questions, please direct these to your Personal Tutor.
What happens if there is a confirmed case of COVID-19 on campus?
If one of our learners has a positive COVID-19 test result, all learners in their contact group will be notified by their tutor or Head of School and issued with a letter confirming the situation and providing instructions to self-isolate. During this time, teaching and learning will continue remotely where possible.
A positive COVID-19 test result from someone who has been on our campus does not mean that the campus will close. Following Welsh Government guidelines, our learners are in small contact groups* in classrooms, which limits the number of people mixing.
In communal spaces, face coverings, social distancing, hand sanitising, frequent cleaning and staggered timetables minimise the risk further, so only those within a contact group of somebody who tests positive for COVID-19 will be asked to return home and self-isolate.
*Contact group – an individual teaching or tutor group. In the case of A/AS Levels, a learner may belong to several contact groups (one for each subject).
How we're keeping our community safe 
A BIG welcome to all new and returning learners! Please remember to follow all guidance when on campus. Let's all keep college COVID secure!
We have a social responsibility to keep our learners, staff and wider communities safe by asking them to follow the latest COVID-19 guidance whilst on campus and in their local areas.  The latest up-to-date guidance for learners and staff can be found on the CG Connect app, our website, social media and posters/signage around our campuses, and failure to adhere to the COVID-19 guidance is a breach of our Code of Conduct.
Our COVID-19 guidance is based on Welsh Government's advice, including: 
Wearing a face covering in communal areas indoors, in shops and on public transport 

Maintaining a 2 metre social distance outside of classrooms, on the college campuses and in the local community 

Adhering to contact groups guidelines in classrooms and remaining in contact groups outside of lessons where possible* 

Following our one way system

Avoiding large gatherings in the local area and returning home immediately after classes

Using hand sanitiser and washing hands regularly. 
*Guidance for Further Education providers recommends that we reduce contact between individuals through forming groups or cohorts of learners that remain separate from each other during the course of the day. Tutors will remain at a 2 metre distance from learners at all times even in classrooms.  By maintaining small distinct contact groups that do not mix makes it quicker and easier, in the event of a positive case, to identify those who may need to self-isolate and to keep that number as low as possible.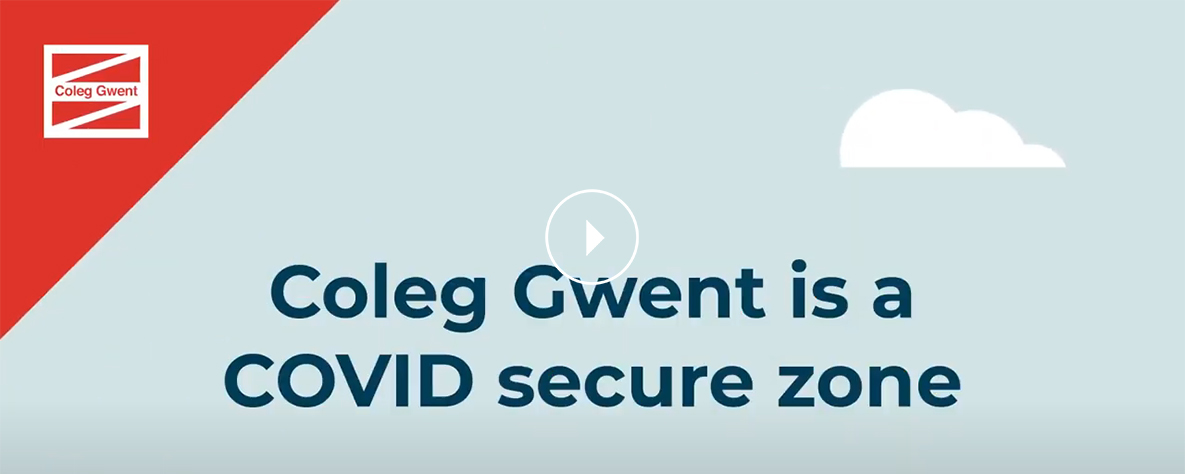 New applications are still being processed as normal. Please visit the learning section of our website and apply today!
Interested in a part-time course?
If you'd like to join one of our popular part-time courses, call our Student Recruitment team on 01495-333777 today. Payment will need to be taken to secure your place. Don't delay, enrol today!
If you're a learner who needs to pay fees, please complete your enrolment and you'll be contacted when the payment portal is available. No payments are currently being taken on campus.
Our phone lines are now open for enquiries. If you need to speak to us about a specific issue, you can contact us by phone or email:
Experiencing ICT issues?
Please email service.desk@coleggwent.ac.uk for support.
Questions about your grades?
If you haven't received the grades you were hoping for, please attend your enrolment appointment and we'll discuss your options with you or for more information visit our dedicated results page.
If you'd like to speak to our exams team, please email ExamsOfficers@coleggwent.ac.uk or call:
BGLZ: 01495 333016
Crosskeys: 01495 333491
Pontypool: 01495 333196
Newport: 01633 466007
Usk: 01495 333640
Questions about your application?
If you're thinking about applying for a course or need help with your application, contact our Student Recruitment Team by emailing hello@coleggwent.ac.uk.
If you've already applied for a course, get in touch with our Admissions Team via admissions@coleggwent.ac.uk.
Exam Results 2020 – For the latest information about exam results, visit our dedicated results web page. We're following Welsh Government updates closely and responding as quickly as we can to the new guidance as it is announced.
Guidance on appeals related to calculated grades for AS/A Level learners
New applications and interviews – We're continuing to accept new applications and make offers for all subjects, however Information Advice and Guidance (IAG) interviews have been replaced with a conditional offer based on predicted/actual grades. 

We will be keeping in touch and updating you on your application by email. 

If you haven't heard from us, let us know by emailing 

admissions@coleggwent.ac.uk

 and include your Learner ID.

Torfaen Learning Zone has made good progress despite ongoing uncertainty around COVID-19 and social distancing regulations, but we're on track to open for learning on 4th January 2021.
The September term will start in our Pontypool Campus, which will be well-resourced to accommodate all subjects and social distancing measures, and we'll be providing free transport from Torfaen Learning Zone to Pontypool campus during this time.
In the October term, we'll be arranging for you to visit Torfaen Learning Zone which will be almost ready but still undergoing the final 'fit out' of furniture and ICT equipment, and when it's ready for learning in January, we'll do everything to provide a seamless transition to the new campus, with all the necessary support along the way.
Please check the Torfaen Learning Zone webpage for updates.
Grants and Finance – ALL EMA/WGLG Learner Agreements and FCF applications are online this year. See the Grants and Finance tile on CG Connect for more information.
Part time courses – Our part-time guide is out now – Apply now for courses starting in September! For cancelled courses that were due to start in March or April, you can defer your payment to a future course or request a refund.
Employers – We are still here to support you remotely. For more information go to our Employer section of the website.
Contractors and suppliers – We are doing everything we can to protect our suppliers, contractors and the local community from the impact of the coronavirus.
Our three key priorities are as follows:
Keep everyone safe

Keep learning going

Minimise non-essential contact


All updates will be posted here and across our various social media channels as soon as they're available. So for any new information, please check our online platforms in the first instance.
This is a very challenging situation which is under constant review. All of our decisions are made in line with official UK Government and Public Health Wales advice.
For further information, we recommend that you also refer to the Welsh Government website and the Foreign Commonwealth Office and download a free information book explaining the Coronavirus to children, illustrated by Gruffalo illustrator Axel Scheffler.