Creative industries are growing five times faster than other sectors in Britain (www.thecreativeindustries.co.uk), contributing over £111 billion to the UK economy each year. That's more than Aerospace, Automotive, Oil, Gas, and Life Sciences combined! (www.creativeindustriesfederation.com)
For creative individuals, there's a huge array of different avenues and career paths to explore, and at Coleg Gwent, you can carve your way into the creative sector with courses in Art and Design, Fashion and Textiles, E-Sports, Illustration, Photography, Media Production, Music and more.
But with so many diverse roles across the creative industries in the UK, it may be surprising to hear that only 3-14% of individuals working in these sectors are from ethnic minority communities (www.statista.com), and as a college that values and promotes diversity and inclusion, we hope to change this.
The Photography sector caught our attention with only 4% of the workforce represented by ethnic minority individuals in the UK (www.statista.com), but with popular and thriving Photography courses at Coleg Gwent, we saw this as an opportunity to make a positive difference. So, we decided to take part in an innovative new project with Cardiff County Borough Council and Rumourless Cities – an organisation that aims to dispel myths and change attitudes forming around minority groups within our communities.
Developing the project
Inspired by reading reports of the massive underrepresentation of ethnic minority creatives across the UK, Youth Worker and avid Photographer, Yusuf Hussein, had a vision to try tackling this problem as a black creative himself.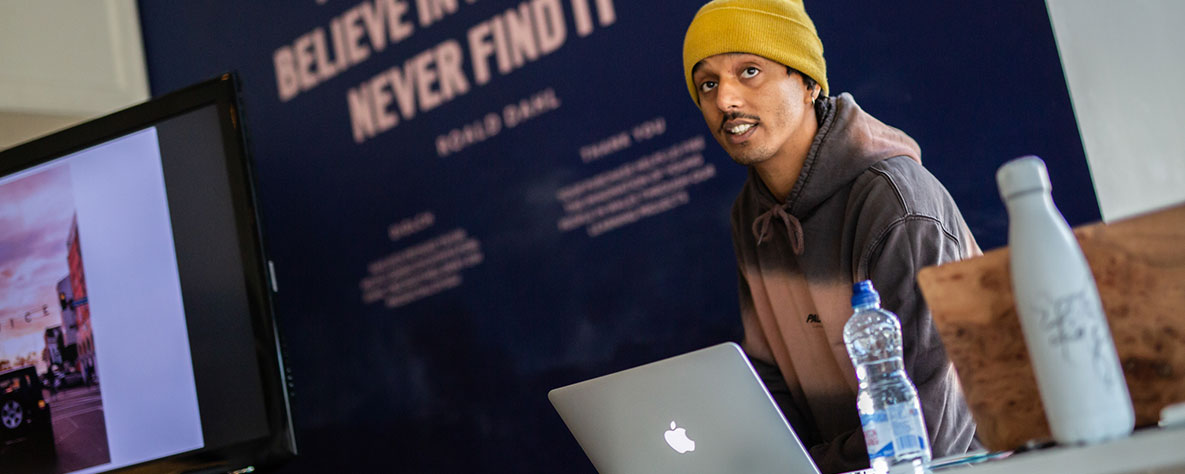 He recognised that the younger generation has great influence in their communities, with the power to change mindsets and perceptions around culture, diversity and inclusion. So, he developed the concept of face-to-face workshops for ethnic minority students aged 14-18 who are transitioning from CGSE to Further Education, aiming to create as much accessibility and support as possible for students lacking access to the creative arts.
The rationale behind this project is to deliver skills and experience of the creative sector and an area of employment to those who would otherwise think it was inaccessible. Maria Retter, Head of School for Creative Arts at Coleg Gwent, explained that "we're always looking at ways to engage all areas of the community in all things creative. No one should think that a creative career isn't an option, and we hope to open minds to creative ideas and possibilities in education."
How will it work? Turning negatives into positives
The project will deliver five weekend photography sessions for young people from the ethnic minority communities in and around Cardiff. The workshops will be based in Cardiff Bay, with the iconic Millennium Centre as a base, with access to their fantastic facilities and equipment.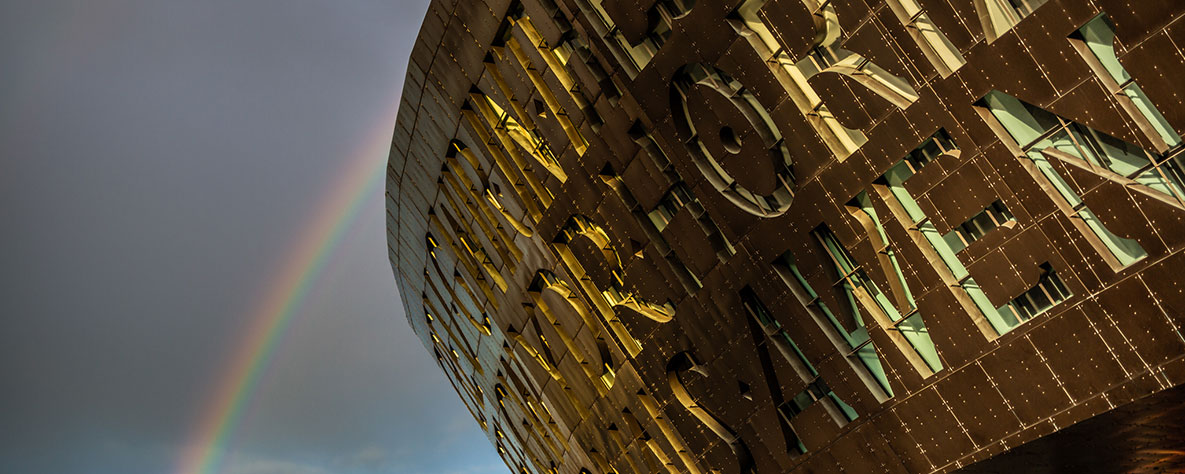 Gemma Hicks, Community Engagement Producer at Wales Millennium Centre commented:
"I'm really excited that Coleg Gwent and Rumourless Cities asked us to partner on this project. A large amount of our work is focussed on building a future workforce for Creative industries, and I am particularly interested in making sure the future arts workforce is representative of the community that we're located within, as well as making sure other diverse and underrepresented communities have a chance to experience and have opportunities to learn and develop in arts venues and educational institutions.
Wales Millennium Centre is housed in Butetown and we are extremely proud to be located here. When approached to support young people from Black, Asian and ethnically diverse communities to get involved in photography, we wanted to enable them to build a relationship with us but also have a chance to showcase their work. We can't wait to see how the project develops and are looking forward to supporting Coleg Gwent and Rumourless Cities to explore how we can continue to build opportunities like this for young people."
Coleg Gwent Photography Tutors, Peter Britton and Rebecca Toner, will be delivering three of the workshops (Saturday 12th December, Saturday 30th January, and Saturday 6th March) with a group of 12 ethnic minority delegates aged 12 and up. We're looking at three initial workshops, with one before Christmas and two in the new year. The sessions will include academic structured support that will lead to a qualification, turning the negative ethnic minority community representation statistics into a positive experience for these young people and opening up the doors to the creative sector.
We hope to exhibit the young peoples' work in the Story Museum at the end of this project to raise the profile of ethnic minority communities' representation in the arts, and explore the potential for the pilot to be continued for more young people in South Wales.
Everyone is welcome at Coleg Gwent and our courses are open to all. So, if you have an interest in Photography or the creative industries, find out more about our range of flexible courses and apply now.