Helping learners launch their own entrepreneurial futures
We're over the moon to tell you that our collaborative Summer Start Up Week has been announced as winner of the Entrepreneurship Catalyst Award in the National Enterprise Educator Awards (NEEA) 2020!
The NEEA celebrates excellence in enterprise and entrepreneurship education, recognising exceptional support of student pre-starts, start-ups and growing ventures. The Entrepreneurship Catalyst category looked for inspirational projects and initiatives that support learners to develop the capabilities they need for an entrepreneurial future – something that our Enterprise and Entrepreneurship team are passionate about.
Enterprise and Entrepreneurship at Coleg Gwent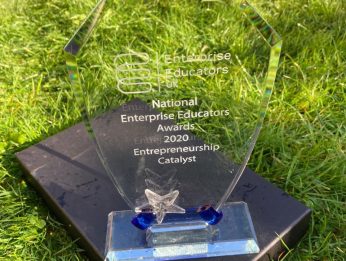 Our Enterprise and Entrepreneurship team work hard to encourage and support learners with their entrepreneurial ventures at Coleg Gwent through competitions, enrichment challenges, tutorials and projects with live business briefs. But this has been more difficult with the added challenge of COVID-19.
Coronavirus might have put a stop to a lot of our plans and activities, but our inspirational learners were still ploughing on with their entrepreneurial ideas despite the challenges. So, we wanted to continue to support this as much as we could, with Summer Start Up Week being the solution.
Joining forces with the network of Enterprise Champions in all 23 colleges and universities in Wales, we collaborated to create a whole week of exciting enterprise and entrepreneurship online talks and events in June's Summer Start Up Week. And we're thrilled to announce that the initiative has been crowned winner of the Entrepreneurship Catalyst award!
Summer Start Up Week
This innovative online initiative helped us to continue supporting our learners with their pre-start and early stage businesses during the Coronavirus pandemic through a virtual boot-camp and helpful start-up community.
It was a fantastic online festival of entrepreneurship, with motivational role models; keynote speaker Alannah Spencer – winner of The Apprentice; and evening e-socials. But above all, it helped us to support 500 students throughout Wales with their start-up dreams and ambitions and to get their ideas off the ground.
Zoe Blackler, Enterprise and Entrepreneurship Leader, found that working on Summer Start Up Week with her fellow enterprise educators was a fantastic experience, allowing collaboration and innovation to support students with developing their own businesses virtually. It was a great example to demonstrate that despite adversity, connectivity can still create incredible opportunities for our learners.
We're now planning for Summer Start Up Week to become an annual event, and we're collaborating once again to create an online marketplace this Autumn for our learners to test-trade and showcase their products throughout the whole of Wales for Global Entrepreneurship Week in November.
Bring your big ideas to life at Coleg Gwent. Study with us this year and join our community of budding entrepreneurs of the future.