Friday 25th March saw the long-anticipated introduction of our Business Academy at Torfaen Learning Zone, celebrated with a successful launch event.
The event's aim was to introduce the academy to relevant local businesses, with the intention of strengthening relationships within key business sectors.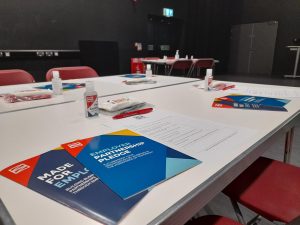 Guests were treated to insights from college business staff, including examples of how to get involved in the scheme. They also enjoyed tours of the recently opened Torfaen Learning Zone, courtesy of current business students at the college.
The business academy will feed into the wider college strategy, with a key element being the monitoring of curriculum to ensure that it is continually adapting to meet the requirements of the wider world of work. The academy will provide a platform to boost engagement with our employer networks, helping to meet future skills priorities and support student progression.
Companies in attendance included organisations such as USW, Fox Group, My Business Lynq, St David's Hospice, Pro Steel Engineering, Everett Tomlin & Pratt, SW, Stantec, Dragon Executive Management, Safran Seats GB, TCBC – Spring Board Business Innovation Centre and Torfaen Leisure Trust. The attendees all expressed their interest in being a part of the academy, wanting to find out more about how they could get involved and enjoy mutual benefit for themselves and our college students.
As part of the event, guests were also treated to a talk from Angharad Collins, CEO of Torfaen Leisure Trust, who spoke of the organisation's ongoing collaboration with Coleg Gwent:
"Torfaen Leisure Trust has enjoyed working with Coleg Gwent and very much look forward to being part of the academy, as we're keen to support all learners in Torfaen with any opportunities we can be involved in.
We've enjoyed playing a small part in supporting learners already, by exposing them to different aspects of our business and also offering employment opportunities as they learn. We would certainly encourage all businesses considering taking part to get involved!"
Jessica Pike, Employer Engagement Coordinator for Enterprise and Academic studies, who is responsible for the coordination of the academy and of the event said:
"We were delighted to have so many members of our employer network join us for this launch event and express their interest in joining the academy. The academy will bring about great benefits for these businesses, as well as our students, by ensuring that we are teaching the skills and knowledge that the local economy wants and needs.
We're still in the early stages of some of these partnerships but I'm sure that the scheme will continue to go from strength to strength, with a variety of ways to get involved and opportunities for businesses of every size."
More information about the joining the academy can be obtained by contacting Jessica Pike, Employer Engagement Coordinator via jessica.pike@coleggwent.ac.uk. For more information of becoming a partner of the college check out the details of how to partner with us on the Employers section of our website.