At a college open event, there's a lot to take in, lots of questions to ask and lots of things on your mind. But don't worry, we're here to guide you through it every step of the way to help you make the right choice.
Here are our top tips to help you find out everything you need and to make the most of attending an open event at Coleg Gwent:
Choose your campus
Each of our campuses offers different course options and facilities, so it's helpful to double check that the campus your exploring offers the course (or courses) you're looking for.
Make a note of the date and time
We know you live a busy life with lots going on, and it's easy to forget about a college open event you registered for weeks ago. So, when you pre-register for a place at the open event, make a note in your diary or set a reminder on your mobile phone so that you don't miss the opportunity to explore college life, find your ideal course, and meet our expert tutors.
Plan ahead
You might already have a good idea of what you want to study at college, or you might be undecided, but either way, you'll have lots of questions to ask at an open event. So, be prepared by writing down which subject and support areas you want to visit and any key questions you need to ask, then tick them off as you go along to make sure you don't miss any.
Grab a pen and paper
You'll receive a lot of important and useful information at an open event and it's hard to absorb it all in a short space of time. So, why not make notes that you can refer back to later! You can drop into as many subject area and support sessions as you want, and jotting down key facts and noting areas of interest is a great way to help you when it comes to making a decision and applying for your college course.
Explore beyond your course
Finding out about your course is really important, but an open event is also an opportunity to explore so much more about college life. Look around the campuses and discover extra-curricular activities and a huge range of support. Find out about college life beyond your course, such as enrichment opportunities, work experience, volunteering, student clubs, sports and more!
Get a copy of the course guide
At campus open events, you can pick up a course guide to refer back to whenever you need it, or at a virtual open event, you can download the course guide to flick through in your own time. Our prospectus contains loads of hints, tips and advice on your subject area, college life and learner support, to help you make the right decision.
Bring a friend
It's helpful to bring a family member or friend to an open event too. They might think of asking questions that you haven't considered and they'll be able to support you and help you remember important information too.
Ask your burning questions
An open event is your chance to ask all the questions that are on your mind. There are no silly questions – we've heard them all – and it's so important that you can make an informed decision by getting all the answers you're looking for. So, come along to an event to meet our tutors, finance, transport and support teams and fire your questions our way.
Get help with your application
Our staff will be on hand to answer any questions and help with your application. Courses fill fast and spaces are offered on a first come, first served basis so we recommend applying sooner rather than later to secure your place.
Print a copy of our open event checklist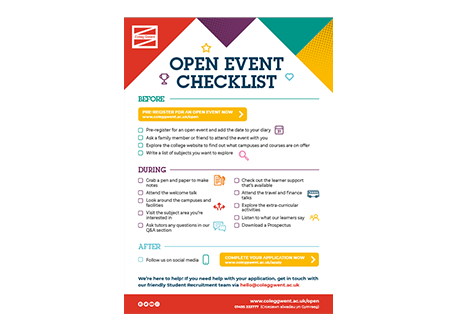 Still struggling to remember everything you want to cover at an open event?
Print a copy of our open event checklist and tick it all off as you go along.
It will help you make the most of attending an open event at Coleg Gwent.
Ready to apply?
You can apply at the open event where you can get help and support from our team on campus, or you can easily apply online at home too.
September may still seem a long way off but it is good to be prepared and keep your options open, and there's no obligation to accept a place at this point in time. So, get in touch with our student recruitment team if you have any questions or apply today, and we hope to see you at an open event very soon.
Our open events take place throughout the year, and you can find out more about them and register by visiting www.coleggwent.ac.uk/openevents.